Learning a new instrument takes a lot of commitment, patience, and time. Anyone can learn to play bass, but you'll have to prepare yourself for hours of practice and commit to learning everything about the instrument.
One of the most important steps in learning bass is purchasing a bass guitar method book to help you learn the correct techniques and skills. But with so many books out there, finding the right one for you can be very difficult.
This guide will break down the 10 best books for beginner bass guitarists depending on what style of music you want to learn and what you want to achieve. With the right bass book, you'll be grooving in no time!
1. Hal Leonard Bass Method Complete Edition
Best overall for beginner bassists
Frontman Philosophy Score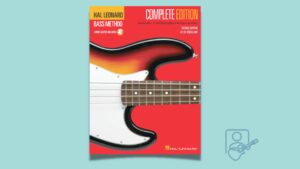 The Hal Leonard music books are a staple in guitar, piano, bass, and pretty much every instrument. The Hal Leonard Bass Method Complete Edition is three books in one, covering everything from reading bass clef sheet music to scales, chords, and even forming your own bass lines.
The book was written by Ed Friedland, a Grammy award-winning bassist who has written several bass methods and theory books.
The book also comes with online audio instruction so that you can practice playing along to rhythms. Visit the Hal Leonard website to access this content after purchasing the book.
What I loved
The pace at which the Hal Leonard Bass Method progresses beginner bassists is perfect more most people. You'll also learn all the must-know basics of bass guitar without things getting too mundane. This book has some very interesting chapters covering minor, major, pentatonic, and blues scales, how to write you own basslines, and even how to slap bass!
What I didn't love
The only downside of this book is that it can be a bit boring for beginners as it does not include a lot of engaging songs. If you are looking for a fun song book to learn famous bass lines, this isn't the best option.
However, Hal Leonard also provides three great supplemental songbooks that can be learned alongside the Bass Method book: Easy Pop Bass Lines I, II, and III. So, definetely check these song books out if you go with the Hal Leonard Method.
Should you buy it?
If you are looking for a bass guitar resource as an absolute novice, the Hal Leonard Bass Method is a great place to start to develop all the basic bass techniques and skills. By the end of this bass program, you will be well on your way to being a great bass player.
2. Music Theory for Bass Players: Demystify the Fretboard and Reveal Your Full Bass Potential!
Best theory book for beginner bassists
Frontman Philosophy Score
This is hands down the best music theory book for bass guitarists. And while it is designed to be a theory resource for beginners, this book can be used by bassists of all levels. The book starts by teaching you the bass guitar hand positions and moves on to cover intervals, scales, harmonies, modes, inversions, and more. The book was written by Steve Gorenberg, one of the most prominent bass and guitar transcribers in the industry.
What I loved
The standout feature of Music Theory For Bass Players is the play-along tracks and audio learning that comes along with it. Every single lesson has an audio segment to help with ear training. After all, music is all about listening, so you can't become a great bassist by solely reading a book! This book is designed to teach beginner bassists the fundamental concepts of bass guitar with music theory and general music knowledge on the backburner.
What I didn't love
I know it is extremely difficult to make music theory a fun an engaging topic. But I think this book could have done slightly better. It does come with an audio track, which I found to be helpful, but a beginner bassist may get a headache from all the technical knowledge without any fun material. So, I recommend using this book in your repertoire along with a song book or another bass guitar book. "All work and no play makes Jack a dull boy." Am I right?
Should you buy it?
This is a great book for learning the roots of improvisation and bass line composition. Beginners will find this book easy to understand as the first few chapters starts with the absolute basics. I think this is one of the best intro to music books with an emphasis on bass out there!
3. The Evolving Bassist
Best for aspiring jazz bassists
Frontman Philosophy Score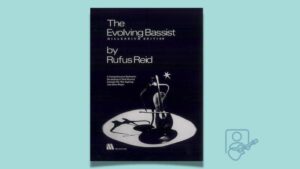 The Evolving Bassist by Rufus Reid is one of the best jass bass resources available. While not technically a bass guitar book, this book can be used by upright and electric bassists alike.
Rufus Reid is an incredibly inspirational jass bassist who saw a gap in jazz bass resources. What he realized was that the books "were really chapters" instead of complete comprehensive methodologies. So, he wrote The Evolving Bassist, a dense bass method designed for aspiring jass double bassists.
What I loved
If jazz bass is what you are wanting to learn, this book covers everything you need to know. It is essentially Rufus Reid's life's work jotted down on paper. I loved all the transcriptions of his original bass lines and the extensive list of FAQs covered in the book. Everything from "what strings do you use" to "how to take care of your hands to develop good callauses" is covered in the book.
What I didn't love
Absolute beginners will struggle with this book as it does not really walk you through the basics. That said, it is a good tool to use alongside other beginner bass resources. Also, the book primarily targets double bassists, but jazz bass guitarists will also find this book very helpful.
Should you buy it?
If you are a jazz bassist or a bassist interested in expanding your knowledge, this book is a must-have. The Evolving Bassist is designed to be a worthy bass learning book for self-taught bassists who can't afford teachers. So, it is written in a way that helps you understand the concepts. Rufus Reid walks you through his composition and improvisation processes and describes the theory behind many of his bass lines.
4. Teach Yourself To Play Bass
Best bass book for learning the basics, fast
Frontman Philosophy Score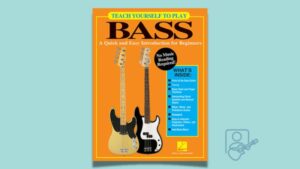 Yet another Hal Leonard publication, Teach Yourself To Play Bass is an awesome introduction to the instrument and the basics. Everything from how to care for the instrument, tuning, basic hand positions, reading tabs, basic scales, and more are included in this 56-page beginner bass book.
While this bass book isn't the most extensive knowledge base out there, it is great for those who have never touched a bass before and have zero musical knowledge.
What I loved
This is a quick and simple book that is perfect for beginners who are just testing the waters with bass. This easy book isn't much to chew, which is a good thing for absolute novice bassists who are overwhelmed by the fatter and more comprehensive bass books.
What I didn't love
I wouldn't recommend this book to beginners who have already started learning and are looking for a more thorough bass method, as you will likely get through this book in less than a week.
Should you buy it?
Don't buy this book if you are excited and eager to dive straight into learning the ins and outs of bass guitar. But if you are a bit hesitant and unsure where to start, this book is made for you.
5. First 50 Songs You Should Play On Bass
Best beginner bass songbook
Frontman Philosophy Score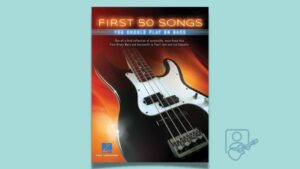 Learning bass is no fun if you aren't actually learning any songs. While learning bass theory and techniques is extremely important for building a foundation, it is also equally important to learn how these techniques translate to popular songs you may know.
What I loved
Hal Leonard's First 50 Songs You Should Play On Bass is a fantastic beginner songbook with some absolute bangers! The book does an outstanding job of making the songs accessible to beginners with tabs and chord progressions. The songbook includes songs such as "Come As You Are" by Nirvana, "Livin' On A Prayer" by Bon Jovi, and "Uptown Funk" by Bruno Mars.
What I didn't love
My only critique of this beginner bass guitar book is that many of the songs are not very beginner-friendly. For example, "Black Dog" by Led Zeppelin and "Signed, Sealed, Delivered (I'm Yours) are amazing songs but are definitely not the first songs a beginner bassist is going to be able to play.
Should you buy it?
100% yes. Every beginner needs a song book to keep bass lessons fun and engaging, this is the BEST beginner songbook for bassists out there. So, every bassists should have this book!
6. The Bass Book: A Complete Illustrated History of Bass
Best bass history book
Frontman Philosophy Score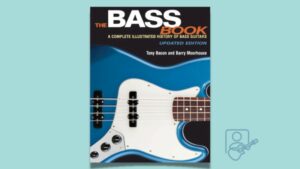 Not all bass books need to be about learning to play the instrument! Discovering the history of your bass guitar is also beneficial and helps develop a better understanding of how the instrument works. The Bass Book is an excellent resource that caters to bassists, music enthusiasts, and even those who just want to learn more about the instrument.
The book's author Tony Bacon is a well-known music history writer who has also written about the history of various guitars and musicians.
The 176-page book goes through the modern history of the bass guitar, telling a story of the instrument through interviews with famous bassists and photos of historical vintage basses. If you are learning bass, this book is a unique and interesting way to learn more about the instrument and dive into its history.
What I loved
I'm a huge nerd for this kind of book. The 176-page book goes through the modern history of the bass guitar, telling a story of the instrument through interviews with famous bassists and photos of historical vintage basses. If you are learning bass, this book is a unique and interesting way to get to know the instrument and dive into its history.
What I didn't love
This book was originally written nearly 30 years ago, so older publications are a bit out of date. That said, there is an updated version available that is more relevant today.
Should you buy it?
While this isn't a necessary book for every bassist, it would be an awesome addition to your learning materials and is the perfect way to get to know your instrument more.
7. Bass Guitar For Dummies
Best all-in-one bass guitar book
Frontman Philosophy Score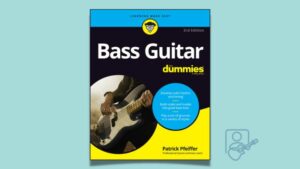 You can learn pretty much anything with the For Dummies book series. The Bass Guitar For Dummies is a comprehensive and informative beginner bass book that covers everything from purchasing your first bass, to crafting your own bass lines, fingerpicking, playing with a pick, learning scale structures, and more. The book also comes with a CD so you can play along to tracks and practice what you learn to different rhythms.
What I loved
This book is so comprehensive that it even has a chapter covering "Bass Styles From Around The World", which I found to be a unique section covering 8 different international music styles. My favorite chapter was one that listed 9 of the best bass guitarists of all time and what made them so influential.
What I didn't love
The main thing that keeps this book from being my top pick is the audio tracks (or lack there of). While the Hal Leonard Bass Method has long songs and audio tracks, Bass Guitar For Dummies only includes short clips of songs.
Should you buy it?
While the Hal Leonard Bass Method is the best tool for learning bass theory and bass lines, Bass Guitar For Dummies shines through as a great all-in-one book. The nearly 500-page book doesn't assume you know anything about bass, so you can learn everything you need to get started.
8. Creative Bass Technique Exercises
Best beginner bass exercise book
Frontman Philosophy Score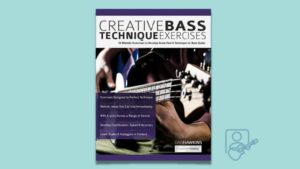 Exercises and warm-ups are no bassist's favorite part of playing, but if you ever want to groove like the greats, you have to learn the basic skills. Creative Bass Technique Exercises was written by rock guitarist Dan Hawkins and Joseph Alexander, an author who has written over 500 books on guitar, bass, and music theory.
What I loved
The book is very well formulated, and Dan Hawkins provides some excellent insight into why each drill is important and how it will help you become a better bassist. My favorite thing about this book is that it keeps the excersises interesting by moving around in various genres to allow you to learn different techniques from each.
What I didn't love
The book is not as accessible to beginners as I would have hoped. The book goes over the fundamentals and provides great excersises to strengthen your skills, but it does not provide much direction for absolute beginner bassists.
Should you buy it?
This book is a must-have for every beginner, intermediate, and even advanced bassist, as it provides super helpful drills for practicing different bass skills such as ghost notes, muting, and slap bass.
9. How To Play Bass – Learning From James Jamerson Vol 1
Best Motown-inspired bass book
Frontman Philosophy Score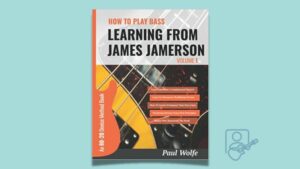 This is a unique book that follows the bass-style formula of legendary Motown legend James Jamerson. Even if you don't know who James Jamerson is, you have probably been influenced by his bass playing, as he played on essentially every Motown record between 1960 and 1971 and is considered to have paved the way for modern funk and pop bass playing.
What I loved
As a huge Motwon fan (and therefore, a James Jamerson fan) I was impressed with this book. Jamerson was a huuuuge influence in the bass guitar world and was a major inspiration for many other famous bass players. This book is unique to many others on the list because it is essentially a biography in the musical language.
What I didn't love
Should this be your only bass book as a beginner? Absolutely not. This is a great book to study, but as a beginner, you also need to learn basic skills and drills. That said, bass players of all levels will benefit from this book as it provides an interesting approach to the bass guitar method and breaks down how James Jamerson wrote his iconic bass riffs.
Should you buy it?
I think every bassist should have this book on their shelf, and studying this method will most definitely make you a better bass guitarist.
10. Geddy Lee's Beautiful Book Of Bass
Best bass book to inspire
Frontman Philosophy Score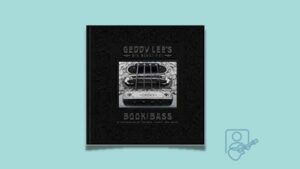 The final book on my list of the best bass guitar books for beginners is Geddy Lee's Beautiful Book Of Bass. This book is not just an interesting read for any bassist but a great book for most people who are even remotely interested in music. Geddy Lee is considered to be one of the best rock bassists of all time, and he has dedicated his life to the instrument. His book covers hundreds of different basses and talks about their sound, tone, history, and uses. The Beautiful Book Of Bass also includes interviews with other top bassists such as John Paul Jones, Adam Clayton, Les Claypool, Bill Wyman, Adam Tweedy, and more!
What I loved
Geddy Lee is a musical genius and easily one of my favorite bassists ever. This book is a very interesting construction of images, history, narratives, and interviews that is sure to educate even the most advanced players.
What I didn't love
The main issue I have with this book, especially from the perspective of beginner bassists, is the price. At nearly $50, it is a hefty price tag that most beginners aren't going to be willing to pay. That said, if you are remotely interested in the different bass models and the transformation of the instrument over the 20th century, this book is worth a read.
Should you buy it?
This book is beautifully illustrated and goes through every bass in Geddy Lee's extensive bass guitar collection. If you are a beginner (or advanced) bassist, this book will serve as a great tool for learning about the different bass guitar styles, how they sound, and how they should be used.
What makes a good beginner bass book?
When researching the best books for beginner bassists, I looked for several things that make the book stand out. There are thousands of bass guitar resources out there, so it is important to understand what makes a book good for beginners. Here are some of the main factors I considered when searching for the best bass books for beginners.
Content quality
35% of the score
The most important factor to look at when purchasing a new beginner bass guitar book is the actual quality of the content. I researched the authors who wrote each book and looked at the learning materials to ensure the books are recommending solid techniques and theory as well as well-researched and accurate material.
Engagement
25% of the score
Engagement is one of the most difficult things for beginner bassists. When learning the theory or techniques, it is very important that the material keeps new students excited and engaged. You can have academic-level research studies and technique books that, on paper, are the best of the best, but when an actual beginner bassist tries to learn with the resource, they'll lose interest very fast.
In terms of engagement, I looked at books that taught very helpful concepts in a fun and entertaining way. This could come in the form of audio materials, song tabs/sheet music, or even entertaining biographies of famous bassists.
Beginner Friendliness
25% of the score
Beginner bass books obviously need to be beginner friendly. The books I reviewed are either designed specifically for beginner bassists or are easily accessible to any level bassist. A beginner friendly bass book should be very descriptive and essentially hold your hand as it walks you through the concepts.
Price
15% of the score
The price of the book is also something very important to consider. While an advanced seasoned bassist won't mind dropping $40 on a book to further their passion, a beginner may not be ready for that commitment. A good beginner bass book should have a decent entry level price point.
Important things to consider when choosing a beginner bass book
Here are a few essential things to consider when purchasing a beginner bass book.
Do you want to learn bass music theory or just songs?
What do you want to achieve with the book? Are you an absolute beginner wanting to get serious about learning the instrument, or do you want a book with lots of songs and bass lines? It is important to figure out what kind of bass book you are looking for beforehand to ensure you get the book that is right for you.
What style of music are you most interested in learning?
It is also obviously important to decide what style of bass you are most interested in playing. For example, if you are interested in heavy metal music, a jazz bass book may not be beneficial, and vice versa.
What about audio lessons?
It is also super helpful to find a bass book that comes with lessons and play-along tracks on a CD or audio download. You can't solely learn bass with a book, so you should also ensure that you practice along with audio tracks to develop your ear and rhythm.
Teaching yourself bass vs. bass lessons
If you are just starting out learning bass, you may wonder whether you can teach yourself or if you need to invest in online or physical lessons. While comprehensive bass books can teach you a lot about bass and are essential resources, you may want to consider bass lessons for a number of reasons.
An expert teacher will be able to physically show you the proper techniques and correct you if you are doing something wrong.
Music theory can be quite complex, so you may not fully understand it if you only learn from a book. Bass teachers can help break down things in easier "human" terms.
The first few months of playing bass can be really difficult, and while books provide you with some direction, a bass teacher will be a much better route in terms of practicing the right things and progressing at the right pace.
What about online lessons?
In the post Covid-19 world, online schooling, jobs, and lessons are still the rage. And a big question many people have with online music lessons is: "Does it work?"
Studies (such as one done by the Kentucky Counseling Center) have shown in the past few years that online lessons are not the best way to learn. While learning music online is convenient and generally less expensive than in-person lessons, it typically takes longer to learn bass when taking online lessons, and it is more difficult for your teacher to correct your mistakes.
Need more advice on learning bass guitar? Feel free to reach out; I am always happy to help.