Reverb is a naturally occurring effect that musicians and establishments manipulate using soundproofing or architecture. Reverb occurs when sound waves are reflected off the surfaces of a room and slowly "decay" as the sound waves bounce around. For example, imagine walking into a large auditorium and shouting, then you will hear your voice stutter or echo.
Reverb pedals are artificial versions of this natural phenomenon. They are a great way to add depth and character to your rig, especially if you are playing in a small space without much natural reverb.
The TC Electronic Hall of Fame 2 Reverb Pedal is an upgraded version of the original. It is one of the best and most versatile reverb pedals on the market. Here is my full review of the TC Electronic Hall of Fame 2 Reverb Pedal.
TC Electronic Hall of Fame 2 Reverb Pedal Review
TC Electronic produces premium single and multi-effects pedals for guitar and bass. The company goes above and beyond with its products, and the Hall of Fame 2 Reverb Pedal is a prime example of its excellence. I've tested the pedal for several important factors and played around with the features.
Here is everything that I liked about the pedal and why you should add it to your pedalboard.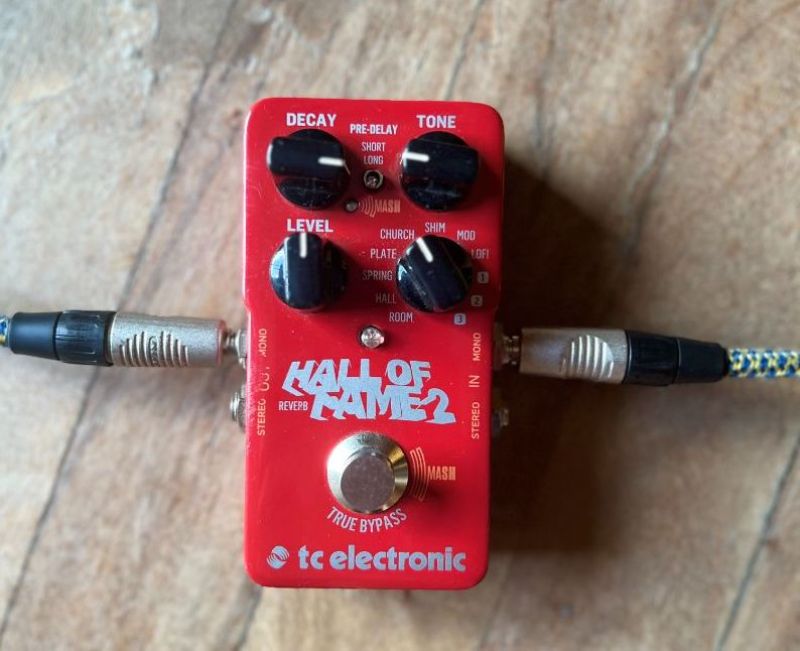 Frontman Philosophy Score
Specifications
4.8" by 2.91" by 1.97"
"MASH" footswitch technology allows you to control the amount of reverb by applying more pressure to the footswitch
8 different reverb settings and 3 customizable TonePrint slots
Stereo and mono input/output
Battery-powered (1xAA)
True bypass analog pedal
What's great?
Lots of variations on the reverb tone, with 8 reverb settings and 3 customizable TonePrint slots.
More control of the amount of reverb and the volume than most other pedals with the "MASH" footswitch.
Hall of Fame 2 Reverb is a true-bypass analog pedal, meaning you'll maintain the tonal integrity of your instrument.
Some downsides?
Power cord must be purchased separately.
"MASH" can be a bit finicky and make it hard to tell when the pedal is turned "on" or "off".
Sound
My score: 5 out of 5
30% of the total score
Some reverb pedals have a reputation for sounding synthetic and cheesy. But the TC Electronic Hall of Fame 2 does not follow this stereotype. The pedal has an impressively clean sound with many different options for customization. You can add the slightest dry reverb or a deep watery effect. This is definitely one of the best-sounding reverb pedals out there.
Features/controls
My score: 5 out of 5
25% of the total score
The controls are really where the Hall of Fame 2 shines. Not only do you get 8 different preset reverb settings to choose from, but you can also use their TonePrint app to customize 3 of your own settings to preload onto the pedal. Of course, you also have dials to control the reverb levels, tone, decay, and a switch to set long or short pre-delay.
The Hall of Fame 2's most revolutionary setting is the "MASH" foot switch, which allows you to control the volume and intensity of the reverb by simply adding pressure to the button. This opens the door for more creative use of the pedal since you can change the reverb setting while you are playing.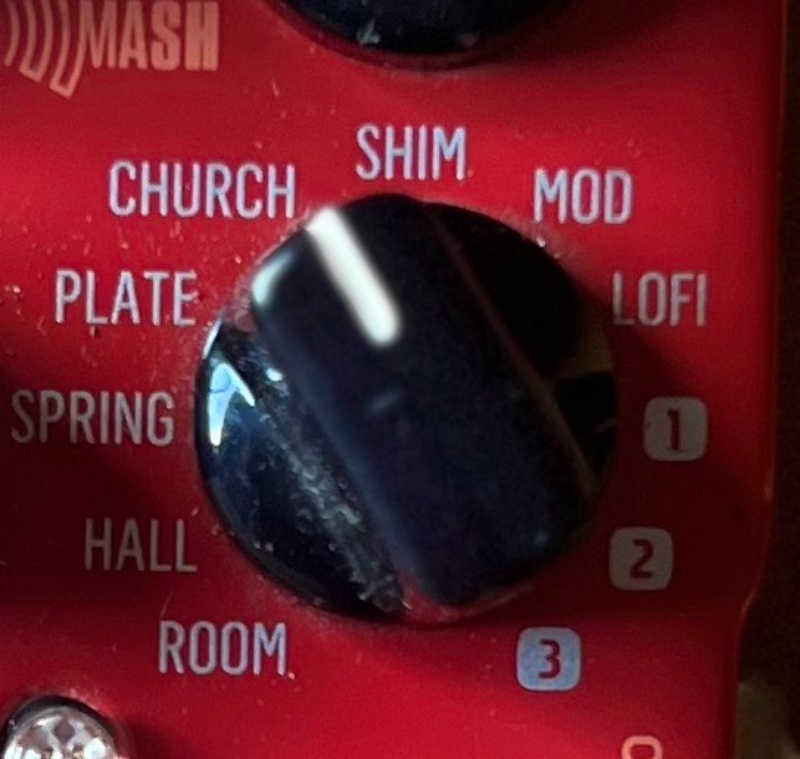 Price
My score: 4 out of 5
20% of the total score
The Hall of Fame 2 Reverb Pedal may not be the cheapest reverb pedal on the market, but it does not come at an unreasonable price. More affordable reverb pedals will not have as many settings as the Hall of Fame 2, so the fact that you can own this pedal for less than $200 is a steal!
Durability
My score: 5 out of 5
15% of the total score
A good quality stompbox pedal must handle the wear and tear of gigging and constantly stomping on the footswitch. I've tested this pedal using the "MASH" settings and stomped pretty hard on it, and I can vouch that this is a durable pedal that will last you years. One worry I had about this pedal was that the complex features and electronics would cause issues, but this does not seem to be the case. TC Electronic did an excellent job crafting a gigging-resistant pedal with the Hall of Fame 2.
Warranty
My score: 4.5 out of 5
10% of the total score
Even the best quality products can occasionally malfunction due to factory errors. So, it is important to check the warranty before you purchase products. TC Electronics has a good warranty policy. They offer a 5-year warranty on the Hall of Fame 2 that is only limited to a few things that ultimately come down to misuse of the product. Just keep in mind that you will need to register with MusicTribe within 90 days of purchasing the product.
Wrapping up
If you want a versatile reverb pedal with a clear, authentic sound and loads of customization options, you should look no further than the TC Electronic Hall of Fame 2. If you are interested in matching this amazing reverb pedal with a delay, go for the TC Electronic Flashback 2, I also have a full review of this pedal.