The Boss RC 500 is a groundbreaking loop station that has revolutionized the loop pedal world. It offers an innovative workflow and an impressive array of features that are hard to come by on other loop pedals.
In this review, I'll review the Boss RC 500, its features, and its sound quality, and discuss why it is a game changer that should be on your pedal board!
Boss RC-500 Loop Station pedal rating
The Boss RC-500 is a world-class loop pedal with all the bells and whistles you could possibly need. This loop pedal is a complex machine that can take quite a while to learn how to use, so I have tested the ins and outs of the Boss RC-500. Everything from creating your first loop to selecting a preset rhythm or uploading Toneprint effects will be covered in this comprehensive review of the Boss RC-500 Loop Station.
Frontman Philosophy Score
Specifications
Number of tracks: 2
Maximum recording time: Approx. 1.5 hours (1 track); approx. 13 hours (total of all memories)
Input: Mic, ¼" instrument, midi (stereo mini type), and USB micro inputs
Output: ¼" Instrument and midi outputs
Memory: 99 phrase memories
Effects: 8 different delay settings, including a 40-second loop and 3 customizable TonePrint slots
Rhythms: 57 patterns with 2 variations of each, and 16 rhythm kits
Power: 4 AA batteries or AC power adapter (sold separately)
Dimensions: 6.8" x 5.5" x 2.4"
Weight: 2 lbs
What's great?
Easy-to-use interface with a graphic LCD display and straightforward controls, making it simple to build and edit loops on the fly.
Exquisite sound quality with little noise and distortion thanks to 32-bit AD/DA conversion and 32-bit floating-point processing.
Allows you to generate and manage up to two stereo loops simultaneously.
Has a variety of loop-creation tools and functions, including auto-record, quantize, and loop FX, allowing you to easily build complex rhythms and arrangements.
Contains a USB connection for importing and exporting loops and backing tracks.
Some downsides?
Relatively expensive loop pedal compared to some other options on the market.
Quite a steep learning curve for beginners as the loop lengths, drum patterns, and features required to make the best of the advanced features make it quite an uphill task for a beginner.
How much does it cost?
The Boss RC-500 costs around $400, making it an expensive option, but it is definitely worth it if you want the best loop pedal option available.
Features
My score: 5 out of 5
30% of the score
The main selling point of the Boss RC-500 loop pedal is the many features packed into this spectacular device. Let's take a look at some of the standout features of this pedal.
Phrase looping
The RC-500 allows you to loop up to 13 hours of audio, giving you plenty of time leverage to construct and layer complex loops. This is not a simple loop pedal with which you can only play simple loops. With the RC-500, you can overdub an unlimited amount of times and store up to 99 phrase loops in your loop station's memory. With the RC-500, you'll be able to create gig-worthy loops.
Track select
One interesting feature is that the RC-500 has 2 separate tracks. This allows you to add additional layering and switch between different loops. The track select footswitch is the switch that is furthest to the right. This switch lets you start and stop both of your active loops simultaneously, as it acts like a "Shift" button on your computer keyboard, allowing you to manage more than one parameter at a time. You can select the track you want to play and then tap the far left "Play" button.
Customizable footswitches
The effects pedal contains three footswitches for controlling various operations, such as starting and stopping loops, undoing and redoing recordings, and switching between banks of loops.
However, these footswitches may be assigned to multiple functions because of their high customizability.

For example, you can assign start, stop, and overdub to occur concurrently by clicking the far left footswitch three times.
Built-in effects with DAW integration
Boss has kept it simple by having 2 edit buttons below each track. You simply click on the edit button for the track you want to add effects to and enter the effects section.
The effects sound really cool and unique. However, they took me a bit to get used to.
Reverse, repeat, glitch, scatter, multiple shift effects, and vinyl flicks are some of the effects included inside the RC500. All of these can be toggled with the memory knob.
Reverse instantly adds character and new sonic textures to your sound as you experiment with them.
Repeat essentially repeats one beat continuously.
Glitch is a vinyl flick function that sounds like a turntable touch.
Shift moves the loop back by 1 or 2 beats.
Scatter scatters the loop around in time with your rhythm settings
If you're someone who uses these functions inside of your song, you might want to control the intensity, rate, and speed and be able to chop or alter the length of the glitch or reverse.

In such cases, the RC-500 lags as you can't tweak parameters inside the sub-menus. Owning a separate pedal for your desired effect might do the trick.
You can also connect your RC-500 to your DAW, tweak the built-in Boss effects, upload recorded tracks to your loop pedal, and use them as backing tracks for lessons or live gigs!
Multi-instrumental performances with the mic function
You can easily become a one-man band with the Boss RC-500 in hand. This pedal allows you to plug in a mic, a guitar, a bass, and a midi keyboard all at the same time. Add on a drum beat, and you'll create the complex layers of a four-piece band!
Controls
My score: 4.5 out of 5
25% of the score
The RC-500's user interface is surprisingly straightforward and simple. While this is definitely not a beginner-friendly loop pedal, it is relatively easy to learn to use. There are three footswitches, volume controls, a memory knob, and several additional square buttons on the pedal for editing the rhythms, tracks, and selecting inputs. The LED screen's color coding makes it simple to use in real-time and identify the current mode.
However, understanding these controls and how to operate them is imperative to get the best out of this pedal. So we're going to dive right into some of these indicators:
Colors
​​Here's an explanation of the screen colors and their meanings in the Boss RC-500 Loop Station.
Blue: An empty memory slot. The display will be blue when you haven't recorded anything in a memory slot.
Red: The RC-500 is now recording a loop. The display will glow red when you begin recording a loop.
Green: A loop is now being played back. The monitor will turn green after you've recorded a loop and it's playing back.
Yellow: The RC-500 is now in overdub mode. In overdub mode, you may record new layers on top of the original loop. When you are in overdub mode, the monitor will be yellow.
White: A memory slot is already occupied. When you record a loop and store it in a memory slot, the memory slot appears white on the screen.
The RC-500's display is bigger and more detailed than prior Boss Loop Stations like the RC-6 and RC-10R, making it simpler to view and comprehend what's happening with your loops.
Foot switches
There are 3 main footswitches on the Boss RC-500. Each of the individual footswitches can be used for various controls on the looper pedal.
REC/PLAY: This is the main switch for recording a loop, playing the loop back, and overdubbing it.
STOP: As the name suggests, the "stop" control stops the loop stops your recording.
TRACK SELECT: This control switches between the 2 tracks on the loop pedal. You can also adjust the volume of each track with the 2 volume slide controls on the upper left side of the device.
The "MEMORY" dial controls your loop pedal's memory bank. You also use this dial to select your rhythms and effects.
User-friendliness:
My score: 4 out of 5
15% of the total score
The RC-500 has a pretty intuitive user interface, but it still undoubtedly has a steep learning curve and may be challenging for beginners.
It requires a basic understanding of musical arrangement as you're working with different looping lengths, reversing them, and adding drum patterns to match your material.
I wouldn't recommend this loop pedal for musicians who have never used a loop pedal before, but if you are experienced using loopers, this pedal shouldn't be too difficult to use.
Price
My score: 3.5 out of 5
15% of the total score
The Boss RC 500 is a premium loop station with more features and controls than most loopers on the market, and the price is definitely a reflection of that, as it is one of the most expensive loop pedals on the market.

If you are a beginner or hobbyist, the price point may be too high, and the advanced list of features may not be worth it. However, if you are a professional musician or loop pedal enthusiast who wants all the improvements, the high price is a good bargain.
Inputs/compatibility
My score: 5 out of 5
10% of the score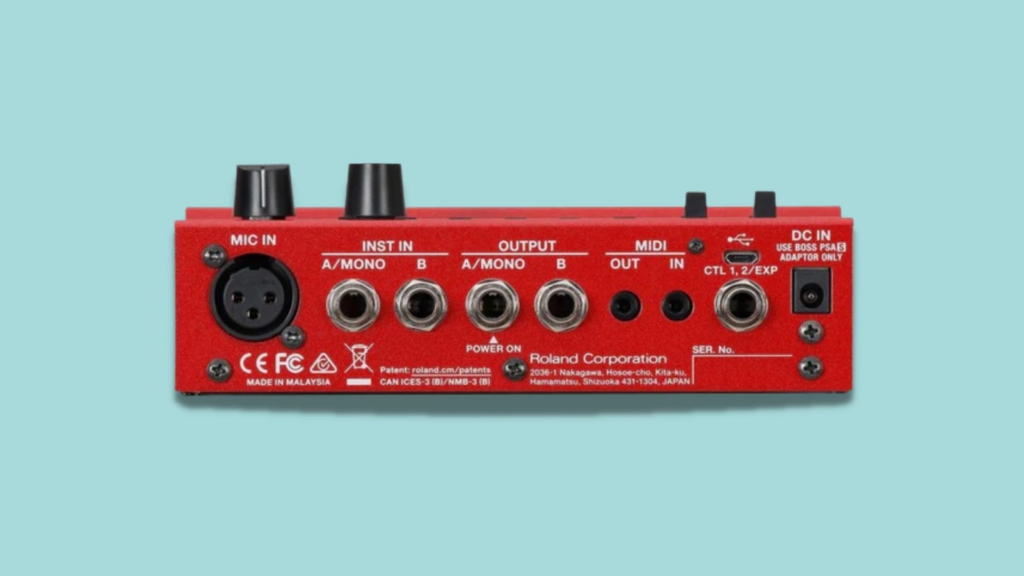 There are three input jacks on the pedal: two 1/4-inch instrument jacks (INST IN A/MONO and INST IN B) and one XLR input jack (MIC IN). The RC-500 also has a midi keyboard stereo input.
The INST IN A/MONO and INST IN B jacks are perfect for connecting 1/4-inch jack-equipped guitars, basses, keyboards, and other instruments.
The balanced XLR input connection offers phantom power of DC 48V and a maximum current draw of 10mA, enabling you to record live singing or other acoustic sounds.
This loop station also has a USB port, so you can connect it to any digital audio workstation (DAWs) and continue tweaking your loops further and upload files and recording to the device.
Which genres of music use complex loop pedals?
The Boss RC-500 Loop Station is an adaptable pedal that can be utilized with a variety of genres and styles of music.
Singer-songwriters
Singer-songwriters can use a loop pedal to simulate a whole band's worth of instruments in real-time. This can also be great for solo or duo acts that lack the budget to tour with additional session musicians.
Prog rock & symphonic metal
Guitarists in prog rock and symphonic metal bands, such as Dream Theater or Opeth, often use intricate loops and soundscapes to set the stage for solos or to ratchet up the tension throughout a song.
DJs and producers
DJs and producers use complex loop pedals for creating loops and beats on the fly, creating dynamic live performances and remixes. DJs and producers, including Dub FX, Beardyman, and Ed Solo, have all used loop pedals in their works.
Which famous musicians use looper pedals for performing?
Many musicians use complex looper pedals to create intricate, multi-layered soundscapes. Here are a few examples:
Steve Howe: Steve Howe from the band Yes is well-known for his complicated guitar work and his innovative usage of loop pedals. His albums "Close to the Edge" and "Fragile" include considerable usage of loop pedals.

Tosin Abasi: Tosin Abasi from Animals as Leaders has a unique style that incorporates the use of loop pedals to construct elaborate and complicated guitar arrangements. Albums like "The Joy of Motion" and "The Madness of Many" include heavy usage of loop pedals.

John Petrucci: John Petrucci from Dream Theatre is one of the best metal guitarists with a stellar reputation for his technical skill and innovative use of loop pedals to produce intricate, multilayered guitar compositions. On albums like "Scenes from a Memory" and "Metropolis Pt. 2: Scenes from a Memory," he used loop pedals frequently.

Ed Sheeran: Ed Sheeran has done a lot to popularize the use of loop pedals in mainstream music. He creates a complete band feel by layering guitar loops, voice loops, and percussion loops. He typically builds his loops live by starting with a guitar loop and adding additional layers of instrumentation and voice samples using the Boss RC-300 Loop Station.
Tash Sultana: Tash Sultana is an Australian singer-songwriter well-known for her innovative live performances that include extensive usage of loop pedals. She loops many instruments together, including guitar, bass, drums, and keyboards. Like Ed Sheeran, she is known to use the Boss RC-300 Loop Station.
Boss RC-500 vs. Boss RC-10R: what's the difference?
While the RC-500 is a comprehensive full-blown looper pedal with tons of effects, the RC10R is made for testing your ideas with more drum loops.
The "R" in the RC10R means that it's a rhythmic loop pedal. This makes it more focused on drum patterns. The RC10R has 280 preset rhythm styles, while the RC500 only has 57.
For structured full-song looping performances with complex drum patterns, the RC10R is way more useful, as it has transitional drum fills that allow it to flow through different sections, such as the intro, verse, and chorus of a song.
On the other hand, the Boss RC-500 has more than double the record time, more effects, and overall instrumental options. In my opinion, the Boss RC-10R is more of a songwriting looper, while the RC-500 is oriented for musicians who will use it for live performances and even recording sessions.
So, should you buy the BOSS RC-500?
If you are looking for a loop pedal with advanced loop creation capabilities, the BOSS RC-500 is an excellent option. Its flexibility in handling several loops at once and its many effects and recording capabilities make it a valuable instrument for composing intricate music and soundscapes.
But one major point of consideration is the price since not everyone needs a $400 loop pedal with so many effects built in.