Guitars can vary significantly in price. Some beginner models will only cost around $200. In contrast, high-quality custom-made guitars can cost thousands. However, no guitar costs more than one that a legendary guitarist played. Most of these top 10 most expensive guitars ever sold have endured the sweat, wear, and tear of famous gigging guitarists. And while the high dollar sales of these instruments may be staggering, it shouldn't come as a surprise that people are willing to pay millions for the "trusty steeds" of their favorite guitarists.
Most expensive guitar models
Standard guitars cost between $300 and $2,000 or around $550 on average. However, beginner guitar sets can be cheaper, and high-quality or rare guitars can be much more expensive. Here are some of the most expensive guitar models out there.
Gibson Les Paul Standard
A brand new Gibson Les Paul Standard will cost you $1,200 at the very least, which is a high entry level price. But, when you start looking at rare vintage Les Pauls models, especially from the 1950s, the price can rise exponentially. It is not uncommon for a late 1950s Gibson Les Paul Standard to sell for more than $100,000!
Martin D-45
Martin D-45s are considered the most expensive production model electric guitar ever. These guitars were originally produced between 1936 and 1942, but a second issue of the guitar began in 1968. The original guitars produced from 1936 to 1942 are also referred to as pre-war D-45s. These guitars are extremely rare and fetch a VERY high price at auctions. Sometimes even selling for over $500,000. The new model Martin D-45s (1968 onwards) are still premium acoustic guitars that sell for nearly 10k on average.
Gibson Explorer
The Gibson Explorer is a lesser-known Gibson model but is very recognizable. The model made its debut in 1958, but it was not originally a huge success. It's estimated that Gibson only sold around 50 of the 1958 Explorers, making them one of the rarest production models ever! These guitars can easily sell for a $250,000 today, making them of the most sought after electric guitar models.
Gibson Flying V
Similar to the Gibson Explorer, the Gibson Flying V was originally released well before its time. In 1958 Gibson released a Flying V with a Korina wood body. This guitar was a massive commercial failure that only sold around 90 units in the first 2 years. So, Gibson took it off the market until the 1970s, when it finally became popular. The original 1958 and 1959 models are extremely rare and can easily sell for more than $200,000 to major collectors.
Top 10 most expensive guitars in the world
The rarity of a guitar is not the only thing that factors into its value. A 1959 Gibson Les Paul Standard may be worth $250,000 on its own, but if a famous guitarist played the guitar in live shows or recordings, it may be worth up to 10 times as much! Here are 10 of the most expensive guitars ever sold. Most of these guitars were played by legendary musicians and amassed huge price tags at auctions.
10. Jerry Garcia's "Tiger"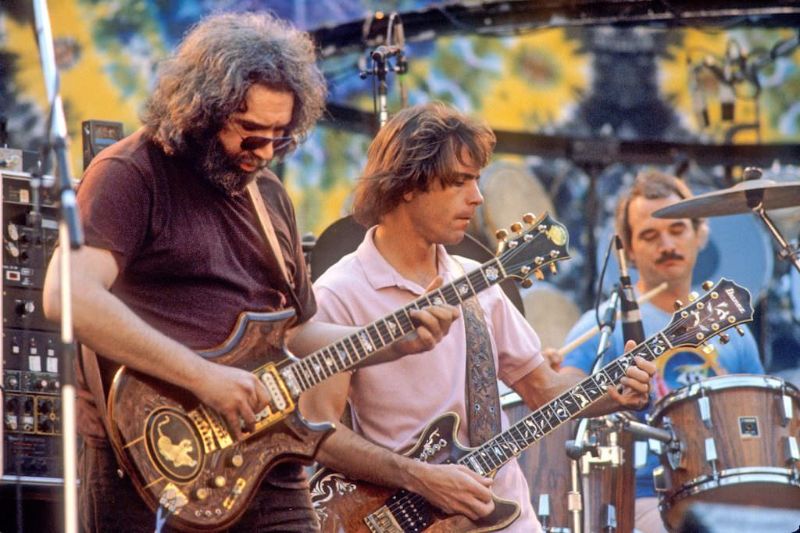 Sold for: $957,500
Played by Jerry Garcia: between 1979 and 1995
Jerry Garcia had a knack for improvisation and was the godfather of psychedelic rock. Jerry Garcia had several guitars custom-made by luthier David Irwin. "Tiger" was designed in 1979 and was used for many of the Grateful Dead's performances until 1989, when it was replaced by "Rosebud" (another Irwin design) and used as his secondary guitar. Jerry Garcia played "Tiger" during the last performance by the Grateful Dead in 1995, making it the last guitar he played in public before his death. In 2002, "Tiger" was sold at an auction for $957,000 to Jim Irsay, the owner of the Indianapolis Colts.
10. Bob Dylan's 1964 Stratocaster
Sold for: $965,000 Million
Played by Bob Dylan: In 1965 at Newport Folk Festival
Bob Dylan is not known as an electric guitar player. The famous folk singer-songwriter almost always played acoustic guitars. However, in 1965 at the Newport Folk Festival, Dylan took the stage with a 1964 Fender Stratocaster playing a rock set with a backup band. This stunned the audience, who shouted and booed Dylan as they were used to the soft folk music the singer-songwriter normally played. This was also one of the first times Bob Dylan performed "Like A Rolling Stone", which is considered by many to be his best song.
Dylan played the 1965 Stratocaster at this show only. He also only performed 3 songs with it at the Folk Festival. But, despite it not being used much by Dylan, this moment is one of the most pivotal moments in rock and roll history. So, when the guitar was rediscovered in the early 2000s, it was expected that it would catch a hefty price at auction. In 2013, it was sold for nearly $1 million dollars to Jim Irsay.
9. Keith Richards' 1959 Les Paul "Keith-Burst"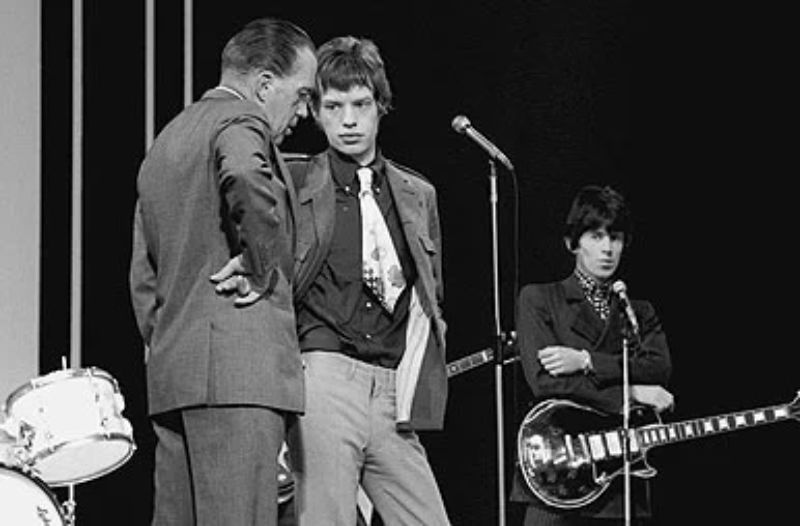 Sold for: $1 Million
Played by Keith Richards: between 1964 and 1967
1959 Les Paul standards are considered the "holy grail" of guitars. They are insanely rare, so you could sell one for hundreds of thousands of dollars even without an iconic past owner to go with it. Keith Richards is undoubtedly one of the best guitarists of all time, and while he has played many guitars throughout his extremely long career, this is the one that has the highest price tag. This guitar was played during several iconic performances, including on the Ed Sullivan show in 1964, which was the band's first break-out performance in the USA, and to record "Satisfaction". Keith Richards sold the guitar in 1967 to Mick Taylor.
8. Duane Allman's 1957 Gibson Les Paul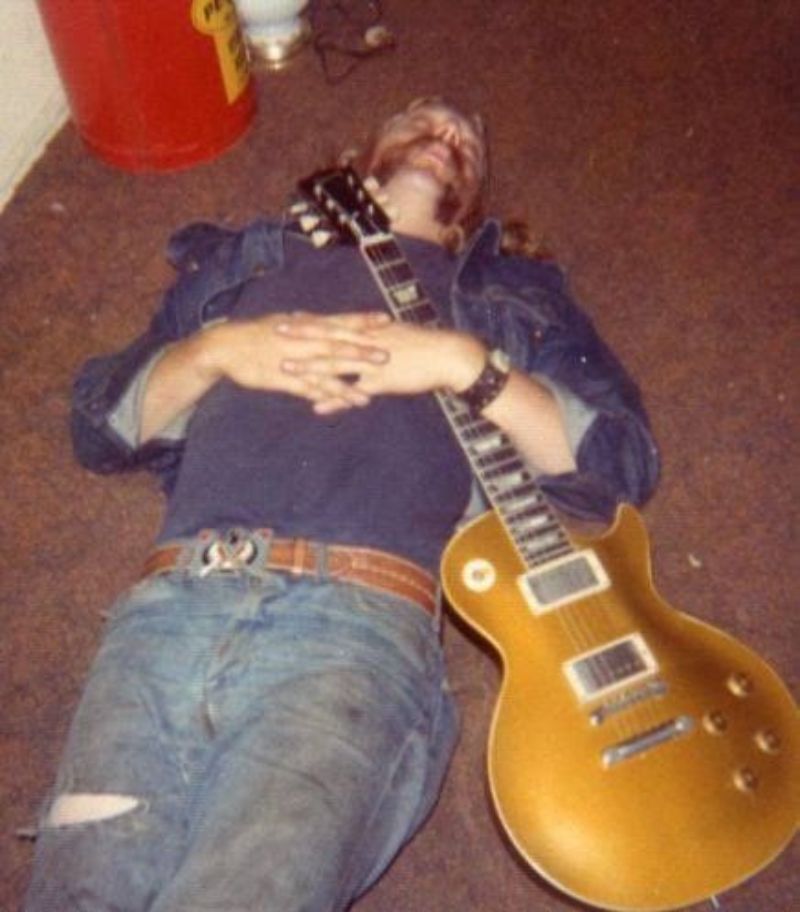 Sold for: $1.25 Million
Played by Duane Allman: between 1969 and 1970
Duane Allman was one of the most influential guitarists ever, and despite his short-lived career, he managed to "woo" the world. His 1957 Gibson Les Paul was used primarily for studio recordings, most famously for his part in the song "Layla". Duanne got rid of the guitar in 1970 when he swapped it for a different Les Paul and even threw in an extra 200 dollars when the other guitarist was hesitant. In 2019, this guitar sold for $1.25 million.
7. Jerry Garcia's "Wolf"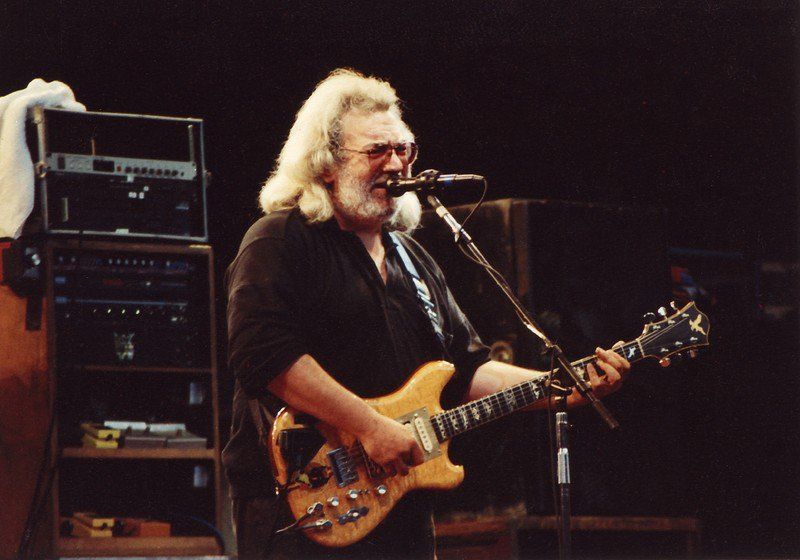 Sold for: $1.9 Million
Played by Jerry Garcia: between 1973 and 1993
"Wolf" was yet another one of Jerry Garcia's iconic guitars. This was the first guitar luthier Doug Irwin made for Garcia and was the main guitar Garcia played onstage between 1973 and 1980 when he started primarily using "Tiger". This guitar was used throughout most of the peak years for the Grateful Dead. Jerry Garcia last used the guitar in 1993. "Wolf" was originally sold in 2002 for about $1 million, but in 2017, it was sold again for $1.9 million.
6. Jimi Hendrix's Stratocaster "Izabella"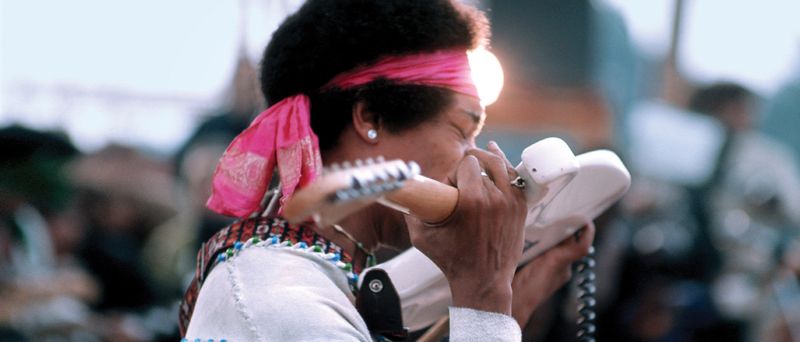 Sold for: $2 Million
Played by Jimi Hendrix: between 1968 to 1970 (including his famous Woodstock performance)
Jimi Hendrix blew the world's mind in 1969 with his mesmerizing performance at Woodstock. Hendrix was a guitar-playing pioneer and used many different guitars and gear during his short career. "Izabella" was one of his most famous guitars. The all-white guitar was used during his performance at Woodstock, and since his death in 1970, it has been one of the most sought-after guitars for collectors. The 1968 Stratocaster was sold to Paul Allen for $2 million.
5. John Lennon's Gibson 1962 J-160E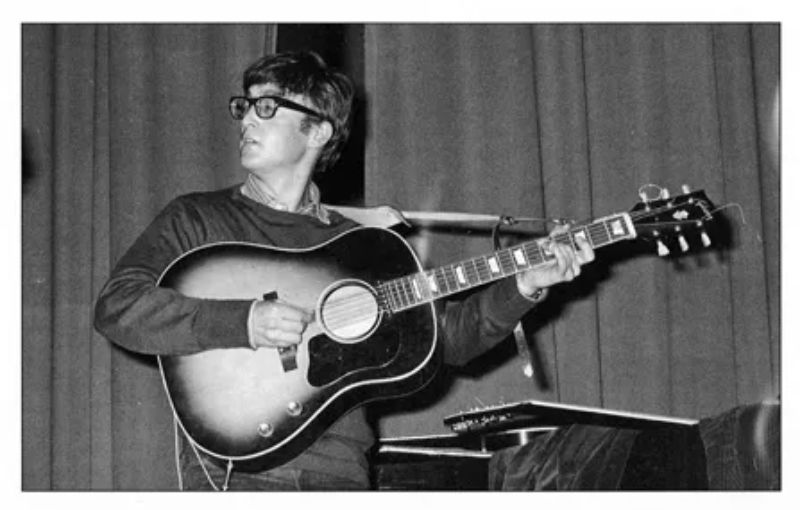 Sold for: $2.41 Million
Played by John Lennon: between 1962 and 1963
It shouldn't come as a surprise to anyone that a guitar played by a member of the Beatles sold for big bucks. In 1962, the Beatles were not famous stars yet, and the band's manager Brian Epstein bought George Harrison and John Lennon identical acoustic Gibson 1962 J-160Es. Unfortunately, in 1963, the guitar was lost at a concert, and Lennon never saw the guitar again.
However, in 2014, a guitar owner saw a picture of George Harrison's guitar in a magazine and noticed a lot of similarities with his own guitar. When compared closely with George Harrison's identical one, which is still owned by his estate, it was discovered that this guitar was, in fact, John Lennon's long-lost twin guitar.
The guitar was used by John Lennon to compose early Beatles songs such as "Love Me Do" and "I Want To Hold Your Hand". In 2015, the guitar sold for a whopping $2.41 million.
4. "Reach Out To Asia" Stratocaster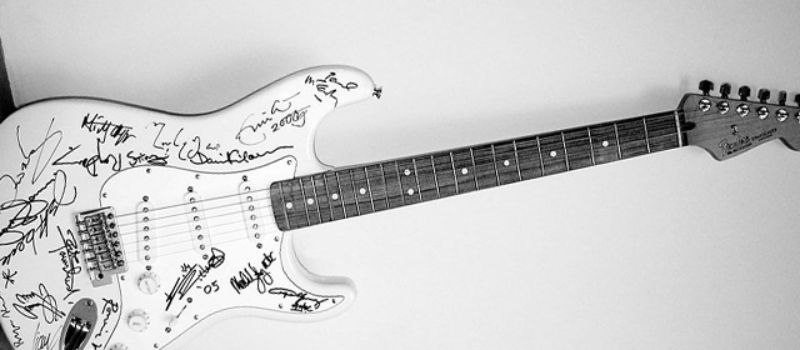 Sold for: $2.7 Million
Significance: The guitar was signed by many famous guitarists and sold at an auction for charity. However, it was not actually played by any of the famous guitarists.
This guitar is a unique one on this list because it was not a famous guitar played by a guitarist during a performance or recording. Instead, it was signed by many famous guitarists and sold for charity to help victims of the 2004 Indian Ocean Tsunami. The guitar was sold in 2005 and, at the time, was the most expensive guitar ever sold. The guitar was signed by music legends such as Mick Jagger, Jeff Beck, Keith Richards, Eric Clapton, Brian May, Jimmy Page, David Gilmour, Pete Townsend, Mark Knopfler, Ray Davis, Liam Gallagher, Ronnie Wood, Def Leppard, Angus and Malcolm Young, Paul McCartney, Sting, Ritchie Blackmore, Tony Iommi, Def Leppard, and Bryan Adams. The money earned was given to charity to help those affected by the earthquake and tsunami.
3. David Gilmour's 1969 "The Black Strat"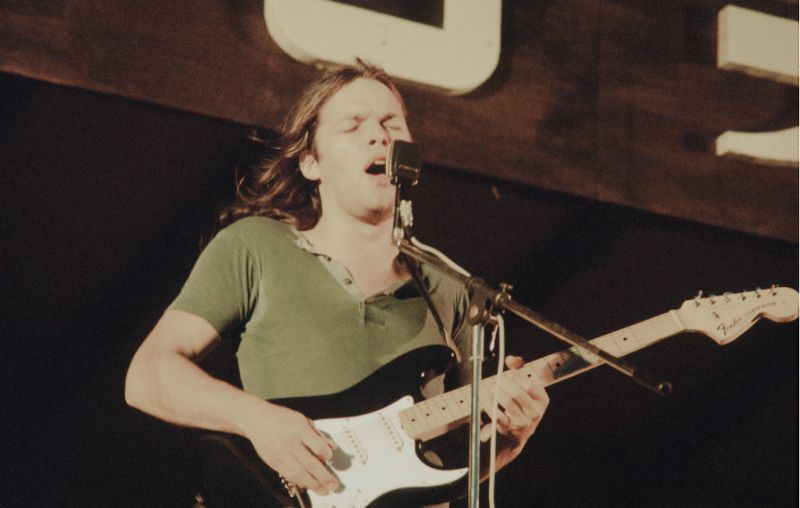 Sold for: $3.975 Million
Played by David Gilmour: between 1970 to 2019
David Gilmour's "The Black Strat" is a truly iconic guitar that is part of rock and roll legend. Gilmour played this guitar for many of Pink Floyd's hits, including "Money" and "Shine On You Crazy Diamond". While he primarily used it between 1970 and 1989, it was restored in the early 2000s and used again for several of Pink Floyd's reunion tours. In 2019 "The Black Strat", along with many of David Gilmour's other guitars, was sold at an auction for charity The entire collection sold for over $20 million. Guitar collector Jim Irsay purchased "The Black Strat" for nearly $4 million.
2. Kurt Cobain's 1969 blue Fender Mustang
Sold for: $4.5 Million
Played by Kurt Cobain: between 1991 to 1994 (including in the recordings of "Nevermind" and in the "Smells Like Teen Spirit" music video)
Kurt Cobain was modest with the gear he used, but he loved his Fender Mustangs and Jaguars. This particular blue Fender Mustang was played by Cobain during the Iconic "Smells Like Teen Spirit" music video and during the "Nevermind" tour. Kurt Cobain owned several Fender Mustangs and publicly said they were his favorite guitar. Fender even designed him a custom-made Jag-Stang, which was a mix between a Fender Jaguar and a Mustang. After his death in 1994, the 1969 blue Fender Mustang was owned by his estate until 2022. In 2022, the guitar sold for $4.5 million, becoming the second most expensive guitar ever sold.
1. Kurt Cobain's 1959 Martin D18E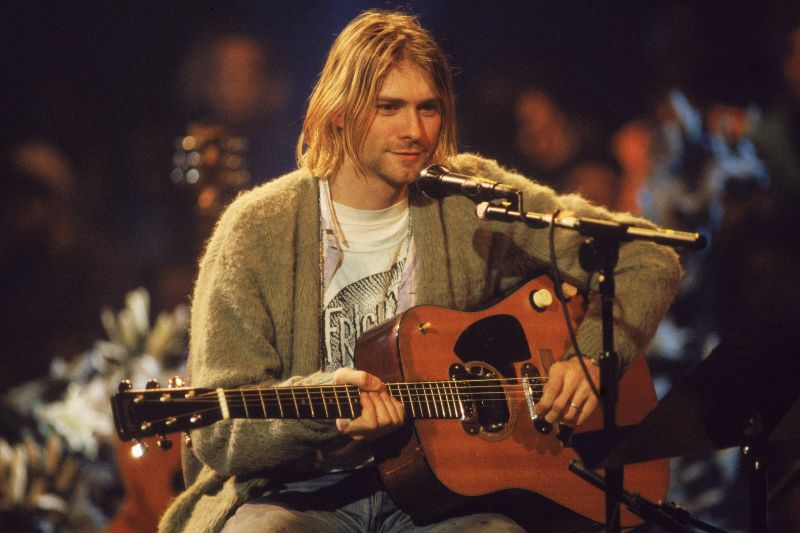 Sold for: $6 Million
Played by Kurt Cobain: between 1993 and 1994 (during Nirvana's famous "Unplugged" performance. This guitar is believed to be the last guitar that he ever played)
Nirvana's "MTV Unplugged in New York" was released around 6 months after Kurt Cobain's death. This Grammy award-winning live album was played with acoustic guitars and has been called the "best live album ever made". Kurt Cobain played a 1959 Martin D18E on the album, which is an extremely rare Martin model. Cobain fitted the guitar with Bartolini pickups and knobs and switches to control the sound. In 2020, this guitar became the most expensive guitar ever sold by quite some margin, overtaking David Gilmour's "The Black Strat" by more than $2 million. The guitar was also sold with the original strap and case that Kurt Cobain used.
Best guitar collections in the world
But what if you want to see one of these legendary guitars for yourself? Where do these $1 million guitars go after they are sold? While some stay in private collections, others are put on display for the public to see. Here are a few of the biggest guitar collections in the world.
Songbird Guitar Museum
Songbird Guitar Museum is the largest collection of vintage guitars in the world. Currently, the museum displays around 550 guitars valuable guitars. However, before the COVID-19 pandemic, they had access to over 1,700. It is uncertain how many of the guitars previously owned by Songbird are still in their possession. Nonetheless, the museum has a vast collection of rare and expensive instruments.
The Permanent display is located in Chatanooga Tennesee, where you can find legendary guitars such as several 1958 Gibson Les Paul Standards, Gibson Explorers, and guitars that were once owned by Duane Allman, Chuck Berry, Buddy Guy, and Roy Orbison.
Jim Irsay Guitar Collection
Jim Irsay is the owner of the Indianapolis Colts NFL team, but he is also an avid guitar collector. His extensive collection includes several of the guitars on this list and many other guitars, basses, drums, documents, and other items of historical significance. He plans to make his collections a permanent public museum, as his primary goal with the collection is to inspire and educate young aspiring musicians. For now, the collection is touring the country and can be viewed by the public in several different cities. The crown jewels of the Irsay collections are "Black Beauty" the original custom Les Paul Played by Les Paul himself, "The Black Strat", Prince's "Yellow Cloud", and many more!