Drop D is one of the first alternate tuning configurations that beginner guitarists learn. This tuning is straightforward to access and understand and opens up a healthy handful of playing and composition options that other tunings don't offer.
There is a large list of amazing bands and songwriters who have all used drop D tuning to create some timeless classics. I have compiled a list of some of the best drop D songs for guitarists of all skill levels to learn and enjoy. Read on to see which songs are some of my top picks.
What is drop D tuning?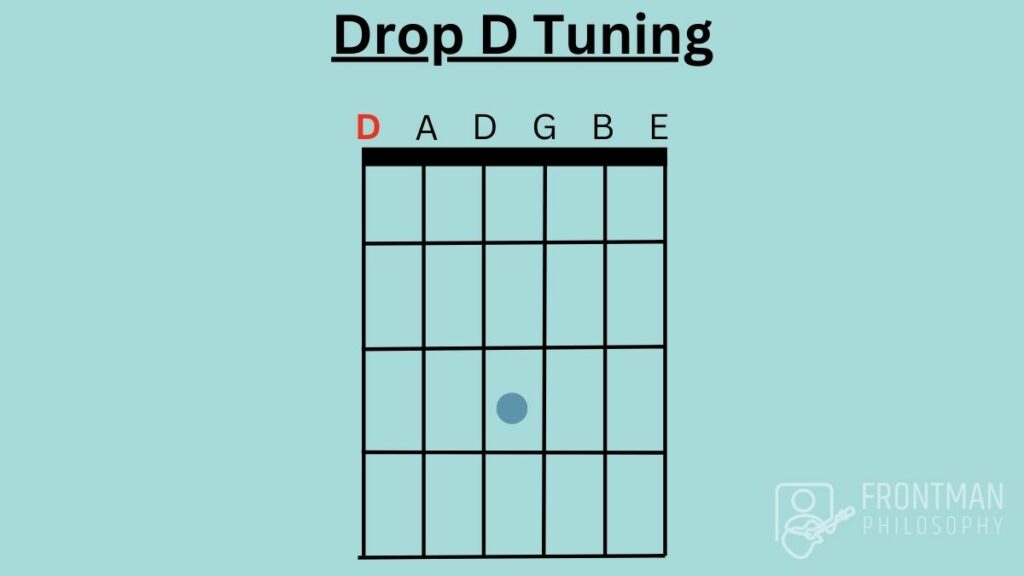 Drop D tuning was first used by fingerstyle guitarists that played genres like bluegrass, folk, and country. However, in modern music, drop D tuning is most commonly used in rock, heavy metal, and alternative music. The tuning configuration of drop D is very similar to standard tuning, with the only variation being the lowest E string is tuned down a full step to D. Here is the tuning configuration of drop D:
D-A-D-G-B-D
Drop D is a fun and popular tuning for a handful of reasons:
It's one of the simplest tuning variations to adjust to from standard tuning, which makes it easy to switch to during a gig.
The drop tuning on the low string allows you to play power chord shapes with a single finger barring the top three strings.
You can create rich and unique chord shapes and harmonics in drop D tuning. Drop D also gives you the possibility of playing licks, chords, and other melodies over the other five strings while leaving the low D string open to create a droning effect.
The 21 best songs in drop D tuning
There are millions of songs to choose from in drop D tuning, but I have narrowed down 21 of the best ones out there.
1. Given Up – Linkin Park
Check out the tab for "Given Up"
Linkin Park was largely responsible for bringing the Nu-metal movement to pop mainstream success, and their single "Given Up" is one of their most exciting and fun songs to play on guitar.
The majority of the song rides off a fairly simple three-power chord riff that you play off the lowest three strings. There is a heavy half-time breakdown in the middle that makes it hard to believe this song charted in the top 10 Billboard 100. Overall, this is a great song to learn the basics of drop D tuning.
2. Chop Suey – System Of A Down
Check out the tab for "Chop Suey"
Another Nu-metal anthem that took the world by storm, "Chop Suey" carries an unconventional arrangement with both light and heavy parts to learn. The song opens with a strumming riff played with two note shapes on the second and third strings, and this progresses to an intense droning power chord riff drilled in over the open D strings. "Chop Suey" also features some beautiful-sounding picking parts over the operatic choruses and middle thirds.
Fun fact: the lyrics in the bridge of this song were randomly picked out of a book in producer Rick Rubin's studio library during the recording process.
3. Dare You To Move – Switchfoot
Check out the tab for "Dare You To Move"
Californian rockers Switchfoot are known for their mix of squeaky clean pop hits and edgy electro-rock production. The band's songs are generally a lot more harmonically complex than most listeners realize, and this is very evident when you unpack songs like "Dare You To Move".
Written by frontman Jon Foreman during the band's college years, this song is a wonderful case study for the dynamic range that open or dropped tuning can offer a single guitar player. The entire arrangement comprises a sequence of beautiful chord shapes. So try learning the song on an acoustic guitar first to make sure you play every chord without dead notes before switching over to an electric guitar.
4. Everlong – Foo Fighters
Check out the tab for "Everlong"
The Foo Fighters are one of the most successful alternative rock bands of all time, and "Everlong" is their most popular anthem.
This is one of the first songs I personally learned in drop D, and it is a perfect introduction to alternate tunings. Dave Grohl's droning low string is present throughout much of the song, which gives "Everlong" a deep and ambient effect.
5. Run Through The Jungle – Creedence Clearwater Revival
Check out the tab for "Run Through The Jungle"
Some songs on this might fool long-time guitar players into thinking they're played in standard tuning. "Run Through The Jungle" was one of those songs for me. I've known about this smokey Creedence Clearwater Revival track for years and had always resigned to a grouping of cool blues licks and riffs in regular guitar tuning. However, once you pick up a guitar and try to play the song, you'll quickly realize the necessity of the open D string. You can also use this song to learn some hybrid picking, which uses a combination of fingerstyle and plectrum (guitar pick) techniques to give your chord playing a more rhythmic feel.
6. New Born – Muse
Check out the tab for "New Born"
One of the most fun aspects of playing in drop D is the amount of intensity you can generate using distortion. Muse's incredible blend of politically driven math-rock anthems is a perfect example of this notion. New Born starts with a tense arpeggiated progression played on the piano that slowly lifts singer Matt Bellamy's delicate voice. Around the 1-minute mark, the song explodes into a searing picked riff that is doubled on the bass guitar to create a massive wall of sound. The somber introduction is quickly left behind, and the guitar parts are pretty rapid and high-energy through to the end but should be easy enough for most intermediate guitarists to understand.
7. Nowhere Fast – Incubus
When guitarists ask me how they could expand their guitar playing, I often recommend that they learn an Incubus album. Incubus, one of the best 90s punk bands, has some seriously cool guitar parts. One of the best-kept secrets of this band is the surprisingly dense and versatile arrangements that guitarist Mike Einziger comes up with. "Nowhere Fast" is a very unique and interesting blend of fusion and modern American rock that can be pretty challenging to play perfectly from start to finish. The song kicks off with a relatively simple series of power chord shapes that are pretty easy to navigate. However, from the verse onwards, Einziger's jazz influences shine through, with each part acting as a call-and-response for the lead vocal arrangements.
8. Diary Of Jane – Breaking Benjamin
Check out the tab for "Diary Of Jane"
A lot of classic songs are memorable because they portray relatable stories simply and definitively. "Diary Of Jane" from Breaking Benjamin tells the story of a troubled woman about to fall victim to her self-sabotage and her lover's efforts to help her find solace.
As sweet as the song sounds, there are a lot of raw and heavy power chord parts in this song to reflect the singer's angst and pain. The opening picked riff is also a great part for absolute beginners to learn, as it's quite easy to play along to. The chorus also has a magnificent melodic climax that uses drop D chord shapes to accent them.
9. Loser – Beck
A lazy, unassuming demo song about self-deprecation from American producer Beck would send him straight to the top of international charts in the early 90s. To play this song properly, you will need a steel guitar slide, but a bottle or smooth cigarette lighter could also do the trick. "Loser" is exceptionally easy to play along with if you know how to play the slide guitar well. The song mainly uses the slide guitar motif, complemented by another picking hook played on a secondary guitar. You repeat the sliding part throughout most of the song, and while this may feel repetitive, it's a great way to train and develop your slide playing.
10. Song 2 – Blur
Check out the tab for "Song 2"
"Song 2" was such a neglected and overlooked arrangement from British legends Blur that they didn't even give it a name. But it's the runt-of-the-litter mood and energy of the song that rocketed the band to instant stardom in the 90s and continues to set football stadiums and pub dance floors alight to this day. The entire song consists of a one-chord progression and an ABAB arrangement. The progression is played slightly differently in the verses and choruses, with the latter having fewer strums and way more distortion. The chorus also uses a two-chord turnaround to give it some added tension and resolve.
11. Lotus Flower – Radiohead
Check out the tab for "Lotus Flower"
Radiohead is renowned for pushing the boundaries of what commercially accepted pop music should be. "Lotus Flower" is a sparse, light, and synth-driven song heavily driven by the band's electronica influences. However, many guitarists may be surprised to find out that the live versions incorporate a guitar part that uses drop D tuning. There are even videos of Thom Yorke testing out the song at solo shows and using the guitar exclusively. The arrangement switches between a very cool feeling bluesy motif and stunning modal chord progression that pairs effortlessly with Yorke's glassy falsetto.
12. Treat Me Like Your Mother – The Dead Weather
Check out the tab for "Treat Me Like Your Mother"
Jack White is often considered to be one of the people responsible for reviving the electric guitar for the next generation. White is an absolute workhorse that balances running a record label with playing in several bands, one of which is The Dead Weather. White thinks like a drummer, and it's very evident when you run through this song's tablature. A lot of the notes in the riffs that make up this song match up with the drum parts (which are played and recorded by White himself). Also, make sure you have some thick distortion, overdrive, or fuzz effects on hand to learn this song.
13. Fat Bottomed Girls – Queen
Check out the tab for "Fat Bottomed Girls"
Many guitarists associate drop D tuning with heavy, aggressive, and often dark songs. But certain musical geniuses know how to think outside the box, and one such genius is Brian May of Queen. Drop D tuning was not a popular choice or trend amongst any players in May's circles when he chose to use it for this tongue-in-cheek ode to heavy women. There is nothing overly complex about this song, which primarily uses a single power rock progression from open to close. There are a few bluesy licks that May throw in from time to time, but you can also trade these for some of your improvised lines.
14. Moby Dick – Led Zeppelin
Check out the tab for "Moby Dick"
Led Zeppelin is a right of passage for any ambitious rock guitar student that wants to master the distortion pedal. "Moby Dick" is an instrumental song that is hijacked by drummer John Bonham for an extensive drum solo that takes up most of the recording time. The leading riff in this song is played by both the guitar and bass and uses a traditional 1-4-5 blues progression but in drop D tuning. The true test comes in trying to keep up with Jimmy Page's lead licks that he plays in between the main riff, and it will take some time and effort to learn regardless of your playing level.
15. Harvest Moon – Neil Young
Check out the tab for "Harvest Moon"
Neil Young is rightfully one of the most celebrated songwriters of his generation. He is known for his simple but effective arrangements and effortless, powerful lyricism. "Harvest Moon" is a timeless love song that has been covered by numerous artists. There are no big riffs or fancy licks throughout this track. Instead, the song is made up of a softly strummed chord progression that uses the low D string for a simple accent played while strumming the open D major chord. You could substitute this accent to the 3rd string (D string), but it wouldn't sound nearly as deep or rich. This song is an absolute must for campfire performances.
16. Lateralus – Tool
Check out the tab for "Lateralus"
If you're the kind of guitar player that enjoys a challenge, I highly recommend you try some of Tool's time-bending arrangements. Tool is notorious for creating highly intelligent syncopated rhythms and time-signature changes. "Lateralus" is one of the most popular singles, and most guitar players need a sheet, tab, or another type of chart to help them navigate the composition's sneak plot twists. You'll spend most of this song counting and trying to keep up with the song's shifting rhythms and phrasing. Thankfully, the notation isn't super busy, and the song moves from soft to heavy parts and back without you even noticing.
17. Fallen Leaves – Billy Talent
Check out the tab for "Fallen Leaves"
"Fallen Leaves" was the first breakthrough single for Canadian nu-punk band Billy Talent in 2006. Guitarist Ian D'Sa is the often unsung hero of this band, and the single is instantly recognizable with the opening progression, played in chunky, palm-style over the top four strings. The arrangement progresses to a dense power chord structure that's all on the low strings, and there are also some versions where D'Sa adds some chord extensions here for extra harmonic content. The main riff also doubles the vocal hook of the chorus of the song, which makes it very satisfying to play and sing simultaneously.
18. Nightmare – Avenged Sevenfold
Check out the tab for "Nightmare"
Avenged Sevenfold somehow turned heavy metal into a cinematic Hollywood production and made it cool. Aptly, "Nightmare" sounds like an infectious theme song from the credits of a horror movie, complete with catchphrases and sing-along lyrical parts. The primary selling point of these guitar parts is that they're written for two players to enjoy playing together. There's a fantastic dual guitar solo in the middle with lots of interlocking harmonies and juicy melodic lines to learn that will drastically improve your playing ability.
19. Last Resort – Papa Roach
Check out the tab for "Last Resort"
"Last Resort" has deviated between classic cult hit and cringe status since it first swept the world in 2006. The story details the struggles of one of the band's closest friends that ultimately came to a tragic ending, and its raw lyricism is backed by equally sharp and rugged guitar playing. The primary arpeggio and progression are consistent from the opening bars through the verses, with the verses being played with a tighter feel and dynamic. The chorus opens up nicely with an ascending octave hook that adds some beautiful texture over the aggressively played chord structure. "Last Resort" is best played alongside another guitarist that shares rhythm and lead duties.
20. Laid To Rest – Lamb Of God
Check out the tab for "Laid To Rest"
Learning a song like "Laid to Rest" is not for the faint-hearted or impatient. There is a near-dizzying amount of detail and techniques strung across this composition, and perfecting it will take some serious commitment and a keen listening ear. "Laid To Rest" is quite possibly the most technical song on this list, even for experienced players of metal or progressive guitar styles. Each section of the composition comes with its distinct riff to learn, and the arrangement doesn't follow conventional songwriting structures.
21. Fat Lip – Sum 41
Sum 41 has carved a consistent fan following for themselves since debuting as humble skate punks in the early 2000s. "Fat Lip" is one of their most epic and memorable stadium hits and features a quirky mix of rapping and sung vocals thrown over some thick, heavy guitar riffs. The opening riff is pretty easy to learn unless you're just getting started, and there's a brief but impactful dual solo in the bridge section for anyone looking for something technical to learn.
Looking for some more guitar song recommendations? Check out my top beginner electric guitar songs!