U2 is one of the most successful and influential rock bands in history, and at the heart of their sound is the innovative guitar work of David Howell Evans, more commonly known as the Edge.
In this article, we'll explore the Edge's playing style, the gear he uses, and his impressive collection of guitars, which includes more than 40 instruments, to break down whether or not he is as good of a guitarist as he is hyped up to be.
Is the Edge a good guitar player? Or is he overrated?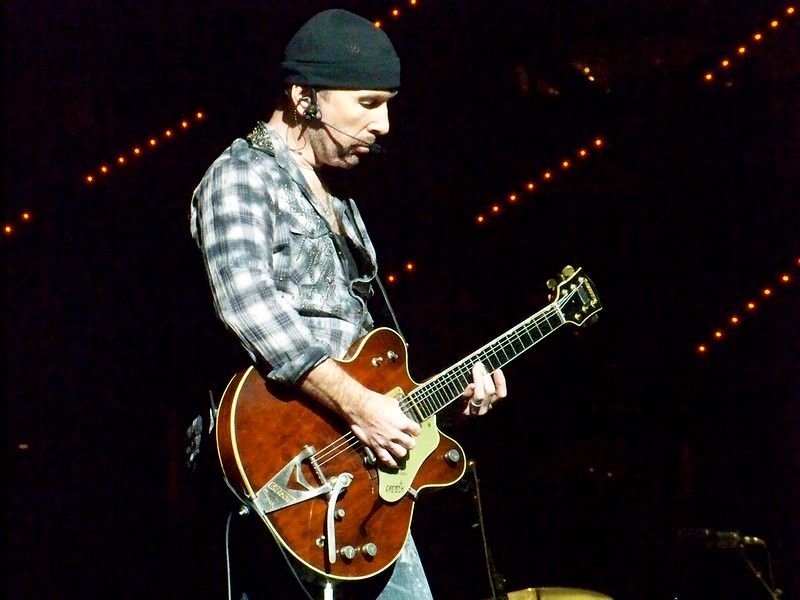 This is a very subjective question because not everyone's view of "good" guitar playing is the same.
The Edge is an innovator. He uses effects and creative playing techniques to create a unique sound that is synonymous with U2. If the Edge was a novelist, he'd be called a modernist; if he was a painter, an impressionist. Modernism arose from the transformation of society reflected by the industrial world, new technology, and war, which is where U2 and the Edge fall in history.
The Edge is amazing at what he does. His use of effects pedals and textured riffs put him in a different category than other 80s guitarists and helped set U2 apart from other bands at the time.
While he isn't as technically proficient as Eddie Van Halen, Jimmy Page, or Steve Vai, he is undoubtedly an excellent guitarist that has trailblazed modern guitar playing.
What is the Edge's playing style?
The Edge's playing style is marked by a focus on texture and atmosphere, not on technical ability (though he has it).
In the 60s and 70s, guitar-driven rock music was "hard and fast," with heavy overdriven guitar riffs leading most songs. Players like Jimmy Page, Jimi Hendrix, and Eric Clapton were known for pushing their amps to the max to get a loud face-melting sound.
But as the 80s rolled around, you started to see delay, chorus and reverbs come into play. The Edge incorporates delay, reverb, and distortion to create his unique sound landscapes. U2's music is a reflection of Ireland during "the troubles" of the 70s and 80s. A time when the IRA and the Northern Irish Loyalists were in a bloody feud.
This emotional time of hardship in Ireland is difficult to encompass in music, but shredding a minor pentatonic scale over a 12-bar blues just isn't going to make the cut.
What gear does the Edge use?
The Edge has an impressive collection of electric guitars, amps, and effects pedals that are indispensable for his iconic sound. His signature sound can be broken down to his use of delay pedals with long delay times, modulation pedals, and the 40+ guitars he brings on tour. He also tours with more than 50 effects pedals and other electronics gear. U2's guitar technician, Dallas Schoo, must be one of the hardest-working guitar technicians in the industry!
The Edge's guitars
As I mentioned, the Edge typically tours with more than 40 guitars, and it is not uncommon for him to use most of them throughout a tour. So if you watch a live show, you'll see a lot of guitar changes. If he likes the way a certain guitar sounds on a song, he will likely use that exact guitar every time he performs the song.
The Edge was never really a Gibson-player or a Fender-player, although he played Strats extensively. He never wanted to be a "poster guy" in guitar stores.
Fender Stratocasters
Despite his efforts not to endorse a specific guitar brand, Fender and the Edge partnered in 2016 to create The Edge Fender Stratocaster.
For most of his career, the Edge has used Fender Strats as his primary instrument. When he picked up a black 1973 Fender Stratocaster, he instantly knew it was the guitar for him. This Strat had a brass tremolo bridge adding greater resonance and a warmer tone. He has used the 1973 black Stratocaster for many U2s recordings and live performances.
1976 Gibson Explorer
This was his "unofficial" official guitar and the first guitar he ever recorded with. The Edge first procured an explorer in 1978 in New York. He was one of the first famous guitarists to play a Gibson Explorer extensively. Explorers were originally launched in the late 1950s but were a commercial failure. However, in the late 70s and 80s, they took off in popularity. The 1950s Explorers are one of the most valuable guitar models ever.
The Edge played this guitar on every U2 album between 1978 and 2008. He still uses Gibson Explorers to this day, but in 2008, he sold the original Explorer for nearly $250,000.
Gretsch Chet Atkins County Gentleman
The Edge plays slide guitar often, and when he plays slide, this is his guitar of choice. The hollow body of the County Gentleman gives him more sustain and a deep warm tone. He has used this guitar on several recordings and live shows, but the most famous is in "Desire".
1975 Gibson Les Paul Custom
In the early 80s, the Edge was listening to the Sex Pistols a lot and really wanted to emulate the sound of Steve Jones, who also used this exact model Gibson Les Paul to record "God Save The Queen". This was the Edge's 3rd guitar that he added to his collection, and it was played on most of U2s albums until he sold the guitar for over $250,000 to raise money to help those affected by Hurricane Katrina.
| | | | |
| --- | --- | --- | --- |
| Make | Model | Color/Finish | Years |
| Gibson | 1976 Explorer | Natural | 1978 to Present |
| Fender | 1973 Stratocaster | Black | 1981 to Present |
| Gibson | 1975 Les Paul Custom | Alpine White (Cream) | 1982 to 2007/ 2008 to Present |
| Rickenbacker | 1966-1967 | Sunburst/Maple Natural | 1991 to Present |
| Fender | 1966 Telecaster | Vintage Yellow | 2005 to Present |
| Gibson | Les Paul Music Rising | Hand Painted Mardi Gras | 2006 to Present |
| Gretsch | 1963-1967 Chet Atkins Country Gentleman | Walnut | 2008 to Present |
| Fender | The Edge Signature Stratocaster | Black | 2016 to Present |
| Taylor | Prototype | Natural | 2018 to Present |
The Edge's effects
The Edge travels with a moving van full of effects pedals, just listen to any U2 song, and you can hear how he uses effects to layer his guitar tone to get unique sonic soundscapes.
Delay
Delay is one of the key ingredients the Edge uses to get his iconic sound. Over the years, he has used a wide range of different delay pedals.
Korg SDD-3000: This was classically a mounted delay effect that the Edge hooked up directly to his amp. Now, this effect is also available as an effect pedal. This complex digital delay unit is highly programmable and can be used to create many different types of delay.
TC Electronic 2290 Digital Delay: This is yet another mounted digital delay unit with tons of customization. The Edge also typically has this connected to his rig for live shows.
Electro-Harmonix Memory Man: This classic analog effect pedal is a very useful and versatile delay pedal; it also includes modulation options for the delay, such as chorus and vibrato.
Line 6 DL4: This is a super versatile digital delay with 3 footswitches. You can program 3 different delay modes and switch between them in real-time!
Distortion
While distortion has always been an important part of his sound, the Edge has never used distortion as much as other rock musicians. Here are some of the distortion and overdrive pedals you can find on his pedalboard.
Tube Screamer: The Ibanez Tube Screamer is an iconic overdrive pedal many legendary guitarists have used. It has a clear and full-sounding overdrive that can be used in a wide variety of genres.
Boss SD-1: The Boss SD-1 Super Overdrive is a classic guitar effects pedal with warm, tube-like overdrive tones. It features simple, intuitive controls and is a go-to overdrive for many guitarists.
Jhs Colorbox: The JHS Colorbox is a high-end preamp pedal that emulates the sound of vintage recording consoles. It is technically an EQ pedal, but it also has options for saturation, distortion, and compression.
Guitar Amplifiers
The Edge has used many different amp brands during his career. But here are a few of his favorites.
Vox AC30: The AC30 is one of Vox's signature amps and for good reason! This amp is versatile with amazing clean tones, but it can also handle heavy distortion. The Vox AC15C1 is a smaller and more affordable version of this amp.
Fender Blues Junior 15w: This is a relatively portable tube amp with an iconic sound. While the same suggests it is made for blues, it can really be used for any genre. It has a clear, clean tone with well-rounded spring reverb and an overdrive channel.
Fender 57′ Tweed Deluxe: This iconic vintage amp is a full-bodied tube amp with good clean tones, but if you crank the volume and gain, you'll get that classic tube amp crunch.
Wrapping up: is the Edge a good guitar player?
So what makes somebody great at their art? Was Picasso a bad painter because he didn't fit the mold? Is the Edge underrated just because he isn't a shredder?
I think the Edge is a master guitarist, I would never go to say that he could hold up in a guitar duel with Hendrix or Van Halen, but he innovated the instrument and changed the trajectory of rock guitar music.
The Edge is an amazing musician whose guitar-playing projects on a massive scale, giving U2 its big creative instrumental parts.