Are you considering buying your first acoustic bass guitar? Acoustic basses are essentially the bass version of an acoustic guitar and are perfect for unplugged or stripped-down music performances. Some accomplished bass players even prefer the way these bass guitars sound due to their warm, natural tone.
In this article, I've put together a hotlist of the best acoustic bass guitars on the current market. I have played each of these acoustic basses and reviewed them based on a few key factors. Each of these acoustic bass guitars stands out for a specific reason, so get ready to start grooving, and let's get straight into it!
Best acoustic bass guitars
1. Fender CB-60SCE (Best overall)
Frontman Philosophy Score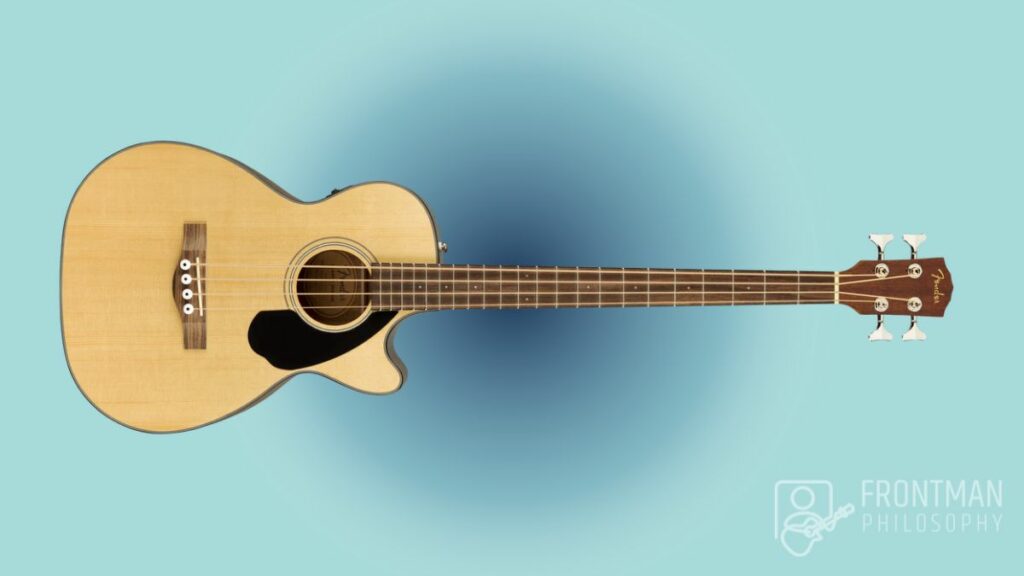 Specs
Price: $349
Top: Solid Spruce
Back: Mahogany
Sides: Mahogany
Neck: Mahogany
Fretboard: Rosewood – 22 Frets
Electronics: Fishman Classic Preamp & Pickup
What's great?
Reliable electronics system
Durable body build and bracing
The slim-taper neck is very easy to play
What's not so great?
Lack of presence in the low-end
Sound
The Fender CB-60SCE sounds great for its low cost and has a notable mid-range. The Fender CB-60SCE is a concert-sized guitar, so it does lack a bit of the natural low-end that larger-bodied acoustic basses have. So, it can sound a bit thin during unplugged performances, but it holds up easily when plugged into a louder speaker system. A huge bonus of this acoustic bass is the electronics that allow you to plug the bass into a PA system or an acoustic bass amp. Fender uses a Fishman electronics system for the preamp and pickup, and this combo is very reliable for most playing situations or setups.
Playability
One of the biggest downsides of acoustic bass guitars is their sheer size. But, since the Fender CB-60SCE is a concert-sized guitar, it is a bit smaller than your standard acoustic bass guitar, making it much easier to play. Concert-size guitars are generally easier to handle than traditional body sizes, and the CB-60SCE is no exception. The body is delightfully light and unobtrusive, and the shorter scale 32'' neck also adds to the overall playability of the guitar. One of the guitar's most defining designs is the slim-taper neck, which is found on all classic Fender guitar designs. These necks are highly revered for their craftsmanship and ease of access.
Durability
This bass is pretty sturdy and will withstand general wear and tear. Mahogany is a tonewood that is not only chosen for its tonal properties but also for its sturdiness. The CB-60SCE can withstand most minor bumps and knocks without any concerning damage. However, if it takes a considerable fall, I would recommend getting the neck and joints checked for surety. I also recommend investing in a good quality case for your bass if you plan to travel with it often.
Price
At around $349, this acoustic bass guitar is very reasonably priced and is a good investment choice for beginner and intermediate-level players. If you are a professional bassist and are looking for something to record or gig with, you may want to look into a more premium acoustic bass.
Should you buy it?
The Fender CB-60SCE is a great choice for most bassists. This acoustic bass is especially a good option for beginner or intermediate players who are serious about playing bass guitar and should get a lot of long-term returns from this purchase.
2. Best Choice EAB (Best budget acoustic bass)
Frontman Philosophy Score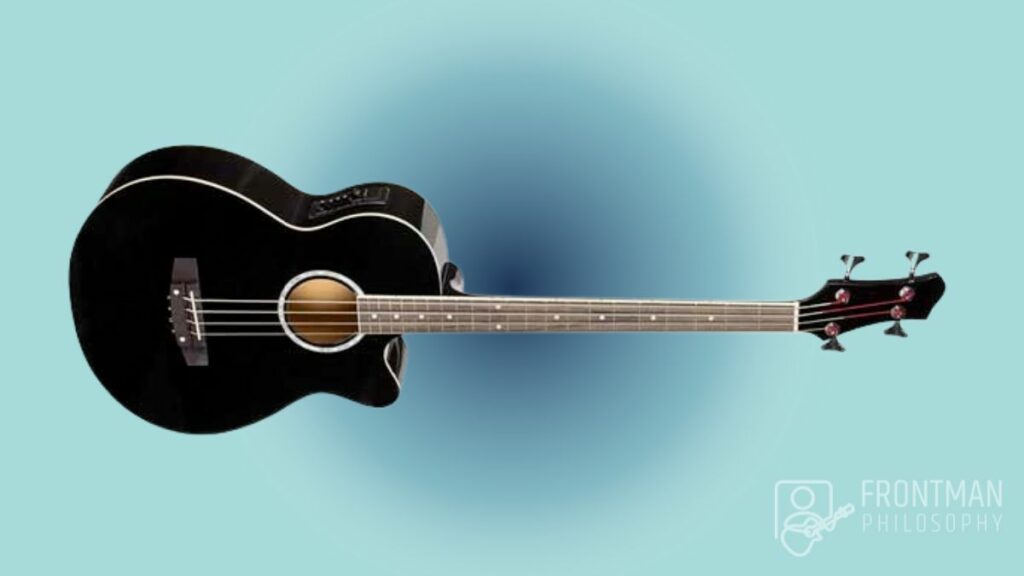 Specs
Price: $109
Top: Sapele
Back: Basswood
Sides: Basswood
Neck: Maple
Fretboard: Rosewood – 22 Frets
Electronics: Ibanez AEQ-2UT preamp w/Onboard tuner
What's great?
Very affordable price
Surprisingly good tone
Playable for most hand sizes and types
What's not so great?
Stunted resonance due to choice of tonewoods
The neck might be prone to warping
Sound
When it comes to budget bass guitars, you often get what you pay for. That is not exactly the case with the EAB acoustic bass. When checking this bass out, I was pleasantly surprised! I was expecting a much more low-quality natural tone, but this budget acoustic bass sounds pretty dang good.
He biggest downside in terms of sound is that the guitar has very little overall resonance, primarily due to the choice of tonewood laminates, but the tonal response is strong and balanced. The EAB is not going to be a first choice for studio recordings, but it has a relatively good sound for the price and will be a good option for beginner or casual players on a tight budget.
Playability
Experienced players will certainly find the EAB's neck profile and fingerboard setup to be below their standard. However, it's important to remember that the guitar is built primarily as an entry-level unit. Remember, this is a budget bass guitar, so there are definitely some costs that had to be cut, and the neck and fingerboard are one of the most obvious. That said, the neck is not overly tense, and it should be easy for beginner players to develop their skills without any playing hindrances around the neck or body.
Durability
This acoustic bass guitar is not going to last you a lifetime. But, you shouldn't expect much when paying as little as you will for this instrument. As a budget guitar, there have understandably been some manufacturing compromises to the EAB acoustic bass. The tuning hardware and truss rod won't be able to withstand major changes in temperature or humidity. The neck is also likely to warp under excessive stress, which can become a costly repair in the future. The body of the bass is made from basswood, which is a relatively cheap wood type that is not known for being very durable.
Price
The biggest selling point of the Best Choice EAB? It is ridiculously affordable! At $109, the EAB is a perfect option for entry-level musicians who are dabbling with the prospect of playing bass guitar. And when compared to electric bass guitars, you don't even need to buy a bass amp or guitar cables.
Should you buy it?
If you are a new player who wants an entry-level acoustic bass, this guitar is a solid option. The Best Choice EAB may not sound as good as some of the other options on this list, but it is insanely affordable, so if that is the most important factor for you, this is your option. This is the best acoustic bass guitar for those wanting a secondary acoustic bass for more casual at home playing.
3. Fender Kingman V2 (Best pro-level acoustic bass guitar)
Frontman Philosophy Score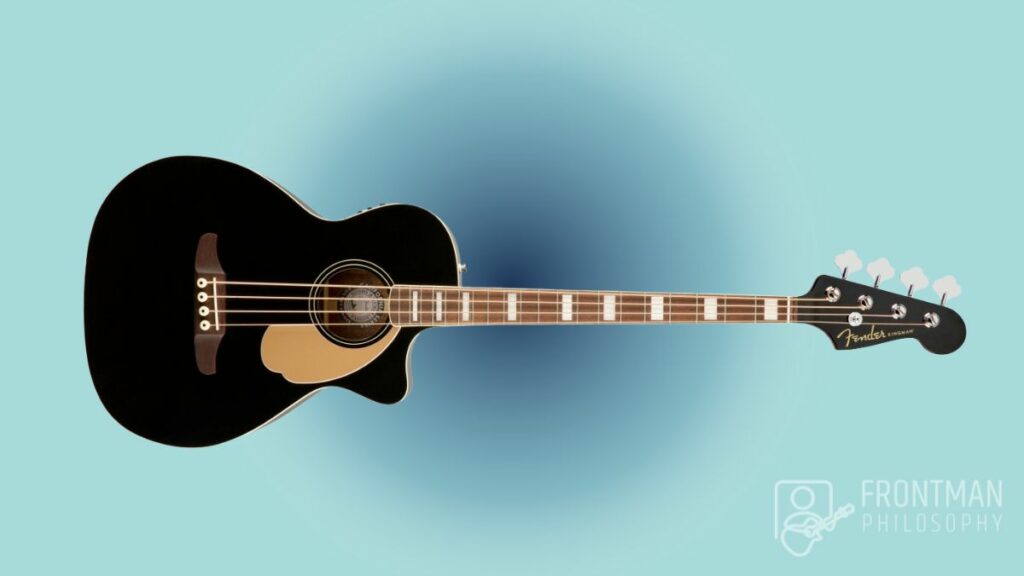 Best pro-level acoustic bass guitar
Specs
Price: $599
Top: Solid spruce top
Back: Mahogany
Sides: Mahogany
Neck: Mahogany
Fretboard: Walnut – 20 Frets
Electronics: Fishman Pickup/Preamp system
What's great?
Sturdy bracing on top provides extensive tonal resonance
Naturally loud and present
A generous selection of tonal controls is included in preamp system
What's not so great?
Might be a bit expensive for intermediate or beginner bassists
Sound
The Fender Kingman has a big natural sound and is one is perfect for unplugged performances. The most notable sonic quality of the Kingman is the guitar's even and consistent resonance.
This is one of the best acoustic bass guitars on the market because of how well-rounded it is. Whether you play jazz, rock, blues, folk, or really any genre, this bass guitar can accommodate.
The Kingman also comes with a top-shelf Fishman pickup/preamp combo with a built-in tuner. The onboard controls include a 3-band EQ as well as frequency notch, phase, and brilliance dials for extended tonal control.
Playability
Ask any majorly experienced bass player what their favorite neck is to play on, and many will answer with the Jazz Bass Neck from the classic Fender Jazz electric bass. This same famed neck is featured on the Kingman, with a slightly slimmer taper than the traditional electric build. Movements like pull-offs, hammer-ons, and chord shapes are extra satisfying to play on this neck, and there is zero dead space on any areas of the fretboard. The body of this bass guitar is also relatively slim, so it is easy to hold and maneuver.
Durability
Fender has included the same Mahogany back and sides that feature on their CB-60SCE bass guitar. However, the Kingman Acoustic Bass features a solid spruce top that is a considerable upgrade from its predecessors. The spruce top is further reinforced with traditional scalloped bracing, which not only improves the tone but provides considerable added durability.
Price
The Fender Kingman costs $599, which is a bit of a high price point for most beginner players. That said, if you're an advanced bassist who is planning to use the acoustic bass guitar frequently, then the price tag is very justifiable. After all, it is one of the best quality acoustic bass guitars out there!
Should you buy it?
Studio or session musicians who need a reliable acoustic workhorse for daily use should give this bass guitar a try. The Kingman delivers a very consistent natural tonal quality that is ideal for various styles or playing environments. However, if you're a buyer who is unsure of how frequently you'll use this guitar, it might be best to try out a more affordable option.
4. Taylor GS Mini-e Koa (Best for travel)
Frontman Philosophy Score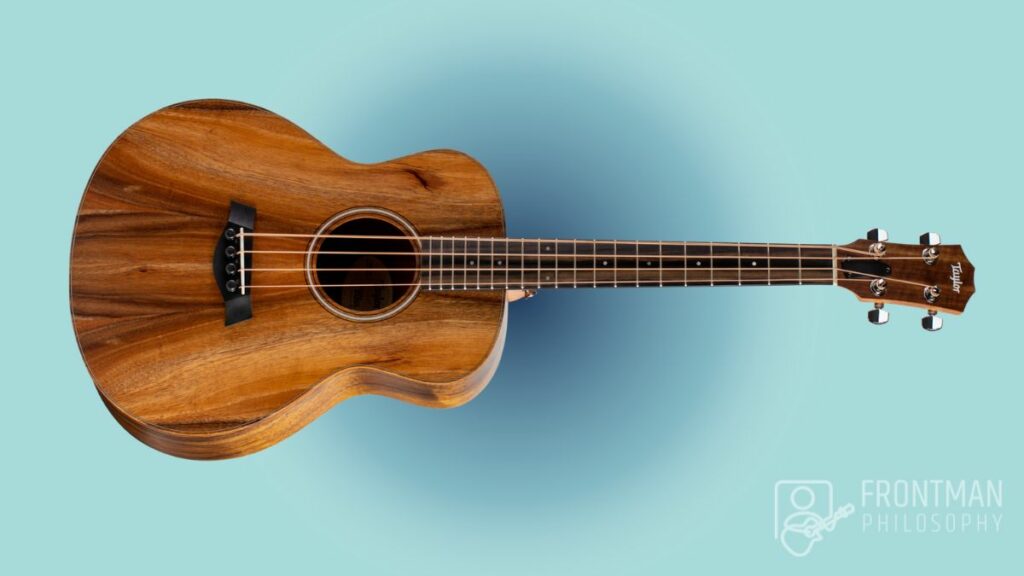 Specs
Price: $999
Top: Hawaiian Koa
Back: Hawaiian Koa
Sides: Hawaiian Koa
Neck: Tropical Mahogany
Fretboard: Ebony – 22 Frets
Electronics: ES-B preamp w/Onboard tuner
What's great?
Exceptional choice of tonewood and construction
Bright and resonant tonal response, especially with fingerstyle bass
Extremely dextrous build can withstand harsh playing environments and climate changes
What's not so great?
Expensive
The small design may not be every bassist's cup of tea
Sound
The Taylor Mini-e has a notably lower volume and lighter tonal response compared to larger, traditional acoustic basses, but it serves its primary sonic functions quite well. The guitar is loud enough for smaller, intimate performances like campfires or unplugged studio jams. Playing in these settings lets you appreciate the astounding presence and warmth that the build provides, even with a smaller profile design. Hawaiian koa is a unique tonewood that has good sustain and projects well, so this bass sounds much bigger than it is.
Playability
The Mini-e is an absolute dream for very young players and bass players with smaller hands. The bass has a shorter scale length and a thinner neck, making it easier to handle for certain players. However, players who are used to large-scale neck profiles will find this bass particularly clumsy to play on, as the frets will seem like they're stacked too closely together.
Durability
Durability is the Taylor Koa Mini-e's greatest selling point. The choice of tonewoods used in the guitar's build are all sourced from tropical climates and have an immense amount of tensile integrity. The guitar feels and sounds incredibly consistent throughout most harsh temperature and humidity changes. The tuning also holds up very well, even with intense amounts of frequent playing.
Price
The asking price is probably the biggest downfall of the Taylor Koa Mini-e. Taylor guitars are known for being expensive, and the Mini-e is no exception. At $999, the guitar is going to put a considerable dent in most player's pockets. The heavier price tag is mostly due to the choice of rare and exotic tonewoods, as well as the brand recognition of Taylor.
Should you buy it?
Right off the bat, it's crucial to understand that this bass is primarily geared as a travel bass. Taylor has an exceptional reputation for fine craftsmanship, and when you consider this guitar's primary function, its tonal quality and playability are pretty impressive. The asking price is a notable stretch, but sadly, there aren't many travel-style acoustic basses that can even closely compete with the Taylor Koa Mini-e.
5. Martin BC-16E (Best for studio recordings)
Frontman Philosophy Score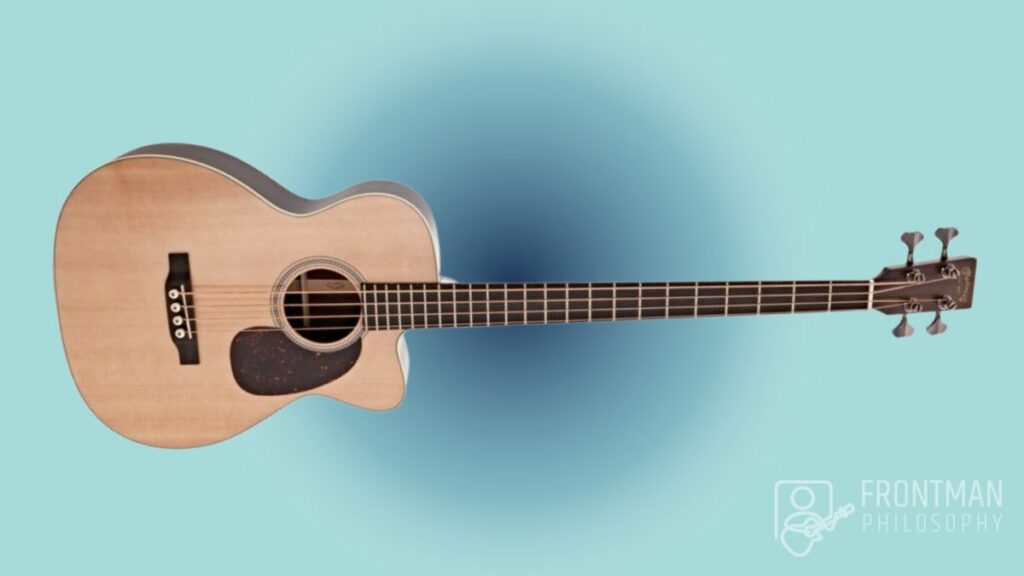 Specs
Price: $2199
Top: Sitka Spruce
Back: East-Indian Rosewood
Sides: East-Indian Rosewood
Neck: Select Hardwood
Fretboard: Ebony – 23 Frets
Electronics: Fishman Matrix VT Enhance NT2
What's great?
Stunning sound clarity when plugged into amplifiers/mixers/interfaces
Very strong low-end response, both naturally and plugged in.
Experienced players should enjoy this guitar's playability.
What's not so great?
Neck profile and size are not welcoming to beginner's hands
The asking price is quite high for most casual bass players
Sound
Finding the best acoustic bass guitar for studio use can be an especially tricky task, particularly for seasoned audiophiles. Thankfully, the lush and rich guitar sound quality of the Martin BC-16E is an absolute dream for this purpose. The guitar is designed with sound quality as its primary focus, and delivers, both unplugged and through the electronics system. The natural low-end is punchy and has the delightful presence that most engineers should enjoy mixing. The guitar also has enough natural volume generation for room recordings with a few good microphones. However, the BC-16E shines through its Matrix VT Enhance electronics system, which captures various bass-playing techniques with impressive clarity.
Playability
Top-shelf acoustic bass guitars like this one are generally designed for professional use, so there's not a lot of consideration for beginners in the BC-16E's build. The guitar's slightly wider neck profile and select hardwoods in the fretboard are unforgiving to new hands. The wider neck also makes it trickier for new players to build a comfortable foundation to develop their skills. The body has a larger profile to match the neck proportionally, which some players might find a bit intrusive. However, if you're a well-practiced musician who isn't fussy with specs or sizes, you'll probably find this guitar extremely appealing to play on.
Durability
One of the guitar's biggest secondary selling points is its high-quality build. The guitar top is structurally supported using a very well-crafted X-bracing. The guitar can withstand strenuous, intensive playing – almost to reckless degrees – without losing tuning dynamic. The guitar also holds together consistently through intense travel conditions, making it a strong option as a touring aid.
Price
The Martin BC-16E comes in at a hefty $2199. This asking price is not suited to beginner players or anyone who wants a guitar for weekend gig purposes. However, if you aim to invest in an acoustic guitar for high-quality studio recordings (especially if you do a lot of session/recording work) then the Martin BC-16E is well worth investigating. I can imagine this guitar being used in various jazz and folkstyle studio sessions.
Should you buy it?
Again, the Artin BC-16E comes with a very heavy asking price, so it is a serious long-term investment. I would recommend buying this guitar if you're dead-set on having the absolute best quality acoustic bass guitar, plan on using it frequently to justify the purchase. However, if you're looking for an acoustic bass as a secondary option or are still learning, it's worth investigating more affordable options.
6. Sawtooth Rudy Sarzo Signature Series (most unique design acoustic bass)
Frontman Philosophy Score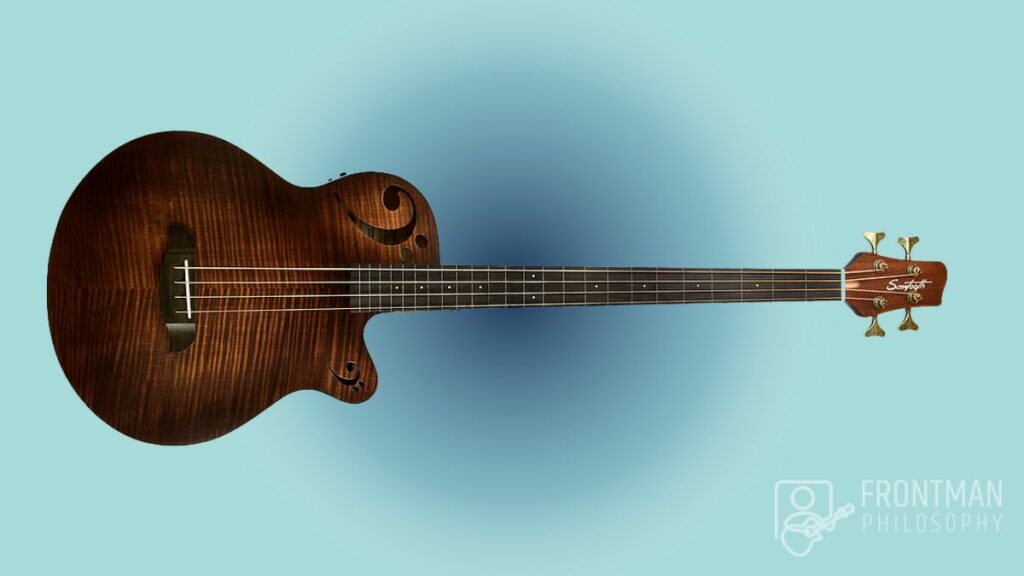 Specs
Price: $899
Top: Maple
Back: Maple
Sides: Maple
Neck: Maple
Fretboard: Ebony
Electronics: Fishman Presys II Preamp
What's great?
Exceptional playability for various techniques and music genres
Unique teardrop cutaway for personal monitoring
Smart entry-level option for fretless players
What's not so great?
The electronics system does not match the price tag
Frequency response can get muddy with faster playing
Sound
The best word to describe the sonic performance of the Rudy Sarzo Signature series is distinct. The guitar's frequency response is quite mid-heavy, and the low end is loud but could use a bit more definition. Fingerstyle techniques have a considerable thump on the bottom end, and bass chords sound particularly full and well-rounded. However, quicker playing tempos can create a muddy playback quality, which can be a dealbreaker for fans of technical playing. The other distinctive quality of the Sarzo Signature is the teardrop-shaped cutaway placed next to the preamp controls. This cutaway is meant to serve as a monitor for the player, allowing them to hear their volume and dynamics exactly as it generates in the front.
Playability
Fretless basses are designed to give players a higher degree of expression and melodic control while playing. The Sawtooth Rudy Sarzo provides these attributes quite comfortably. The fretboard is constructed using silk-like ebony, and sliding across the fingerboard feels surreal if you're not used to fretless designs. The guitar is noticeably lighter in weight than most acoustic basses, which can make it easier to play or practice for long hours.
Durability
Certain hardware parts on the machine heads and other areas could do with some minor upgrades, as they may wear quickly with constant use. Thankfully, the body, neck, and headstock are made using maple, which is a particularly resilient wood. The wood has a high-quality satin finish and should withstand most minor knocks or accidents. Bear in mind that you're likely to spend a little bit extra if you wish to properly maintain the condition of your fretless fingerboard.
Price
The Rudy Sarzo Signature Series will set you back around $899, which might be a price tag too heavy for most general consumers. As far as playability is concerned, the guitar is well-priced if you're specifically seeking a reliable fretless model. The only concerning factors are the extra expenses you'll spend on maintaining the neck and fingerboard.
Should you buy it?
The Rudy Sarzo Signature Series is a great choice for anyone who is looking for a dependable, comfortable fretless acoustic bass. This guitar is another bass on this list that caters to a very specific set of player requirements (much like the travel-friendly properties of the Taylor Koa Mini-e). Solid-sounding and highly playable fretless basses are often hard to come by at an accessible asking price, and this is one of the few. However, this bass is not recommended if you're planning to use it for studio recordings, as the sound quality has some room for improvement.
7.  Ibanez PNB14E (best for beginners)
Frontman Philosophy Score
Specs
Price: $279
Top: Okuome
Back: Okuome
Sides: Okuome
Neck: Okoume
Fretboard: Mahogany – 22 Frets
Electronics: Ibanez AEQ-2UT preamp w/Onboard tuner
What's great?
The parlor bass shape is perfect for new hands or younger players
Incredibly warm and well-rounded tone
Neck profile and taper are ideal for various playing styles
Superb electronics system
What's not so great?
The smaller profile might be too small for larger hand types
Natural volume won't compete with traditional bass builds
Sound
Parlor basses are renowned for their impressive full-bodied tone despite their smaller body size and build. The PNB14E is no exception. The guitar emits a delightful, full-bodied tone across various techniques and styles. Most of the bass is made from Okoume tonewood, which gives its low-end a noticeable warmth and character. While this bass might not have the loudest natural volume, it is well supported with a reliable Ibanez AEQ-2UT electronics system for that can be plugged into a PA or amp for electronic performances.
Playability
The shorter scale and slim C-shape neck accommodate beginner players, and it's especially easy to play traditional fingerstyle techniques. On the other hand, players who are generally used to larger profile necks could find the smaller profile on the PNB14E restricting on their left (fretting) hand.
Durability
Okoume is a tonewood with a reputation for being equally spongy and hardy. The guitar might be prone to denting quite easily due to its spongy nature, but the wood does especially well to withstand scratching. The neck and top are also considerably well-braced, which is a common find in most Japanese guitar designs.
Price
The Ibanez PNB14E comes at a retail price of around $279, which feels like a bit of a steal. I highly recommend this acoustic bass for beginner players who want to quickly develop and improve their playing techniques.
Should you buy it?
Beginner players should give the PNB14E a shot. I also recommend it to intermediate players with smaller hands who are looking for a comfortable playing companion for plugged-in performances. The electronics work very well and are quite suitable for most bedroom or other basic studio recordings.
How to choose a good acoustic bass guitar
There are many things you'll need to consider when looking for a good-quality acoustic bass guitar. There are many different acoustic basses out there, designed for different budgets, playing styles, and skill levels. Here are some of the most important things I kept in mind when testing and choosing the best acoustic bass guitars.
Sound
35% of the score
Sound is naturally one of main things you'll look at when choosing an acoustic bass. Acoustic basses come with a fairly standard range of tonal qualities, but some sound better than others. Additionally, since the main purpose is to play them unplugged, you'll need to choose an acoustic bass guitar with a good amount of volume and projection. Different tonewoods will generate different sonic characteristics, and it's important to know how you prefer your bass to sound while playing.
Playability
25% of the score
Playability is an essential factor in determining the best acoustic bass for you. As mentioned earlier, every player has their own set of ideal ergonomics when it comes to playing. Factors like the size of the body, neck scale profile, and string action all contribute to an acoustic bass' playability. Make sure to try out a few different acoustic basses before buying one to check which one feels the best for you.
Durability
20% of the score
Whether or not you intend to use your acoustic bass frequently, it's still important to consider its durability before purchase. Acoustic guitars are generally more prone to damage than electric guitars, as their hollow bodies give them a more fragile infrastructure. Pay attention to the parts of your bass guitar and especially check the durability of the tonewoods to ensure that your acoustic bass can withstand a minor bump or two.
Price
20% of the score
A lower price doesn't always equal a better price. You must compare the price tag to the quality of the instrument and then determine how good the price is. You can use the retail price of the guitar to gauge whether it offers a relative value. Higher prices should equal higher quality craftsmanship, along with better performing and more durable building materials. You can often measure the choice of tonewoods, hardware, strings as well as the overall construction to decide whether an acoustic bass is reasonably priced.
Other gear you'll need
Here is some other equipment you may want to consider investing in when you purchase an acoustic bass guitar.
Bass guitar case
Guitar stand
Guitar cables
Bass guitar strings
Maintenance kit
Check out my guide on the best guitar
Bass guitar starter kits
Bass guitar starter kits are handy purchase bundles that combine several or all of the above-listed gear into one package for easy access. These kits include all of the fundamental accessories required for comfortable, consistent playing and can also come with basic service and repair tools. Unfortunately, there aren't many starter kits available for acoustic bass guitars, but here are some good options for electric bass guitars.
Squier Affintity Series Bass Starter Kit
Rockjam Full-Size Bass Guitar Super Kit
Final tips for buying acoustic bass guitars
Do your own research. There are plenty of good options out there, these are just seven of my top choices. Do some online research and check reviews, demos, player forums, and other sources to get some solid foundational knowledge on your desired acoustic bass guitar.
Get personal recommendations. Find out if anyone you know has some recommendations for good acoustic bass guitars, and see if you can get some personal insight from them about the instrument.
Try it before you buy it. If possible, I ALWAYS recommend testing your acoustic bass in-store before making a final decision. Be sure to check out other options that might compete with your choice.
Ask a professional. It is good practice to seek out the advice of someone with more experience than you (a music teacher, technician, retailer, or professional player), as they often have the best hands-on advice when it comes to choosing the right bass guitar.
Wrapping up
Choosing the right acoustic bass guitar should take you a fair amount of research and trial-testing if possible. Acoustic basses have a smaller degree of variability than standard electric or acoustic guitars, which also makes them easier to browse and select from.
You can use the list and guide above to help you build a better understanding of all your fundamental requirements when choosing the right acoustic bass. Happy hunting, and thanks for reading through our list of the best acoustic bass guitars currently on offer.
Once you have your new bass guitar in hand, head over to my recommendations on the best bass guitar books to get started learning your new instrument!