Are you interested in learning guitar and want to invest in an online guitar learning platform? Well, Guitar Tricks is one of your best options. They have been around for decades and offer a ton of useful features. Guitar Tricks is my #1 recommendation when people ask for a good online platform. In this Guitar Tricks review, I will break down everything you need to know about Guitar Tricks so that you can make the best decision on whether or not it is a good platform for you.
I have used Guitar Tricks extensively over the past few months. To ensure this review is as accurate and thorough as possible, I've gone through the modules, lesson plans, song library, Jam Station, and everything Guitar Tricks has to offer. So, you could say I've become an expert in the guitar learning platform!
Disclaimer: I partnered with Guitar Tricks and have inserted partner links into this review. But don't worry, this does not affect my review, and I would never recommend something to you that I wouldn't use myself!
Frontman Philosophy Guitar Tricks Review
Frontman Philosophy Score
What is Guitar Tricks?
Guitar Tricks is pretty much the OG in the world of online guitar lessons. They have been around since 1998, which is WAY before Youtube came out, and has been kicking butt ever since. They provide a lesson plan layout manicured for different skill levels and playing styles and allow you to learn guitar step-by-step through a series of easy-to-follow and engaging videos.
Guitar Tricks main takeaways
The full-access Guitar Tricks membership contains more than 11,000 lessons that are crafted for guitarists of different skill levels and genres.
The program also contains a song library with over 800 songs, all with individual video lessons, tabs, and difficulty scores.
More than 4 million people have used Guitar Tricks to learn guitar, more than most of the sites competitors combined!
While you'll have to pay $19.95 monthly for the monthly plan, you can get a 14-day free trial, or try the free plan, giving you access to 24 excellent beginner guitar lessons.
The Guitar Tricks membership also allows you to access the "Jam Station," which has over 1,500 professionally recorded backing tracks in 12 different genres!
With Guitar Tricks, you can also take one-on-one lessons with expert instructors that can provide you with a carefully manicured lesson plan based on what you want to learn.
Guitar Tricks pros and cons
Here are some of the main benefits and downsides of Guitar Tricks.
What's great?
High-quality all-in-one destination for learning guitar: Everything from learning the fundamentals like chords and scales to learning new styles and studying your favorite guitarist can be done on Guitar Tricks.
Top quality teachers: The instructors available in Guitar Tricks are great. There are 43 teachers who specialize in different genres and techniques.
Great for beginner and advanced guitarists: Guitar Tricks has lessons for both beginner and advanced guitarists, making it a perfect all-around guitar learning platform.
60-day money-back guarantee: But what if you purchase Guitar Tricks and you find out the program is just not for you? Don't worry; they have your back with this 60-day money-back guarantee!
What could be improved?
No lessons for bassists: As Guitar Tricks primarily focuses on acoustic and electric guitar players, bassists will have to look elsewhere for online bass lessons.
Material overload: I know what you are thinking. Is there really such a thing as too much material? Honestly, for beginners, it can be difficult and overwhelming to choose between all the different lessons and genres. But overall, I think of the vast amount of content as a plus.
How much does Guitar Tricks cost?
Guitar Tricks costs $19.95 per month, but you'll save 25% if you purchase an annual plan, which costs $179. One-on-one lessons cost $40 for 30 minutes or $60 for 1 hour.
This is a comparable cost to Fender Play, which costs $19.99 per month, and is cheaper than TrueFire, which costs $29 per month.
Plans
There are two ways you can use Guitar Tricks. The first option is to become a Full Access member who pays $19.95 per month. The other is to join with a Free Plan.
Free Plan
Guitar Tricks offers a free plan that anyone can access. However, if you're expecting to be able to fully learn guitar on the free plan, slow down a bit. The free plan is a great way to try out the system and see if the Guitar Chalk "style" is for you. That said, it only includes 24 lessons and doesn't have any of the backing tracks or other features that the Full Access membership does.
Full Access
Full Access is just what it sounds like. You get access to everything Guitar Tricks has to offer, from their extensive song library to the backing tracks, toolbox, and more! The best thing about the Full Access account? You get to start off with a 14-day free trial to make sure the program is for you!
Free Trial
The 14-day free trial is a huge selling point for the Full Access Guitar Tricks membership. Keep in mind that you will need to input your card details for the trial. With the Free Trial, you can try the plan out for two weeks, and if you decide it is not for you, no sweat! You can cancel the membership, and your card won't be charged.
Money back guarantee
On top of the Free Trial, Guitar Tricks also offers a 60-day money-back guarantee. No fine print, no exceptions, no questions asked. As long as it has been fewer than 60 days since you signed up, you'll get your money back if you feel like canceling. This kind of buyer guarantee is rare in the world of subscription-based products!
So, what is included in Guitar Tricks?
The Guitar Tricks lesson programs are jam-packed with information, techniques, and theory that you can easily translate to your day-to-day training. Let's take a look at everything Guitar Tricks offers and how their program works.
The program: how does Guitar Tricks work?
The Guitar Tricks program is broken into beginner lessons, also known as the "Core Learning System," and advanced lessons. The lesson format is ingeniously designed so that guitarists can progress in learning the style of music they are most interested in. So, if you aren't interested in playing the blues, you aren't forced to learn it. Instead, you can simply pick and choose which genres and techniques you actually want to learn.
Beginner lessons: Core Learning System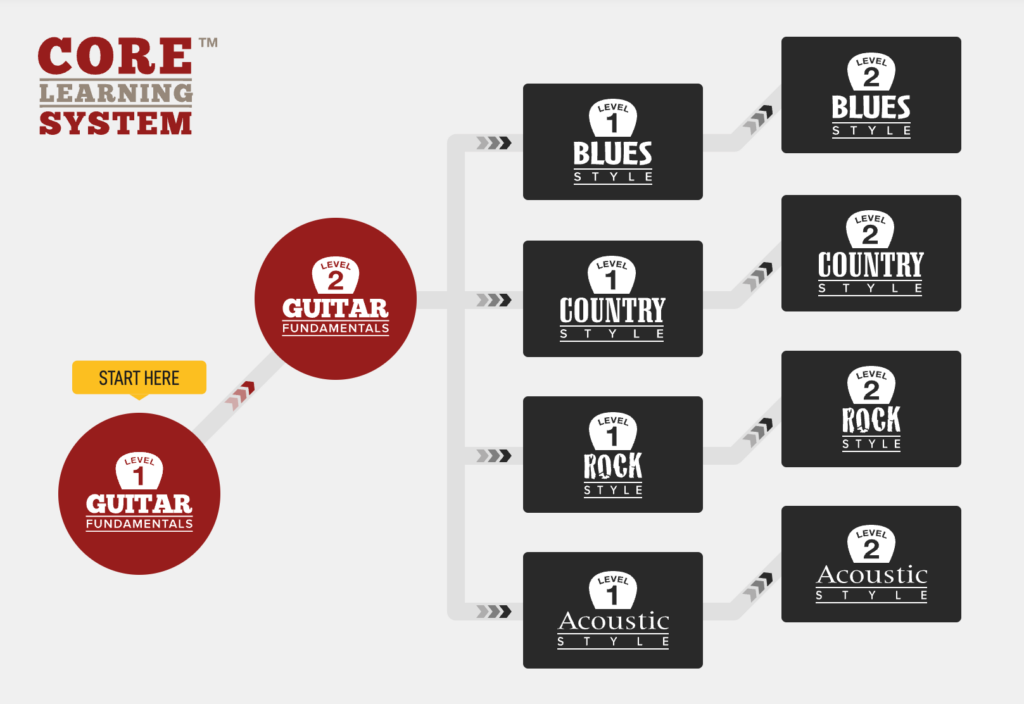 If you are an absolute beginner, the first thing you are going to do after making your Guitar Tricks account is head to the Beginner Lessons and click on Guitar Fundamentals Level 1 in the Core Learning System. There are six levels on the Guitar Fundamentals Level 1 module that walk you through everything from tuning your instrument to learning chords, the pentatonic scale, power chords, and more.
After completing these six modules, you can move to Guitar Fundamentals Level 2, which has 7 individual modules. In this section, you'll go over some more slightly complex fundamental guitar techniques. You'll learn more scales, chords, riffs, and even how to construct melodies.
What I find very helpful with the Beginner Lessons is that the lessons are short and sweet and cover one small topic at a time. It is easy for a lot of information to get lost in the mix if you try to fit a lot into one lesson. So, breaking it into manageable bite-sized chunks is constructive. Each module is divided into several lessons, which are then broken up into 5 to 10 videos ranging from around one minute to 10 minutes. So instead of having to sit through a single hour-long video and constantly pause and rewind the video, you have short sections that cover just one piece of the puzzle. I found this an ingenious and effective way to organize a self-paced and independent guitar learning site.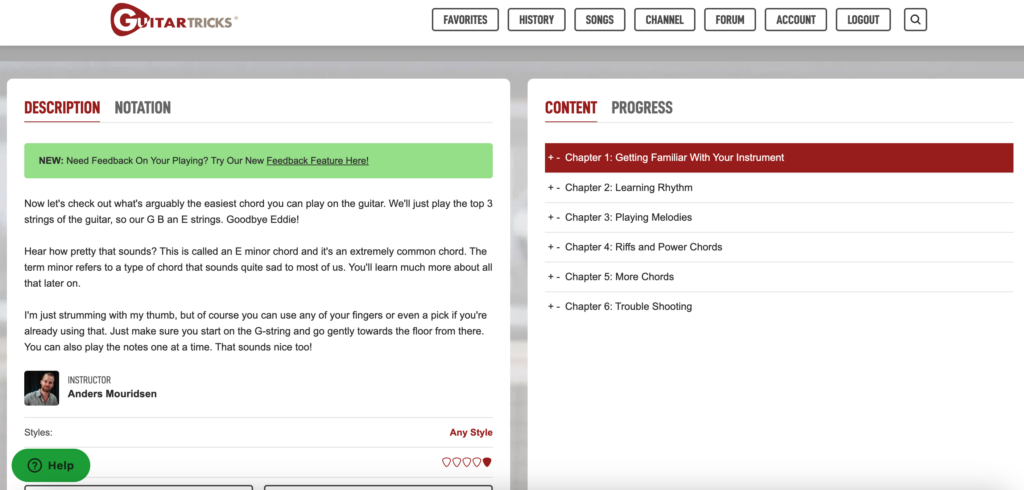 Genres and playing styles
After completing the 13 Beginner Fundamental Lesson modules, things get more interesting. This is where you can start choosing what genre/playing style route you want to learn on Guitar Tricks. At this point, you can choose between blues, country, rock, and acoustic styles. I personally think mixing and matching a few different styles is great. If you want to be as versatile as a guitarist as possible, you can even learn all four styles!
Blues Style
The Blues Style Level 1 covers the basics you'll need to craft a simple yet effective blues progression. This level also covers some super useful blues riffing walkthroughs and has an entire section on the various equipment, such as amplifiers, guitars, and effects pedals to use for the best blues tone.
Blues Style Level 2 starts to jump into soloing and will teach you how to craft a Stevie Ray Vaughn-esque blues lick! There is even an entire section on the style of B.B., Albert, and Freddie King. Blues Level 2 also dives into more complex rhythm guitar techniques and phrasings. Additionally, you'll learn about the different blues regions, including Delta, Chicago, Texas, New Orleans, Jazz, and British.
Rock Style
Calling all rockers! Guitar Tricks' Rock Style Level 1 is an awesome way to jump straight into the music of your rock guitar heroes in an accessible way. You'll start out by learning the basics of rock power chords, pentatonic and major scales, arpeggios, rock rhythms, and other vital exercises. This level also covers the different gear you can use to get the best rock guitar sound.
Moving onto Rock Style Level 2, you'll learn palm muting, rock guitar licks and phrasing, pinch harmonics, strumming techniques, and much more. This section also covers some popular rock variations, such as punk rock, heavy metal, and Southern Rock, as well as a case study of Jimi Hendrix's style and sound.
Country Style
Country guitar playing is all about fast rhythms, finger-picking, and riffs. Guitar Tricks teaches you how to be a country guitar master from the basics, starting with simple strumming patterns and chord progressions. You'll then move on to basic leads, triads, country scales, and licks that help you craft a twangy country guitar solo. Country guitar uses some unique rhythm techniques that can be hard to get used to, and Guitar Tricks does a great job of reviewing this effectively. As with all other genres, this section also goes over gear and guitars for a country sound as well.
Country Style Level 2 dives deeper into more complex and jazzy chords, different country-picking techniques, more complex riffs and solos, and more. You'll also learn about the different country subgenres, such as traditional country, Tex-Mex, country rock, and modern country.
Acoustic Style
Learning acoustic guitar may seem unnecessary if you are a big hard rock fan like myself. But you'd be surprised by how much good it'll do you to learn some acoustic and folk techniques. Acoustic Style Level 1 covers basic acoustic strumming patterns, fingerpicking, arpeggios, and more. This level essentially covers the basics of being an awesome acoustic rhythm guitar player and walks you through everything you need to know about embellishing chords and maintaining tight rhythms.
Acoustic Style Level 2 dives even deeper into different picking, fingerpicking, and strumming techniques. This level also covers hybrid picking, which is an extremely important technique used by many legendary guitarists. You'll also learn about the different types of acoustic guitars, how to amplify an acoustic guitar, and how to use open tunings such as open G and drop tunings like drop D.
Experienced lessons
Once you have completed the Core Learning Skills Program, your time using Guitar Tricks is just getting started. The advanced-level lessons in guitar tricks are extremely in-depth and cover enough material to keep you occupied for years. Better yet, the Guitar Tricks lessons are constantly updated.
There are over 11,000 video lessons in Guitar Tricks ranging from beginner to advanced!
Guitar Tricks lessons are formatted by a difficulty level ranging from 1 to 5. Each lesson will have a rating with a certain amount of guitar pick icons displaying how difficult the lesson is.
Insert picture showing lesson difficulty.
Experienced Styles
You know how the beginner-level guitar tricks programs included a couple of breakout style guides for blues, rock, country, and acoustic? Well, the advanced lessons have 12 different genres to choose from, with several advanced modules for each genre. These genres include:
Acoustic
Classical
Jazz
Rockabilly
Bluegrass
Country
Metal
Surf
Blues
Funk and Soul
Rock
World
While certain genres like acoustic, rock, country, blues, and jazz all have a vast amount of lessons covering pretty much everything you could possibly need to learn, others do not have as many lessons. For example, the surf style only has one module with 7 lessons, and the world style covers some Celtic style modules and a single ska style module.
That said, these different styles will be fleshed out more and more as time goes on, and most of the most popular guitar styles already have an insane amount of lessons. For example, the advanced rock style has pages upon pages of artist studies, solo guides, history lessons, and more!
Artist Studies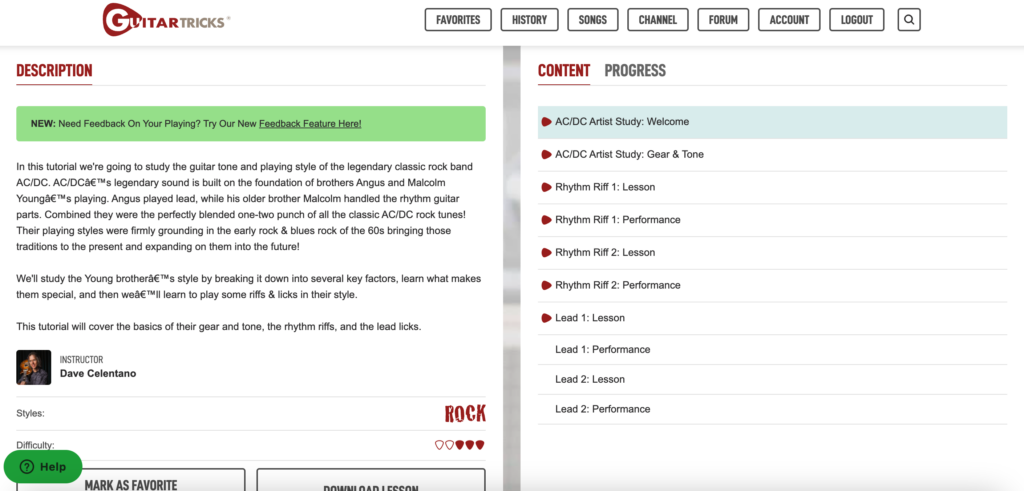 Another awesome feature of the Experienced Level on Guitar Tricks is "Artist Studies". These studies cover various musicians' guitar styles, breaking down the gear they used to get their sound, playing style, composition style, rhythms, leads, and more! There are TONS of Artist Studies included in Guitar Tricks with many guitarists across all genres for you to learn about.
Song Library
One of the best features of Guitar Tricks is the song library, which includes over 800 different songs with a video lesson and tabs for each one! A helpful feature is that you can filter the songs by difficulty, only viewing the songs at your specified level.
If I listed every song in the catalog, this article would be super long, as there are 41 pages of songs! Here are a few of my favorites on the list:
"Blackbird" by The Beatles
"Polly" by Nirvana
"(What A) Wonderful World" by Sam Cooke
"Blitzkreig Bop" by The Ramones
"Back in Black" by ACDC
"Hey Joe" by Jimi Hendrix
Instructors
Guitar Tricks has 43 top-notch guitar instructors that walk you through the video tutorials of various lessons and songs. Each instructor specializes in a few different genres, and most of the teachers have toured with relatively famous musicians.
Private lessons
You also have the option to take a few live, private lessons with Guitar Tricks. These cost an additional $40 to $60 for a 30-minute lesson or $60 to $130 for an hour. There are 5 different teachers to choose from that do private lessons, each with their own teaching background and specialties.
Toolbox
Alongside the massive amount of guitar lessons, extensive song library, and private lessons, Guitar Tricks Full Access members can also use several helpful resources in the Toolbox. Here are the other resources included in a Guitar Tricks membership.
Metronome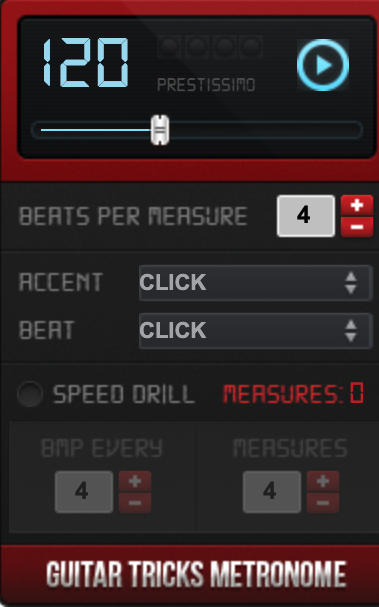 A metronome is one of the most important tools for any musician. Without a metronome, you will struggle to stay on time as you practice songs and riffs. The Guitar Tricks metronome is simple but effective. You can adjust the tempo and accents to mimic various drum set sounds.
Reference Tuner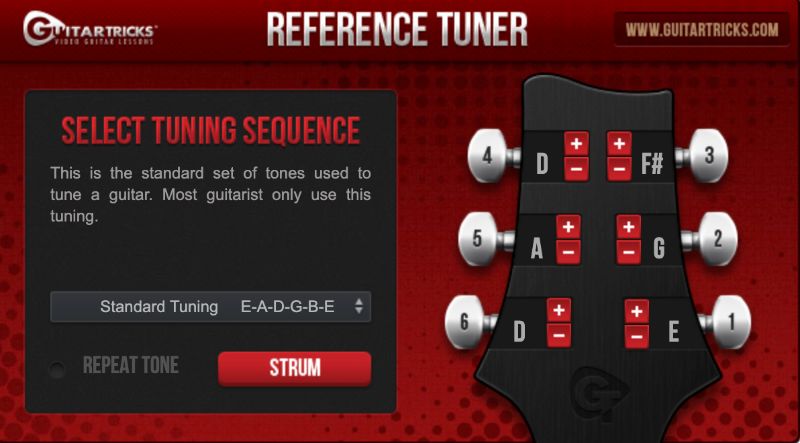 Keeping your guitar in tune can be a major struggle. The reference tuner is also a simple but useful tool included in the Guitar Tricks Toolbox. This tuner allows you to click on various strings and then tune your guitar by ear,. Youcan also adjust the strings to tune to alternate tunings.
Chord Charts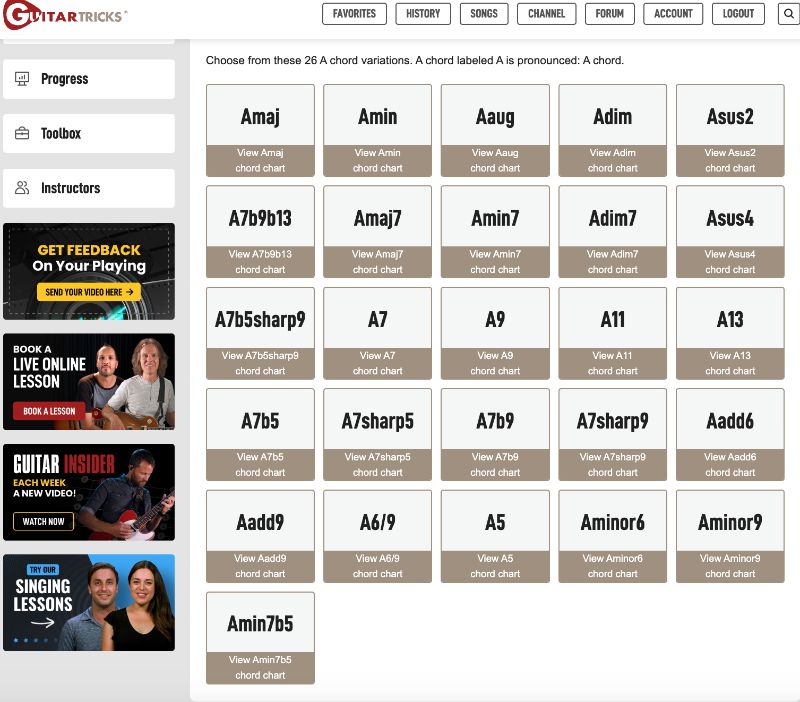 Probably my favorite toolbox feature in Guitar Tricks is the chord charts. There are hundreds of different chords to learn on guitar, some of which you may not even know exist. Guitar Tricks makes it easy by putting all the possible chord combinations in one place. Simply click on the root of the chord you want to learn, and it will display all the variations and extensions of that chord.
Insert photo of chord charts
Fretboard Training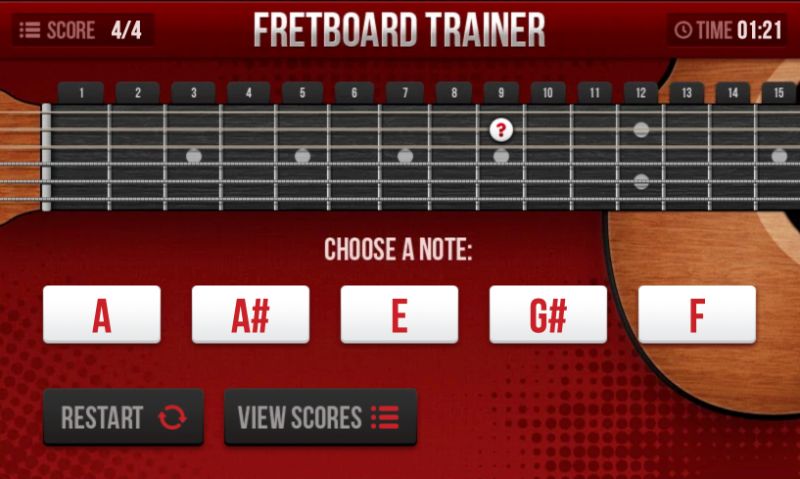 Fretboard Training is a game designed to teach you all the notes on the fretboard. The game will display a small circle with a question mark icon over a random note on the fretboard, and then you will choose between 4 answer choices, attempting to guess the correct note.
Chord Finder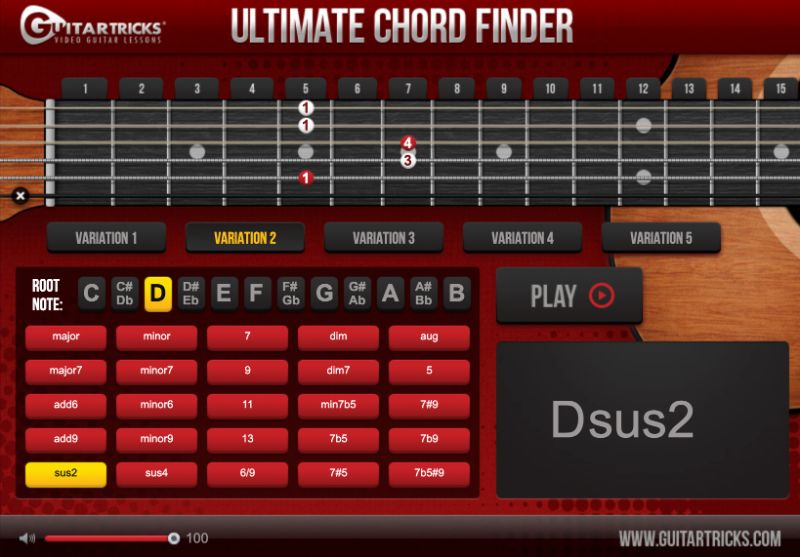 The Chord Finder is another awesome tool included in the Guitar Tricks toolbox that essentially allows you to locate different chord voicings on the neck. You have plugged in the root note, and the type of chord you want to play, and the screen will display the chord fingering. You can then press the "play" button, and the chord will be digitally strummed on the program. You can then choose between 5 different variations for that specific chord along the neck.
Scale Finder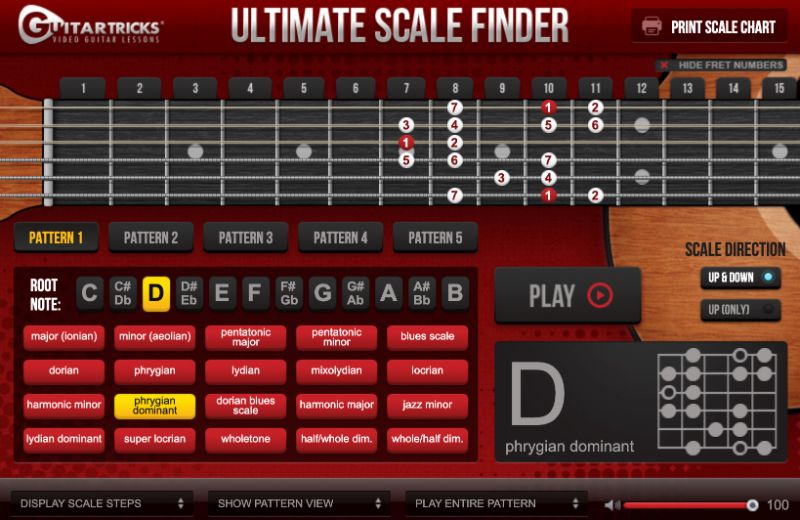 Similar to Chord Finder, Scale Finder is a tool that allows you to plug in the root note, the type of scale, and the variation, and the program will display the fingerings for the scale and play it back through your computer's audio.
Jam Station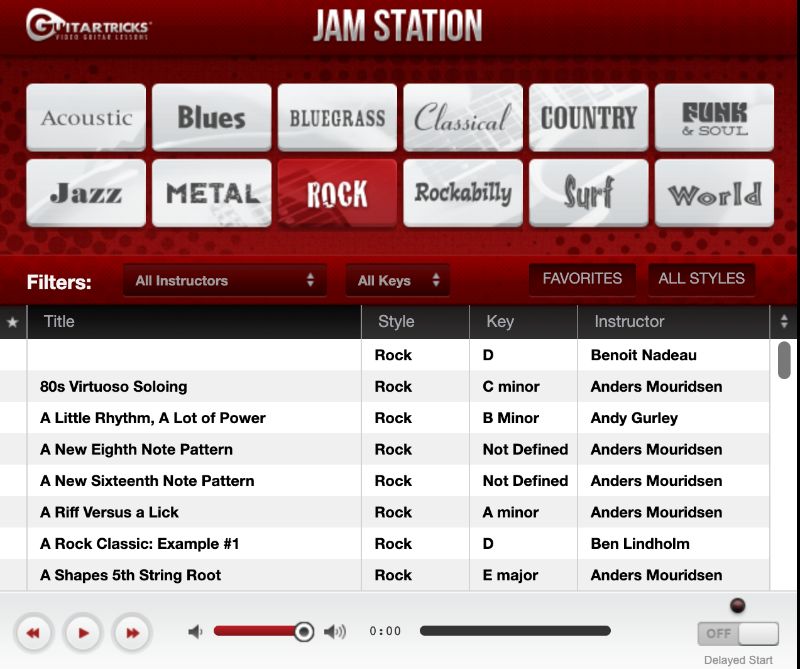 Jam Station is another one of the features that sets Guitar Tricks apart from its competitors. In Jam Station, you can choose between 12 different genres, each with at least one backing track to "jam" with. This is an awesome way to improve your improvisation skills and utilize some of the skills you are learning in real time!
Guitar Tab Guide
The Guitar Tab Guide is another item in the toolbox. This tool includes a lesson on how to read tablature as well as a written lesson walking you through how to read guitar tabs.
Glossary
The glossary section of the Guitar Tricks Toolbox is just what it sounds like. It goes over a ton of different music and guitar words and phrases defining what they mean and giving a bit of information about each word.
How does Guitar Tricks hold up against its competitors?
Guitar Tricks may have been the first, but it isn't the only online guitar learning resource. Here are a few of Guitar Tricks' competitors and how they stack up against each other.
Fender Play vs. Guitar Tricks
Fender Play is a relatively new player in the field, only founded in 2017, but the program is quickly gaining a lot of attention. Fender Play is a comparable price to Guitar Tricks, costing $19.99 per month. And while Guitar Tricks only focuses on guitar lessons, Fender Play also includes bass and ukelele lessons.
After researching both platforms, my outcome is that Guitar Tricks is better for intermediate and advanced guitarists, as it has a HUGE library of songs, lessons, techniques, and more that cater to more experienced players. On the other hand, Fender Play is better for beginners who are just starting out and looking for a program to guide them.
Justinguitar vs. Guitar Tricks
Justinguitar is another major competitor of Guitar Tricks that offers free guitar programs for beginner, intermediate, and advanced guitarists. The main selling point of Justinguitar over Guitar Tricks is the price (or lack thereof!). But don't let the free lessons fool you; Justinguitar still manages to compete with Guitar Tricks and other paid online guitar learning platforms.
That said, Justinguitar has just one instructor and around 1,200 lessons, while Guitar Tricks has 43 instructors and over 11,000 lessons. So, it goes without saying that Guitar Tricks is a much more comprehensive platform.
TrueFire vs. Guitar Tricks
TrueFire is another excellent guitar platform that has a massive amount of content. Do you think Guitar Tricks has a lot of lessons, with over 11,000? Well, TrueFire has more than 40,000! TrueFire also includes bass and ukelele lessons, which is a huge plus if you want to learn more than one instrument with the platform.
While TrueFire does have an awesome selection of courses and lessons, its structure for beginner guitarists is not as organized as Guitar Tricks. Plus, Guitar Tricks has a much larger licensed song library when compared with TrueFire.
So, should you use Guitar Tricks to learn guitar?
Now for the golden question. Is Guitar Tricks worth it? The short answer is yes, Guitar Tricks remains an industry leader for learning guitar online. The platform has a relatively low price point while offering lots of material. If you are serious about wanting to learn guitar, Guitar Tricks is an excellent choice, and better yet? You can try it out for 60 days, and if it isn't for you, you'll get a refund, no questions asked!
FAQ
Does Guitar Tricks teach bass?
Unfortunately, Guitar Tricks does not offer any lessons for bass guitar as they primarily focus on electric and acoustic guitar. That said, it is a possibility that the platform may offer bass lessons in the future. Fingers crossed!
Does Guitar Tricks have an app?
Yes! Guitar Tricks has an app that is available on Android and iOS. The app version is similar to the online layout, so if you don't have a computer, your tablet or smartphone will work just fine.