Every professional guitar player understands how important it is to have the right accessories for playing or performing. While all you technically need to play guitar is two hands and a guitar, guitar accessories can make your playing experience easier and more enjoyable. Guitar accessories protect your gear, improve your comfort, or service your hardware.
There is plenty of non-essential guitar gear, but it is important to know which guitar accessories are a must have and which ones you can skip. In this article, I've compiled a list of the 20 absolute must have guitar accessories for guitarists of any skill level. Each listing also includes a quick link to some trusted and professionally recommended accessories.
1. Guitar case
A guitar case should always be one of the first things you purchase after getting a guitar. A guitar case is a safe protective storage space for your guitar. There are three types of guitar cases: soft, hard, and flight.
Soft guitar cases
Soft cases are made from a thin waterproof material. These cases are convenient as they are lightweight and easily transportable. Most soft cases come with a carry handle, as well as a secondary strap for carrying the guitar on your shoulder. A few even come with two backpack straps! A soft case will protect your case from moisture, dust, smoke, and minor scratches. However, these cases are not strong enough to protect your guitar from a heavy fall or major impact.
Hard guitar cases
If you are looking for a more sturdy option, I recommend getting a hard case. These are much more durable than soft cases but are also considerably heavier. Hard cases are made from a variety of materials, such as steel, aluminum, carbon fiber, and wood. These cases also use a material inner lining to further protect your guitar from dust, smoke, and changes in temperature or humidity. If you have a guitar that costs less than $500, a hard case may be overkill because hardshell cases are quite expensive.
Flight guitar cases
A flight case is mostly used by professional, touring musicians as they are the most durable. These cases are also the most expensive but offer an incredible amount of protection from harsh environmental elements and any kind of heavy impact. Flight cases are often reinforced with steel or aluminum fittings and are covered using durable non-retail vinyl or rubber.
Lev's pick – guitar case
Gator Cases Hardshell Electric Guitar Case
The Gator Hardshell electric guitar case is a nice middle ground for anyone who wants to make an affordable long-term investment. These cases are super durable and will only set you back around $100. Gator hard cases come in a variety of shapes and sizes to suit specific guitar shapes like the Stratocaster, Telecaster, 355 Semi-HollowBody, and Les Paul. All the cases are constructed using layered plywood covered in a Tolex PVC to protect the exterior. These cases also come with a soft padded lining to protect your guitar from bumps and scratches.
2. Guitar strap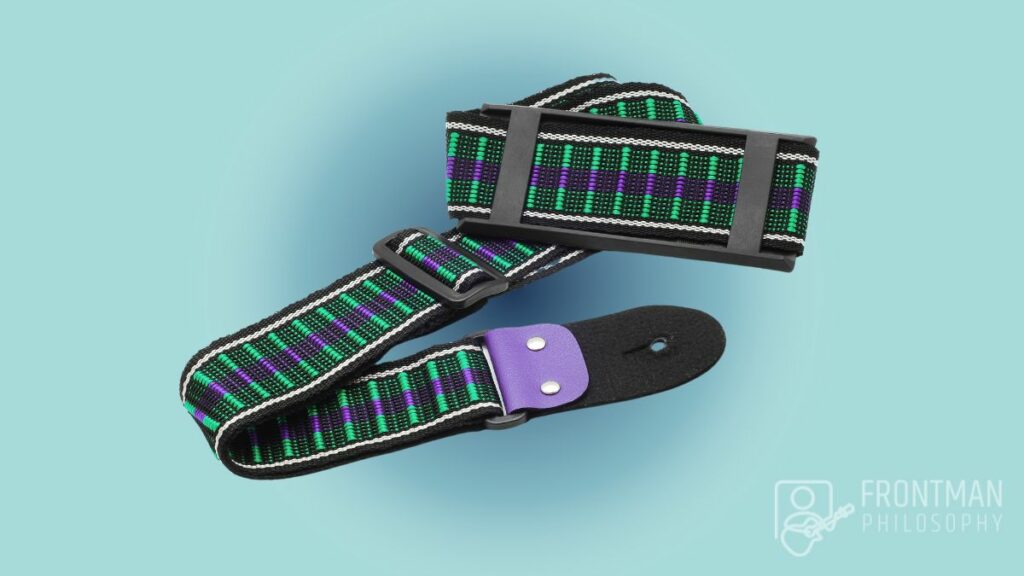 If you want to play your guitar while standing up, a guitar strap should also be high up on your list of must have guitar accessories. Attach the strap to the body of your guitar, and then use the strap to hang the guitar around your neck and shoulder. Using the guitar with a strap will take the guitar's weight out of your hands, making it much easier to play fluidly. Guitar straps come in a variety of materials and designs and can easily be customized to your liking!
Lev's pick – guitar strap
D'Addario Planet Waves Leather Guitar Strap
Leather straps are a bit more pricy, but they will last a LONG time and will feel a lot more comfortable on your shoulder. This D'Addario Planet Waves guitar strap is reasonably priced, feels very soft around your neck, and can withstand frequent use. This particular strap can be adjusted from 44.5'' to 53'' in length, making it ideal for both adult and younger players.
3. Strap locks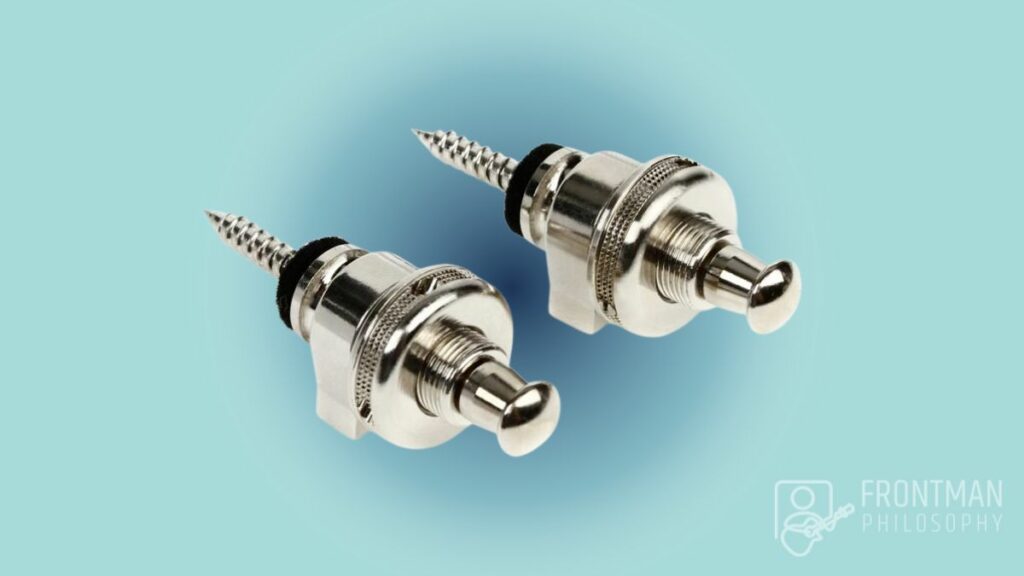 Strap locks are a must have guitar accessory if you are planning to play live shows. They further secure your guitar strap to the body of your guitar, allowing you to rock out on stage without worrying about dropping your instrument. Strap locks consist of two primary parts.
The first part is a screw-on button that replaces the strap button on your guitar. The second is a locking mechanism that fits over your strap and onto the button. Your strap is then fastened to the strap button by tightening the locking mechanism. Strap locks are commonly made using metal and are an excellent investment.
Lev's pick – strap locks
Schaller Security Guitar Strap Locks
Schaller has a lovely set of chrome strap locks that are very popular amongst experienced players. The locks also come in sturdy packaging and include a small Allen key to help secure the strap locking mechanism.
4. Guitar tuner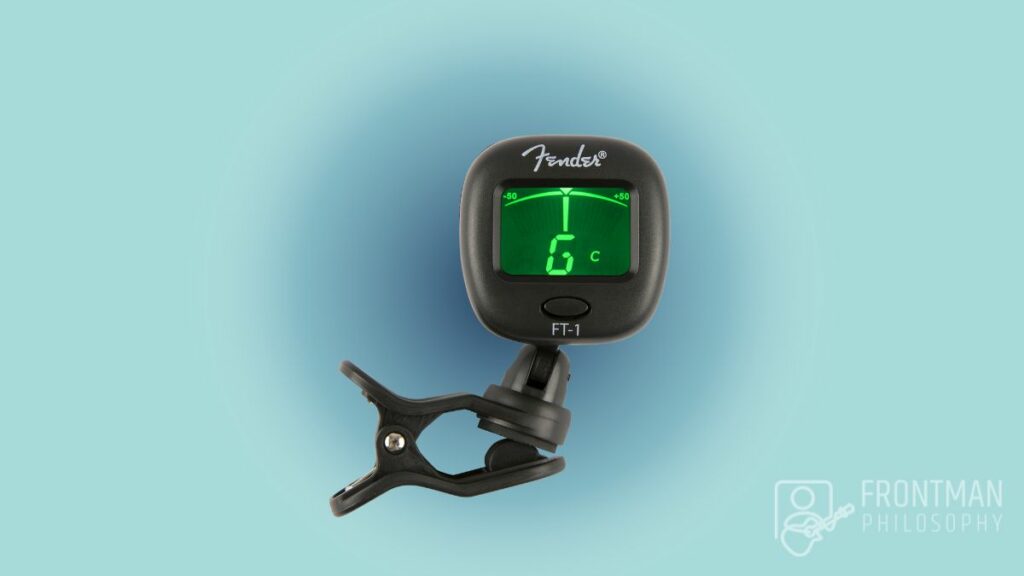 There is nothing worse than trying to practice or play an out-of-tune guitar. Thankfully, guitar tuners are generally affordable and equally simple to understand. There are many different ways to tune a guitar. One of the easiest tuning methods is to use a clip-on tuner. These attach to the headstock of guitars and pick up the pitch of their strings through vibrations. However, you can also use a tuning pedal, a microphone tuner, or simply tune by ear!
Lev's pick – guitar tuner
Fender FCT-2 Professional Clip-on Tuner
Fender is an extremely reliable brand in both guitars and accessories. The FCT-2 is an awesome entry-level tuner and works on electric and acoustic guitars. The clip-on attachment in this tuner comes with a rotatable head to adjust the angle of your tuner's LCD. The display features a bright color-coding system that is responsive and easy to understand.
5. Footrest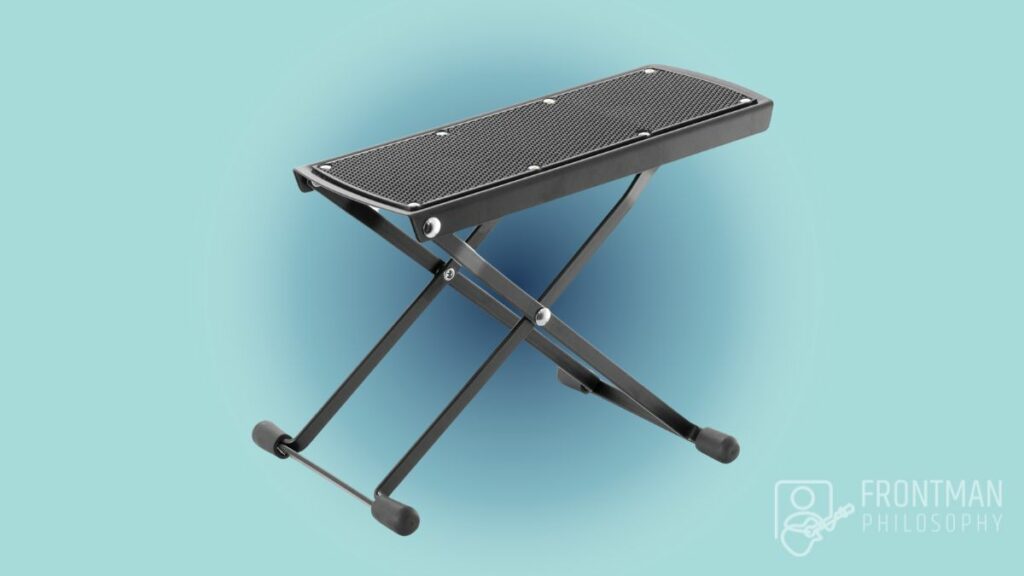 Footrests are overlooked by most modern guitar players as they are traditionally a tool for classical guitar players. As the name suggests, a footrest is a small stand that guitarists place their foot on. A guitar footrest allows guitar players to keep the proper posture when playing classical guitar songs. However, these accessories can be useful for all guitarists.
I recommend a footrest to anyone who is planning to practice guitar for long hours. Footrests keep your guitar in the proper position and force you to keep your back straight and your shoulders raised.
Lev's pick – footrest
Donner Adjustable Guitar Foot Rest
Donner's footrest has two essential properties that are needed for a great footrest: durability and adjustability. The footrest can be adjusted to six different height settings (between 4 and 10.5 inches) and features a sleek quick-lock system to secure its position. The stand is constructed using a durable solid steel framework, and the feet are covered with rubber stoppers to prevent it from slipping. The top of the footrest also has a grip imprint to help keep your foot secured while playing.
6. Guitar pick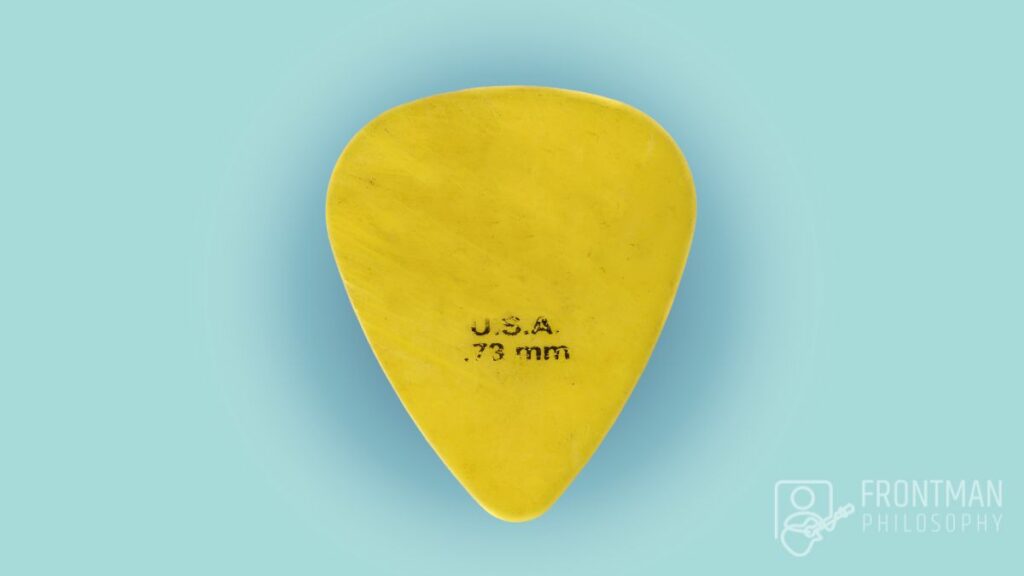 Guitar picks are one of the most important must have guitar accessories. Guitarists use plectrums (a fancy way to say guitar pick) for both picking and strumming notes on their guitar. Guitar picks are also the accessory that generally gets replaced most often, as they are easy to lose, and some thinner picks can break easily. Guitar picks can be made using plastic, nylon, rubber, wood, and even in rarer cases, metal, glass, or stone. Additionally, guitar picks come in a number of different shapes, thicknesses, and designs depending on your preferences and playing style. Most experienced players tend to have a firm idea of their favorite guitar picks.
If you are new to using a guitar pick, check out my guide on how to hold a guitar pick.
Lev's pick – guitar pick
This guitar pick is the one I find to be the most universally accepted among players. As mentioned earlier, guitar picks come in an abundance of designs, but the Jim Dunlop 447P Plectrum is a safe bet. The pick is made using sturdy but flexible nylon and has a medium thickness (gauge) of 0.73mm. Both sides feature a small but crucial grip imprint to help prevent slipping while playing. Better yet, these picks are super affordable, with the 72-pack coming to just 33 cents per pick!
7. Guitar pick holder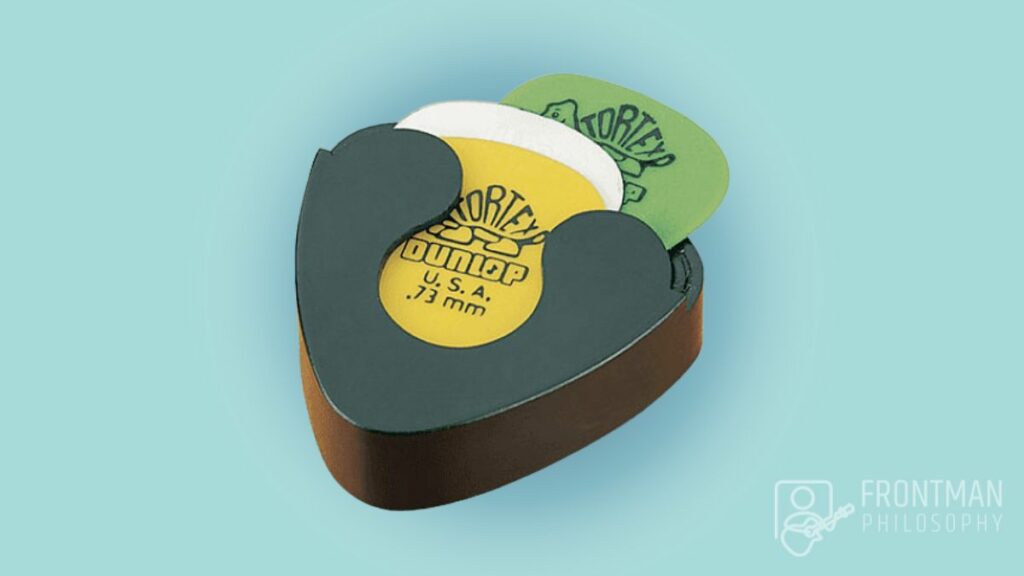 If you're smart enough to invest in a guitar pick holder, you're likely to save a pretty penny constantly replacing guitar picks. Guitar pick holders can hold several guitar picks at once, and can also be attached to your guitar or other surface for quick access.
Any seasoned guitarist knows that guitar picks go missing very often, as they are small and very easy to misplace. It might seem like a trivial purchase, but guitar pick holders will save you tons of time searching around for lost plectrums, especially during a live show.
Lev's pick – Guitar pick holder
Jim Dunlop Series 5005 Pick Holder
The 5005 Series by Dunlop is an unobtrusive attachment that you can use to store and access your picks safely and efficiently. The pick holder is made from hardy plastic, and it's very easy to slip guitar picks in and out of the holding compartment. Picks are held in place using a simple spring mechanism, and the back of the holder has an adhesive pad for quick attachment to surfaces.
8. Cables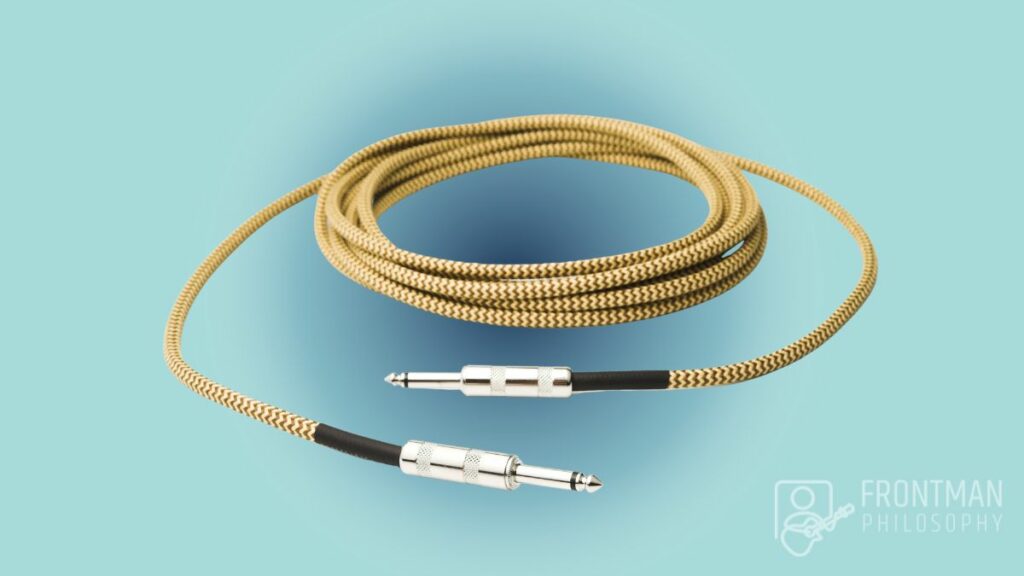 You will need your own set of guitar cables if you wish to use your guitar with an amplifier, pedalboard, USB interface, or PA system. Guitar cables are one of the accessories that I advise investing in wisely. Don't settle for cheap guitar cables, as they will either give you low-quality sound or they will break easily and need to be replaced often.
Lev's pick – cables
Ernie Ball Braided Guitar Cable
I use braided guitar cables because they are super durable, easy to handle, and consistently high-quality. This Ernie Ball cable is a favorite amongst experienced players and engineers. One of the most crucial features is the right-angled jack-head which provides a more secure input for your guitar. Braided guitar cables often come in a variety of bright colors to make them easy to see in low-light environments like performance stages or studios.
I've rounded up some of my other top choices in my post on the best guitar cables.
9. Guitar strings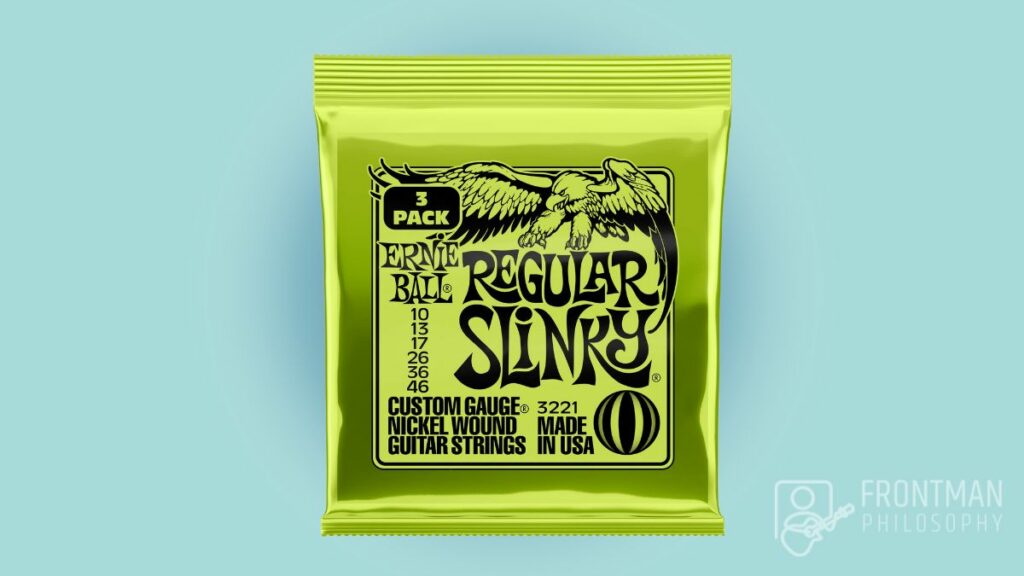 Without strings, your guitar wouldn't make any noise. And choosing the RIGHT strings for your playing style is incredibly important in getting the best tone. Strings are made using nylon or metals like bronze, nickel, and even titanium. It's essential to know which string gauge (thickness) to use for your guitar. If your guitar strings are too thick, they might drastically affect your guitar's action and will be much harder to press down.
On the flip side, guitar strings that are too thin can break easily and may reduce your guitar's overall resonance. I highly advise asking an experienced technician or retailer for the best guitar strings for your guitar before purchasing them.
Lev's pick – acoustic guitar strings
Ernie Ball Earthwood Phosphor Bronze Acoustic Strings
If you need to change your acoustic guitar strings, you should check out the Earthwood series of guitar strings from Ernie Ball. These strings are made with a hex-shaped steel core wire that is wound with smooth phosphor bronze. This bronze finish is very accommodating on the hands, which makes it an ideal choice for various finger-picking acoustic guitar styles. This pack of strings sounds good on most acoustic guitars and is super affordable.
Lev's pick – electric guitar strings
Ernie Ball Regular Slinky Wound Nickel Electric Guitar Strings
You can't go wrong with a pack of Ernie Ball Slinkies! If you need to change your electric guitar strings, I suggest trying out Ernie Ball's Slinky Wound strings. These are some of the most popular electric guitar strings out they and generate a stunningly rich, full-bodied tone regardless of your guitar make and model. Regular Slinky Wound strings are also durable and can withstand a good amount of frequent, intensive playing before they need to be replaced.
10. Guitar stand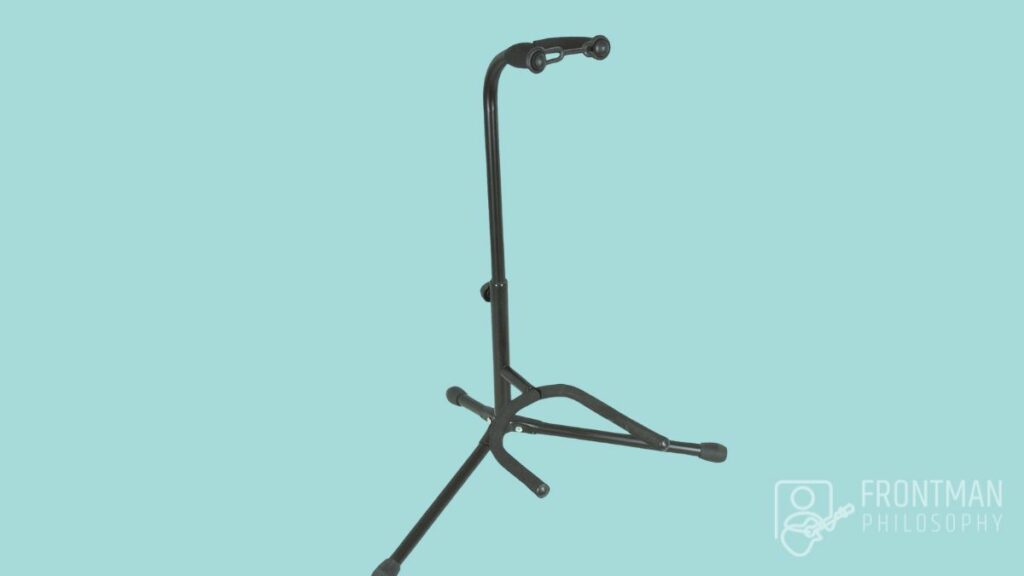 A guitar stand is a must have accessory for your guitar if you plan to store it outside of its case. You'll find guitar stands on stages, in studios, and on the floor of your local guitar dealer. Stands can hold a single guitar, though some are made for several guitars at once for quick access. There is no need to buy the most expensive guitar stands but look for durable options that won't bend, slip, or break easily.
Lev's pick – guitar stand
Gator Frameworks Adjustable Guitar Stand
This is a good, classic guitar stand design that latches down on your guitar to keep it in place and secure. The parts of the stand that make contact with your guitar are also made of rubber, so you can rest assured that the stand won't damage your instrument.
11. Wall mount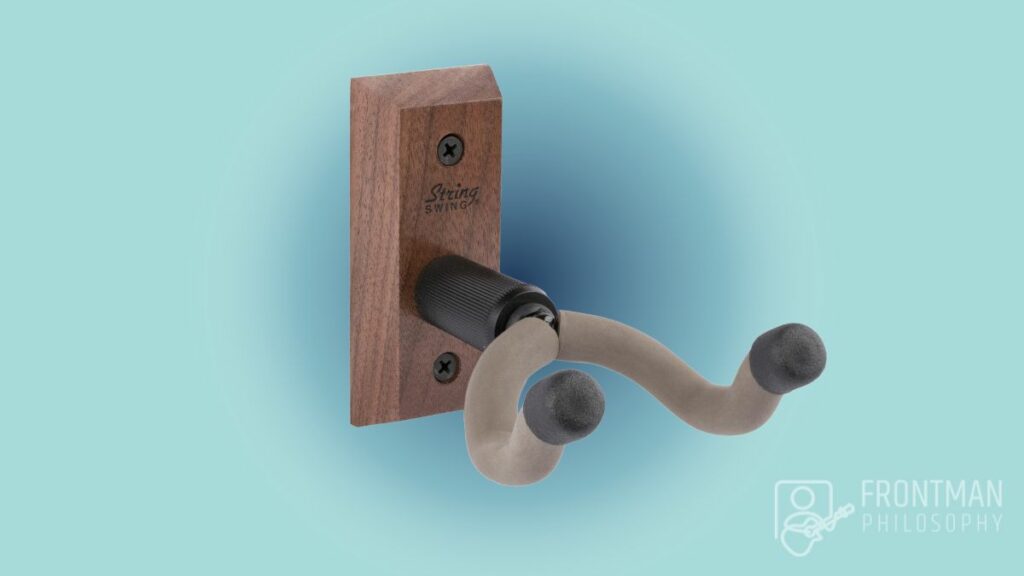 A wall mount is a classier and more permanent alternative to a guitar stand. These are very common in studios and home practice spaces. Wall mounts are attached to the wall with screws and have an arm that is designed to hang the guitar by its headstock. Be sure to place your wall mounts in spaces away from constant movement to prevent knocking down your guitar.
Lev's pick – wall mount
Donner Locking Guitar Wall Mount
Donner's wall mount has a lovely locking mechanism that prevents your guitar from slipping out. The mechanism unlocks by simply lifting your guitar up and out of the mount, which is delightfully fast and simple.
12. Capodaster (capo)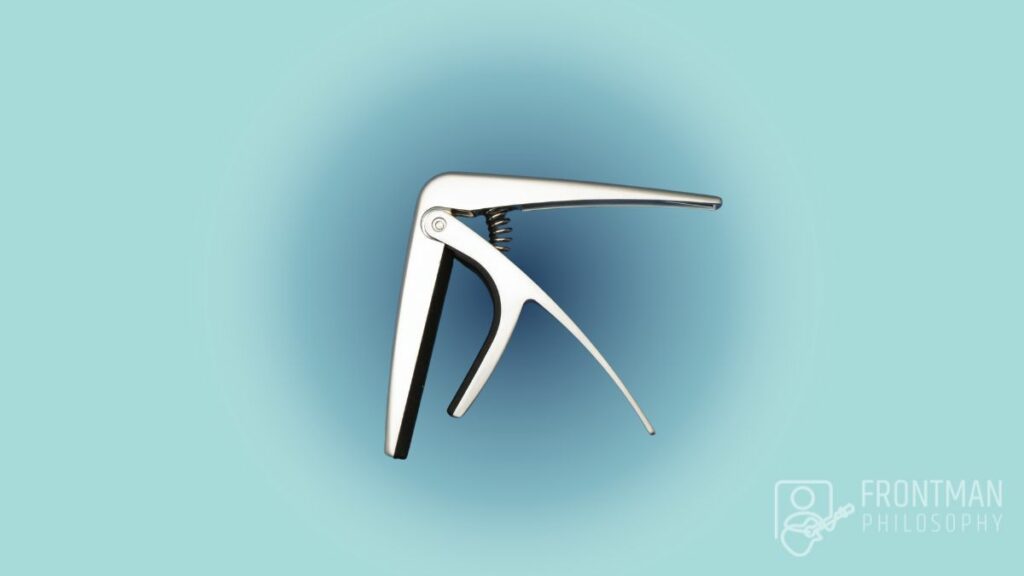 A capo is a device you fit over a single fret on the guitar, lifting or lowering the key of the guitar's overall tuning. A capo is usually secured to the guitar at the back of the neck with a screw-on or clamping mechanism. Capos are commonly used by guitarists who play with singers who need to adjust the key of a song to suit their voice.
Lev's pick – capo
Fender X Kyser Quick-Change Capo
While it might seem a bit flashy, the Fender X Kyser capo is designed to fit a variety of neck profiles. It is important to invest in a good quality capo because cheaper options may damage your guitar and mess with the action. Additionally, this capo fits comfortably on both electric and acoustic guitars. The clamping pressure is perfectly pre-adjusted, so you won't have to worry about damaging your neck or fretboard after frequent use.
13. Cradle cube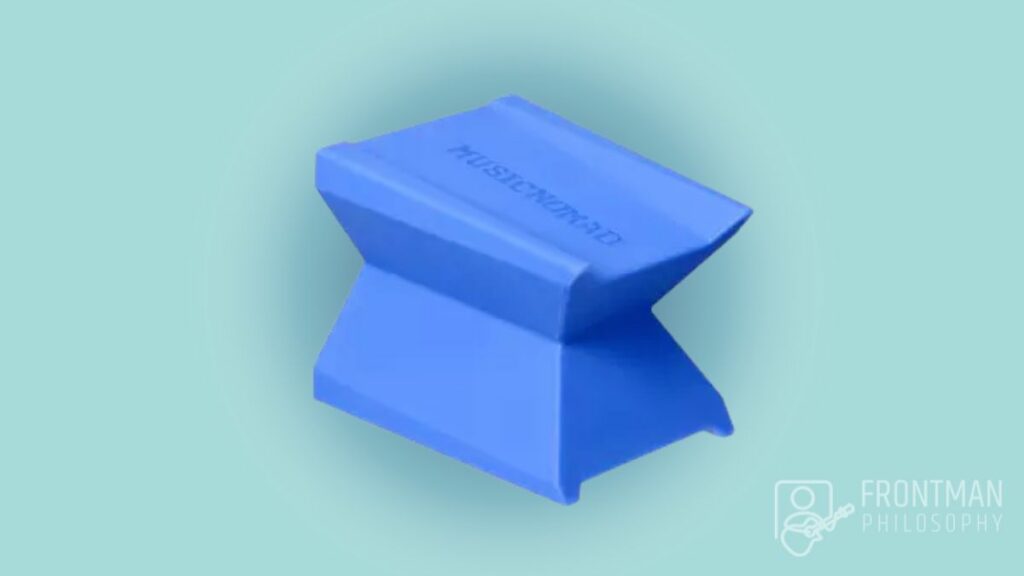 At some point, every guitarist should learn how to give their guitar a basic cleanup and service. In order to do tasks like cleaning or changing strings more safely, I recommend using a cradle cube. A cradle cube is a block with a curved indent that supports your guitar's neck during guitar services. The cube sits under the neck while the guitar lays in a face-up position, allowing you a more comfortable working position to perform various maintenance tasks.
Lev's pick – cradle cube
My preferred cradle cube is the MusicNomad product. This is a SUPER useful guitar tool because it doubles as a storage device for all your cleaning and maintenance tools. This simple device perfectly stabilizes your guitar neck while you work on it and is lightweight and easy to store away when not in use.
14. Cleaning cloth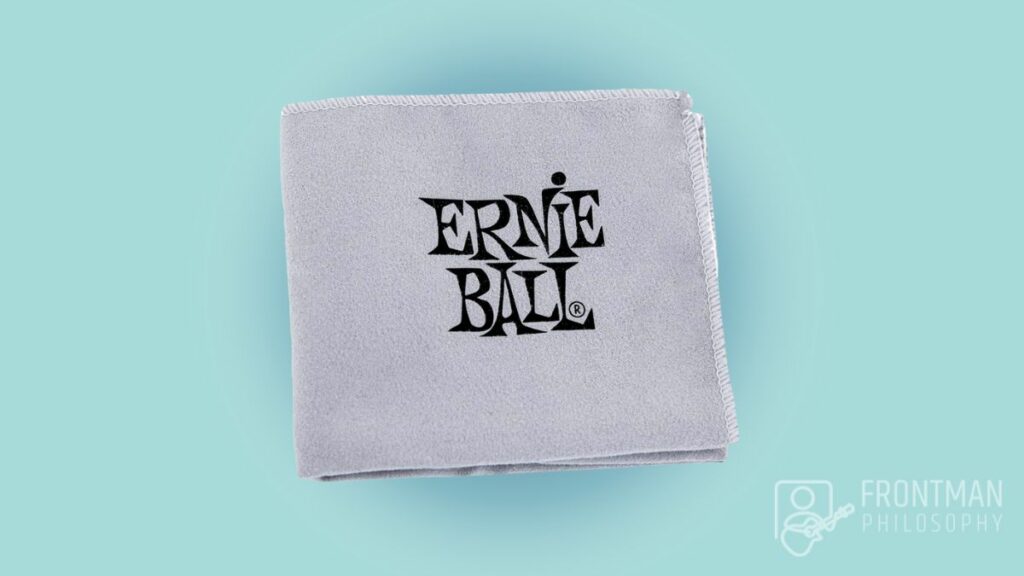 I advise keeping more than one cleaning cloth for your guitar. One cloth can be stored in your case and be used for quick wipedowns before practice and performance. Reserve a second cloth for major routine services and cleanups. Microfiber cloths are the most common choice for guitar cleaning cloths, as they don't scratch wood or other surfaces while cleaning or polishing.
Lev's pick – cleaning cloth
Ernie Ball sells a soft, simple, and durable microfiber cloth designed specifically for cleaning guitars. This product can be used to service all areas of your guitar and will get your guitar looking brand new! If you are looking for a high-quality and affordable cleaning cloth, this is an excellent choice.
15. Maintenance kit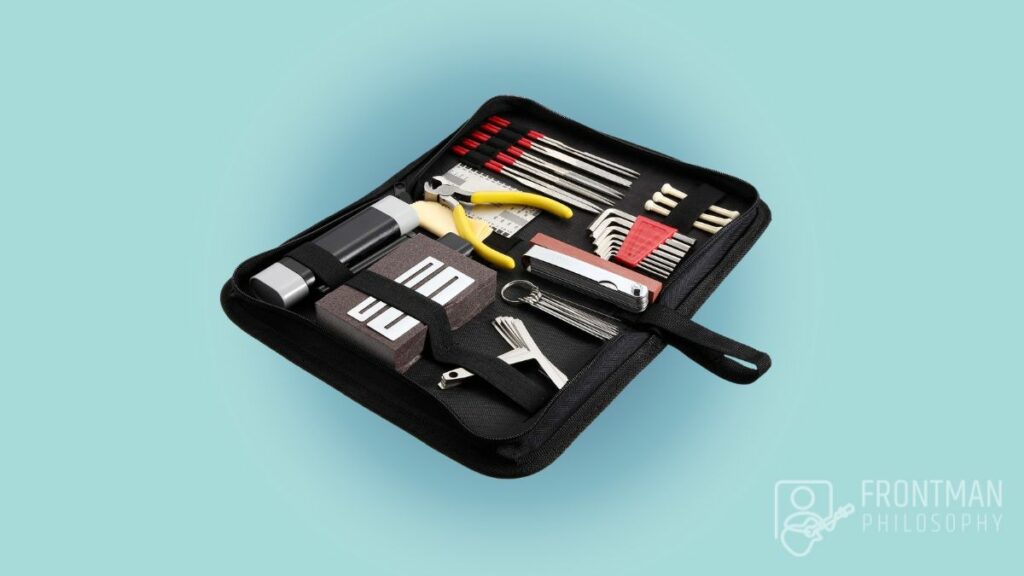 A basic maintenance kit is a must have guitar accessory if you want to care for your guitar as well as possible. Guitar maintenance kits can come with basic cleaning materials but can also include a range of handy tools for repairing or replacing parts. Your choice of maintenance kit will depend on your knowledge and ability to service your guitar.
Lev's pick – maintenance kit
D'Addario Guitar Maintenance Kit
D'Addario's maintenance kit provides just enough tools for all basic guitar services. The kit comes with a three-step spray-and-wipe system that includes a Detail Restorer, Guitar Wax, and Spray Cleaner. There is also a polishing kit with a microfiber cloth, as well as a multitool for aiding string replacement. The entire kit comes packaged in a compact, lightweight travel case that can fit into most backpacks or other bags.
16. Guitar slide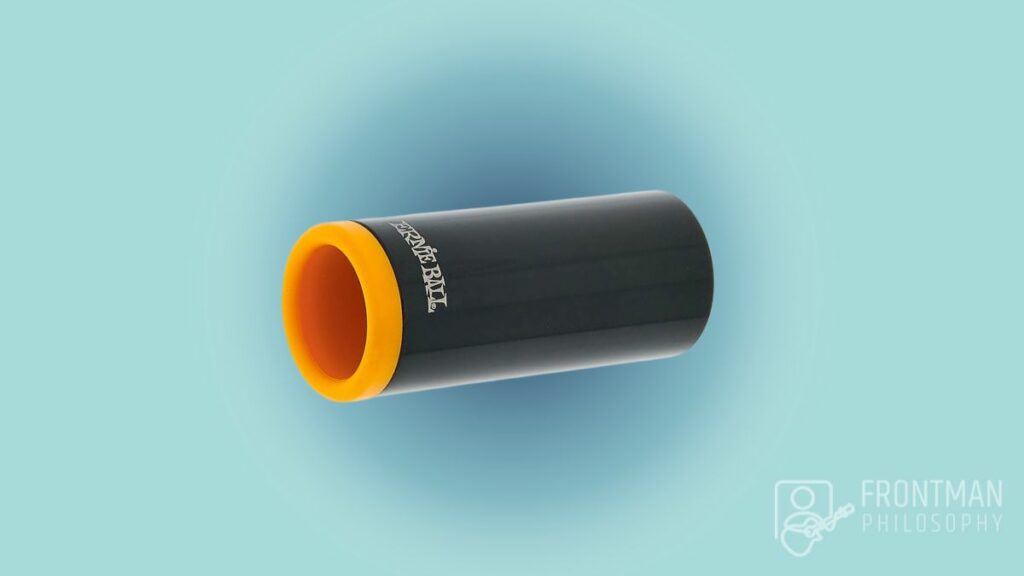 If you wish to play the dreamy note-bending techniques used by country and blues players, you'll want to invest in a guitar slide. While a proper guitar slide will give you the best results, certain household items like cigarette lighters and bottles can substitute for a slide. These guitar accessories are super easy to use and can add some flavor to your playing.
Lev's pick – guitar slide
Ernie Ball Comfort Guitar Slide
Ernie Ball makes a handy guitar slide that is super easy and comfortable to use. This guitar slide is constructed using machine-turned brass and comes with a classy black chrome finish. The comfort series comes in three size options, so be sure to know which size suits you best before buying.
17. USB audio interface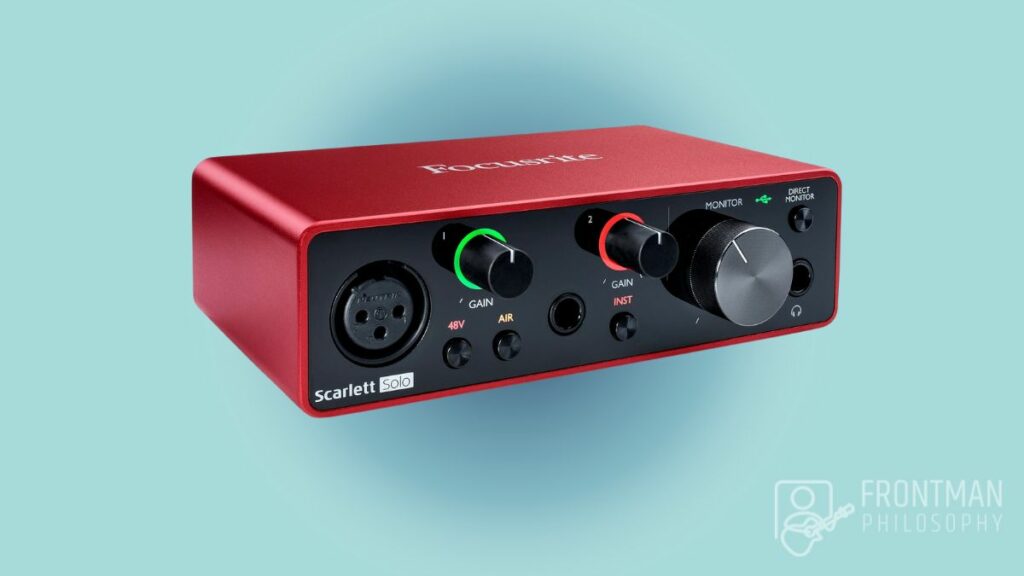 If you want to record music on your PC or laptop, you'll need a USB audio interface. An interface lets you connect your guitar and other instruments directly to your computer. You can then use software like Logic or Pro Tools to record your guitar via the interface. One of the best things about advances in music technology is that you don't need to spend large amounts of money on top-shelf interfaces anymore; you can get pretty decent audio interfaces for a fair price. That said, you definitely should not buy the cheapest ones!
Lev's pick – USB audio interface
Focusrite Scarlett 2i2 3rd Generation USB Interface
The 2i2 is the most popular interface for home and remote recordings and performances. The 3rd generation of this USB interface comes with two dual inputs that take XLR or ¼'' jacks. Each input comes with separate gain controls, a pad, and "AIR" toggles. The interface has stereo outputs and a separate output line for headphones with its dedicated level knob. The interface can use phantom power to support certain microphones and other devices while recording.
18. Headphone amplifier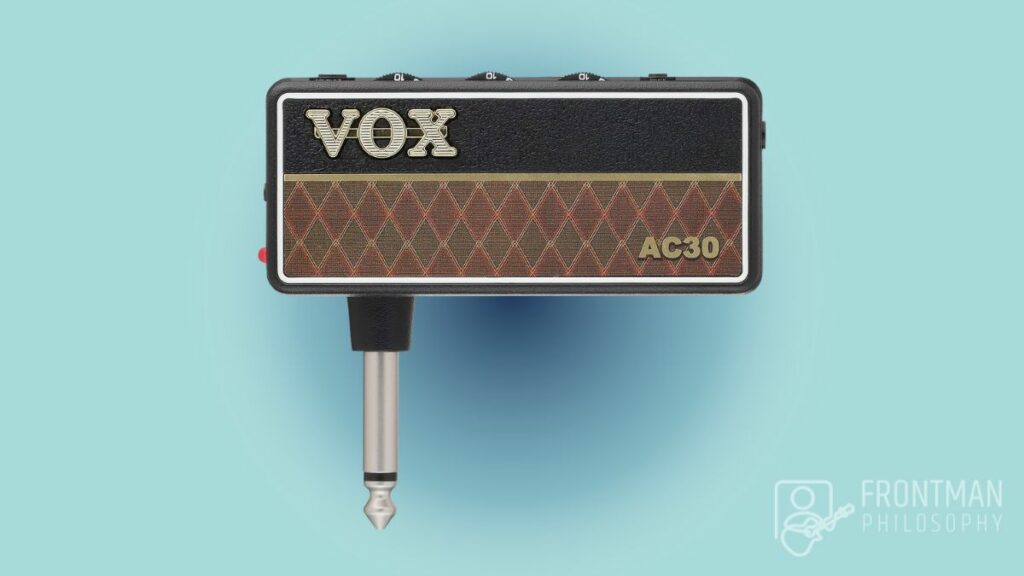 A headphone amplifier is a quick and efficient way to connect your guitar directly to your headphones for isolated monitoring. These amps provide just enough power and sound quality for comfortable practicing on the fly or in your room. These are perfect guitar accessories for practicing electric guitar late at night or if you have roommates you don't want to disturb.
Lev's pick – headphone amplifier
Fender Mustang Micro Headphone Amplifier
Fender's Mustang Micro is like a tiny bit of lightning in a box. The amp can be easily mounted to the body of your guitar thanks to an adhesive pad at the base. This amp comes with a healthy range of tone-shaping options, including gain and EQ. There are also a handful of onboard effects built into the amp, like reverb, chorus, and delay. The amplifier can be charged through a USB-C port, saving you considerable money on battery replacements.
Check out my roundup of some of the best battery-powered guitar amps for more recommendations.
19. Hand exerciser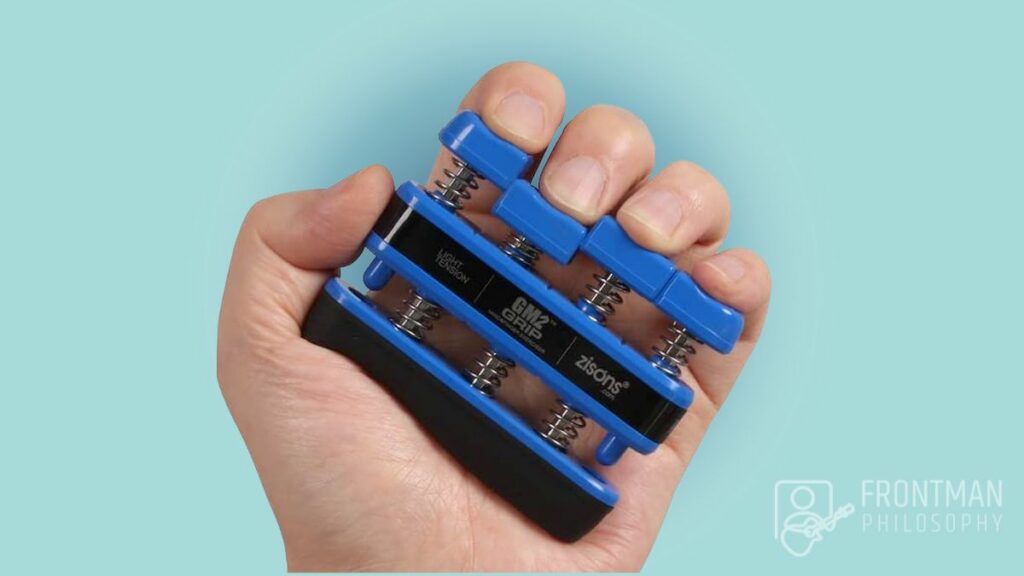 Hand exercisers are spring-loaded devices that fit into the grip of your hand. You squeeze the grip of the device, adding pressure to the spring and creating resistance training for your hand. Hand exercisers were once thought of as nothing more than a novelty for guitarists. However, research has shown that they can improve the strength and stamina of the fretting hand when you use them consistently.
Lev's pick – hand exerciser
Prohands Gripmaster Hand Exerciser
The Prohands GripMaster has dedicated spring-loaded pads for each finger of your playing hand. It doesn't matter how strong or weak your grip is, as you can place any amount of tension on the exerciser to improve your hand strength.
20. Guitar transducer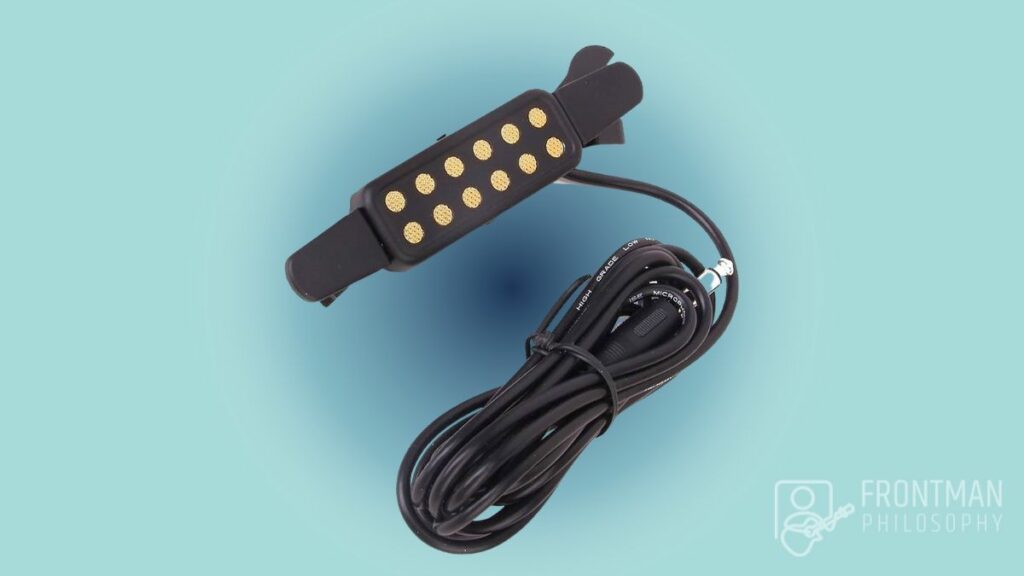 Guitar transducers are a quick and simple solution for converting a regular acoustic guitar into an electric acoustic guitar. Transducers are generally placed under the strings of the guitar, over the soundhole, and use magnetic pickups to capture your guitar's sound. These pickups have a jack input attached to them to allow you to connect the transducer to a mixer, amplifier, or PA system.
Lev's pick – guitar transducer
Luvay Acoustic Guitar Transducer
Luvay is not the most common brand in the world of guitar accessories, but they make a reliable transducer that works with various acoustic guitars. The pickup is encased in beech wood housing to help reduce excess resonance. The soundhole clips on this transducer are lined with a soft foam to prevent damaging your guitar during use.
Wrapping up
While you can certainly play your guitar without these tools. All 20 of these must have accessories will make your playing experience much easier. Without a tuner, keeping your guitar in tune will be much more difficult. Without a case, transporting your guitar will be much more precarious.