Think of your amp as your electric guitar's sidekick. Without an amp, your guitar will barely make any noise, so it goes without saying that your amp is an essential part of any electric guitar setup.
If you have just purchased your first electric guitar and are looking for an amp to go with it, you have come to the right place. In this article, I will go over the best electric guitar amps for beginners and give you some of my top tips for choosing the right one. So, without wasting any time, let's dive into my top beginner amp picks!
Fender Mustang LT50
Best overall
Frontman Philosophy Score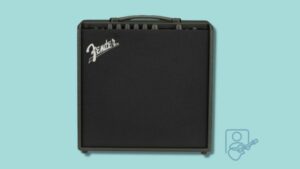 Specs
50 watts
Single 12" speaker
Solid-state amp
¼" mono input, aux input, headphones input, and USB input
19.8 pounds
What's great
Loud enough for practice and small gigs
25 built-in effects, 30 pre-loaded presets, built-in tuner, and 20 amp model types,
Aux input allows you to play along with songs while you play
Can be controlled by a footswitch which you can preset with different amp settings
What's not so great
Built-in distortion effects have a lot of white noise and hum
Not loud enough for larger venues
Price
At just under $250, this amp is an amazing value and has a beginner-friendly price point!
My overall thoughts
The Fender Mustang LT50 is a killer amp that comes with tons of presets and sound customization options. I found that this amp is awesome for experimenting with and finding the best tones and effects for your playing. This is a fantastic beginner amp because it is easy to use and portable, but it also has tons of great quality built-in effects.
While the amp is not the smallest beginner amp out there, it is still compact and weighs under 30 pounds. And it is definitely loud enough for most settings beginner guitarists will find themselves in. And I don't see any reason why a guitarist couldn't use this amp for years, even when they start gigging and recording.
What really sets this amp apart from other amps marketed as beginner amps is that it has the capacity to sound like a professional amp. For under $300, you are getting a solid-state amp that can sound like a number of different classic tube amps. This amp is also a great way for beginners to mess around with different effects to figure out which ones work best with their style. While the built-in effects are digital, and I wouldn't really recommend using them for recording, they sound good enough for live gigs and practice.
Boss Katana MK II
Best beginner modeling amp
Frontman Philosophy Score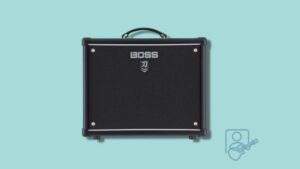 Specs
50 watts
Single 12" speaker
Solid State amp
¼" mono and aux input, USB and headphones output
25 pounds
What's great
Extremely versatile modeling amp with 10 amp models
Awesome effects on the amp. You can use 5 effects simultaneously
Loud enough for most settings, practice, gigging, and recording
Can be set to a "bedroom" setting. You can switch between 50w, 25w, and .5w
Can download new effects and amp models to the amp with the Boss Tone Studio
What's not so great
Footswitch is not included with the amp
Price
This amp comes to around $270, which is a steal for the quality of this amp.
My overall thoughts
The Boss Katana MK II is a pro level amp at an entry-level price. I was never a big fan of digital modeling amps until I tried this amp. The amp has 5 different amp models to choose from: clean, crunch, lead, brown, and acoustic. Each amp model has a variation, so there are 10 different amp model settings altogether.
The most interesting amp settings I found were the "brown-sound" setting, which is a high-gain "Van Halen-esque" sounding amp style, and the acoustic setting. The "acoustic" setting is a helpful feature, as most acoustic guitars cannot be plugged into standard electric guitar amps.
Unsurprisingly, the built-in effects on the amp also stood out. Boss produces some of the world's best effects pedals, and they didn't miss the mark with this amp. The Boss Katana MK II has distortion/overdrive, modulation, reverb/delay, and other various effects. You can set up to 5 effects simultaneously and customize the different effects and amp models using the Boss Tone Studio application.
For more control over the amp's effects, I recommend purchasing the Boss GA-FC Katana Footswitch. Unfortunately, this is not sold with the amp and must be purchased separately.
Blackstar HT-1R
Best beginner tube amp
Frontman Philosophy Score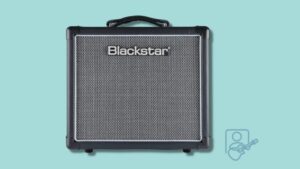 Specs
1 watt
Single 8" speaker
Tube amp
¼" mono input, aux input, and headphones input
12.3 pounds
What's great
Perfect practice amp size, small and compact
Built in overdrive and reverb controls
Comes with a 2-channel footswitch
Classic tube-amp tone
What's not so great
Not loud enough for gigging
More expensive than other beginner options
Price
This amp costs around $320, which is incredibly cheap for a decent tube amp, but a bit on the expensive side for a small practice amp.
My overall thoughts
If you want the authentic vintage tube amp sound at an entry-level price, the Blackstar HT-1R is for you. This 1-watt tube amp is an awesome-sounding first tube amp for any guitarist. While you definitely can't play most medium to large gigs with this amp, you'll get an awesome tone for practice and recording.
This simple amp is very easy to use, with only 4 dials (gain, volume, EQ, and reverb) as well as 2 built-in overdrive voices. I was honestly surprised at how big the sound of this amp was, considering it only has 1 watt. This amp is for beginner electric guitarists who want a taste and feel of tube amps without having to shell out the big bucks. But if you are after an all-in-one amp that you can use at gigs and has built-in effects, the Blackstar HT-1R is NOT the best option.
That said, I really love the sound of this amp, and it is worth the price in my opinion.
Orange Crush 35RT
Best vintage sounding solid-state amp for beginners
Frontman Philosophy Score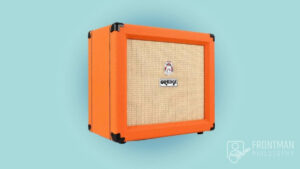 Specs
35 watts
Single 10" speaker
Solid State amp
¼" mono input, aux input, and headphones input
25 pounds
What's great
Has a great-sounding built-in "dirty" setting (overdrive), reverb, and a chromatic tuner
Amp has a vintage tube-like punch to it
Loud enough for practice and even most gigs
Very simple to use with super straightforward controls
What's not so great
"Dirty" channel has a lot of white noise and fuzz (which can be a good thing for some guitarists)
My overall thoughts
The Orange Crush 35RT is about as close as you can get to a tube amp-tone without actually "balling out" on a tube amp. I personally love the sound and the aesthetic of Orange amps. When I was a teenager, I bought an Orange Crush without even trying it out because it "looked cool". Luckily, it sounded great as well!
If you turn up the gain on this amp, it would be difficult to distinguish the sound from an Orange tube amp. This amp keeps things simple and easy with super easy-to-understand controls. But it still offers a good amount of customization with reverb, a fuzz-like "dirty" channel, and a chromatic tuner. This amp has a decent amount of watts as well. While I wouldn't use it for a large venue, it is definitely loud enough for smaller gigs, practice, and recording sessions. The Orange Crush is the perfect balance of functionality and practicality; this medium-sized amp can get quite loud but can also be carried around pretty easily as it only weighs 25 pounds.
Check out my full review of the Orange Crush for more info on the product.
Fender Frontman 20G
Best budget beginner guitar amp
Frontman Philosophy Score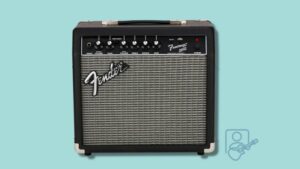 Specs
20 watts
Single 8" speaker
Solid State amp
¼" mono input, aux input, and headphones input
15 pounds
What's great
Very compact amp that is loud enough for practicing and small coffee shop gigs
2 channels, clean and overdrive
Best amp under $100
What's not so great
The small 8" speaker doesn't have a lot of tone diversity
Price
At just $99, you really can't find an amp of this caliber for less.
My overall thoughts
The Fender Frontman 20G is one of the best small amps out there. While it is certainly not loud or powerful enough for gigs, the amp has a similar design and sound to Fender classics, such as the Fender Hot Rod, Fender Deluxe, and Twin Reverb, just on a much smaller scale.
The amp has a nice-sounding overdrive channel with gain controls, EQ balancing, separate overdrive, and clean volume knobs.
If you are a beginner guitarist looking for a small but well-rounded amp that costs less than $100, this is your best bet. There are other cheap amp options out there, but this is hands down the best budget beginner electric guitar amp.
What makes a good beginner amp?
I didn't just look at the best beginner guitar kits and choose the cheaply made tiny practice amps. In this buying guide, I looked at a number of different characteristics that make an amp great for beginners. Here are the main contributing features I used to allocate a Frontman Philosophy score for each product.
Sound and volume
25% of the score
Even beginners need amps that sound good! I researched amps with clear, crisp, clean channels and deep, crunchy gain tones. I also made sure that these amps were loud enough to use in different practical applications. Many beginners will simply buy the cheapest amp, which oftentimes isn't loud enough to even play with another guitarist or at small coffee shop gigs.
User Friendliness
25% of the score
Beginner guitarists already have enough to worry about in terms of, well… learning how to play guitar in the first place! So, the last thing they need is a complicated amp with a major learning curve. I researched and tested amps with simple settings that aren't too advanced or complicated to use, and I steered clear of amps that require a lot of EQ tweaking to get the "right" tone.
Settings
20% of the score
Most beginner guitarists haven't quite figured out their genre or playing style yet, so it is a good idea to have an amp that can do it all. Advanced touring musicians often get guitar amps that specialize in a specific sound, but beginners will benefit more from an amp that allows them to experiment.
I looked at amps with lots of settings, amp models, and effects, as well as standard sound guitar amps that produce a versatile tone.
Size
15% of the score
Let's face it, beginner guitarists aren't playing live gigs anytime soon, so there is no need to purchase massive stadium-level head and cabinet amps. A compact combo amp that sounds great is the best bet for novice guitarists. That said, I didn't only look at tiny practice rigs.
I researched beginner-friendly amps that a guitarist can use in their first few years of playing. Most of the amps I've listed are powerful enough to play with a drummer and even with a full band at smaller venues, but they also can easily be carried around as they all weigh less than 30 pounds.
Price
15% of the score
According to a recent study by Fender, 90% of new guitarists give up within the first year of playing. So, while you should definitely fully commit to the instrument, don't buy a $1,000 rig in your first year of playing.
All the amps I tested in this list are incredibly affordable, costing less than $400. These are solid amps that won't break the bank.
Things to consider when buying your first guitar amp
You need an amp to get the most out of your electric guitar, so the first thing you need to do after getting your guitar is purchase an amp to go with it!
Here are some of the most important questions you should have the answer to before purchasing your first amp.
How many watts do your need?
Think about what you are going to use the amp for and how you may want to use it after 1-2 years of learning guitar. Most guitar amps are between 10-100 watts, with beginner amps on the lower end of that spectrum. If you plan to use the amp for live shows and recording sessions at some point, I recommend looking for a beginner amp that is between 20 to 50 watts, which is what most guitarists consider to be the "sweet spot."
What is your budget?
You obviously need to have your budget figured out beforehand. Guitar amps have a massive price range from $100 to several thousand dollars, so it can be overwhelming to settle on the best budget.
I find that the best beginner amps are around $200-$300. Anything cheaper starts to quickly cut down on sound quality and volume. And as a beginner, you don't really need anything much more expensive than that until you start getting more serious about music.
How portable does it need to be?
Even as an advanced guitarist, I value a portable amp. If I can find a loud excellent-sounding amp that I can easily carry around, I'm sold! Larger amps, especially large tube amps, can weigh over 50 pounds, making them a mission to transport. So I researched amps that weighed less than 30 pounds so that most guitarists could easily carry them around.
What kind of inputs/outputs does the amp have?
For a beginner amp, I always ensure it has a headphone jack because many beginner guitarists are likely practicing in their room and might need to practice quietly. So, plugging in headphones allows you to crank the volume and experiment with effects without disturbing others. Of course, having an aux input and a USB connection are also huge pluses!
Tube or solid state?
This is one of the biggest decisions you'll make when purchasing a new amplifier. The eternal battle of tube amps vs solid state amps. Tube amps are generally considered better regarding the tone and sound quality, but solid state amps have improved immensely in the past few decades, and more and more musicians are using them because they are cheaper, offer more options, and are less maintenance.
Unless you are really after a classic rock tube sound, solid state amps are the way to go for beginners.
Do you want a modeling amp?
Modeling amps are solid state amps with several different amp presets modeled after vintage amplifiers. These are great for beginners because you can get a taste of classic vintage amps without paying lots of money for them. It is a great way to discover what tone works best for you. Modeling amps are not necessary for every guitarist, but you should definitely look into getting one if you want to experiment.
What features do you need?
Amps these days come loaded with settings, effects, and other features, some necessary and some not so necessary (and some are pretty useless). Here are some of the common features you can find on amps.
Built-in effects (Reverb, overdrive, distortion, etc.)
Tuner
Gain controls
Channels
Sensitivity
EQ
Footswitches
Final tips for buying a beginner guitar amp
Try out the amp first
If you are unsure of what amp to buy, I recommend trying it out at your local guitar center or music retailer. Even if you plan to buy an amplifier online, it is always a good idea to make sure you like the sound of the amp before you spend your money on it.
Don't go for fancy features you won't use
There are tons of fancy bells and whistles that come on guitar amps, but don't flock to a shiny digital amp if you don't think you will use the features. In the end, you'll end up spending a lot more money on a bunch of different controls you will never use.
Start with a small practice amp
Beginner guitarists should start by getting a small to medium-sized amp and work up to more powerful high-watt amps as needed. When it comes down to it, no one needs a Marshall Full Stack or a Fender Twin Reverb to practice in your bedroom. That is just overkill.
Wondering what brand amp to look at? Check out my article diving into the best amp brands out there!