Whether you are a beginner guitarist just starting out or a seasoned musician looking to add to your collection, finding a good quality budget guitar can be a difficult task.

But I'm here to help you! In this article, I have cherry-picked 6 exceptional electric guitars in a variety of playing styles. There's something in this list for everyone, from acoustic guitars to heavy metal chuggers, hollow bodies to Stratocasters.
So, let's get started and look at of the best guitars under $500 that go to show you don't have to break the bank to achieve your ideal sound.
1. Fender Squier Strat: $200 to $300
Best Stratocaster style guitar under $500
Frontman Philosophy Score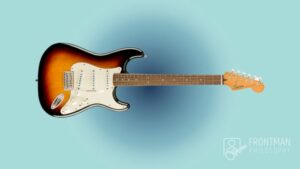 Specs
Type: Solid-body electric guitar
Pickups: Three Squier Standard Single-Coil pickups
Pickup Selector: Five-way pickup selector switch
Body Wood: Agathis or basswood
Neck Wood: Maple
Scale Length: 25.5″
Fretboard Wood: Laurel
Fretboard Radius: 9.5″
Frets: 22 jumbo frets
Finish: Gloss or satin finish options are available
Knobs: Master volume, two tone controls
Bridge: Tremolo bridge system
What's great?
Tonal versatility: The Fender Squier Strat's three single-coil pickups provide a broad tonal palette that makes it a versatile choice for various genres.
Extremely affordable Strat: The Squier Strat's low price and high quality make it a fantastic Stratocaster-style guitar for beginner or intermediate guitarists on a budget.
Decent playability: The smooth neck and well-balanced body make this guitar fun to play for guitarists of all skill levels.
Different finishes: The guitar comes in a number of different finishes, so each player can choose one that complements their taste.
What's not so great?
Pickups lack the tonal clarity of high-end Strats: The clarity of Squier Strat stock pickups isn't up to par with that of high-end Strats. But, despite that, they still sound very good for the price.
The Tremolo bridge system needs frequent tuning changes: The stock tremolo bridge system is not as durable as that of high-end Strats, so it may need more adjustments to maintain tuning stability.
Sound
The Fender Squier Stratocaster may be a budget alternative, but it still has the distinctive, bright, and adaptable sound of classic Stratocasters. Squier Strats typically use alnico magnet pickups which provide warmth, depth, and a touch of vintage character to the tone of the guitar.
Squier Strats have a glass and articulate tone that responds well to dynamics and is great for both rhythm and lead guitar playing.
These guitars are also very easy to upgrade and self-customize, so many players opt to upgrade the pickups for an even better sound, personalizing the instrument to their tastes.
Playability
With its "C" shaped neck, 9.5-inch radius fretboard, and medium jumbo frets, the Fender Squier Strat is easy to play.
It has excellent tuning stability, albeit the tremolo bridge may need to be adjusted on occasion. Since the guitar is well-suited to playing chords and riffs, it is a good option for both beginning and intermediate musicians.
One downside in terms of playability for these guitars is the action. Squier Stratocasters come out of the box with pretty low action, so the frets may buzz. But the action can be fine-tuned easily by a luthier or by adjusting the nut, bridge, and truss rod.
Durability
The Squier Strat shines in terms of build quality, with a solid construction, a durable neck, and a strong glossy finish. Squiers are designed to withstand the wear and tear of playing them every day. Some components, such as the tuning machines and the bridge, are definitely not as durable as the more expensive Stratocaster models. But at this price point, it performs very well!
Price
Fender is one of the top guitar brands, and Squier is one of the best budget guitar makers! The Fender Squier Strat's low pricing is a major selling point. At $200-$300, the Fender Squier Strat is a budget guitar. This affordable guitar manages to preserve the spirit of the classic Stratocaster look while delivering a good performance. This is why the Fender Squier Strat is one of the most popular beginner-level electric guitars.
Should you buy it?
If you're a guitarist on a tight budget, I highly recommend the Fender Squier Strat or Squier Affinity Stratocaster. It's a terrific deal for a good-quality entry-level guitar. Without a doubt, Squier Stratocasters are some of the best guitars under $500. The Squier Stratocaster looks and sounds like a regular Fender Stratocaster (with a few downgrades) while still being inexpensive and easy to play.
The default pickups may not be crystal clear, and the action may need adjusting, but the guitar nonetheless produces a wide range of tones and is more than worthy of being the trusty sidekick of a beginner guitarist.
For those looking for a budget electric guitar without sacrificing quality, this is a great option.
2. Epiphone Les Paul Special: $180
Best Les Paul-style guitar under $500
Frontman Philosophy Score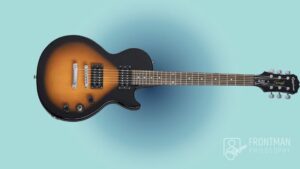 Specs
Type: Solid-body electric guitar
Pickups: Two Epiphone Humbucker pickups
Pickup Selector: Three-way pickup selector switch
Body Wood: Mahogany
Neck Wood: Mahogany
Scale Length: 24.75″
Fretboard Wood: Indian laurel
Fretboard Radius: 12″
Frets: 22 medium jumbo
Finish: Gloss finish
Knobs: Two volume and two tone control knobs
Bridge: Wraparound bridge
What's great?
Classic tone: The Epiphone Les Paul Special has two humbucker pickups, which are noted for their warm, vintage-inspired tone and distinct character.
Affordable Les Paul model: The Les Paul Special is an inexpensive Les Paul model that delivers the renowned Gibson Les Paul design and characteristics at a low price, making it accessible to guitarists on a budget.
Comfortable playability: The guitar has a comfortable mahogany neck and a well-balanced body, allowing for smooth playability.
What's not so great?
Limited finish possibilities: The guitar is normally available in a conventional gloss finish, limiting aesthetic options compared to other models with more finish options.
Needs out-of-the-box adjustments: You'll likely need to adjust the intonation and action of the guitar to your liking before playing. The frets may be buzzy, and the action may be set very low or high.
Clean tone is subpar: The guitar sounds great with some distortion but is a bit weak on a clean channel.
Sound
The Epiphone Les Paul Special has a surprisingly rich and resonant mahogany tone for such a cheap guitar.
With a lot of focus on the mids, this guitar cuts through the mix with a powerful and clear tone, boosting note definition and melodic lead line playing.
The 700T humbucker pickups have a warm tone that is perfect for many different styles of guitar playing. These pickups are best paired with some overdrive or a distortion pedal, as the clean tones don't sound as natural as I would have liked.
Playability
The 12-inch radius of the smooth Indian Laurel fretboard allows for simple string bending and fluency in moving from chords to scales. At the same time, the medium jumbo frets make playing easy.
The guitar has a shorter 24.75-inch scale length compared to the standard 25.5 inches. Shorter scale-length guitars have less tension on the strings, so they are easier to play, especially for beginners. However, short-scale length guitars also tend to go out of tune easier. For this reason, I recommend using thicker gauge strings on the Epiphone Les Paul Special to balance the tension.
Overall, the guitar is well-balanced and easy to play.
Durability
The set-in neck design of the Epiphone Les Paul Special ensures a strong and sturdy link between the neck and body. As with any budget electric guitar, the manufacturer definitely cut costs on the hardware. The tuners, in particular, are less stable than more expensive guitars and will definitely need replacing eventually. But considering this guitar can be yours for less than $200, it is definitely a worthwhile trade-off.
Price
This guitar can be purchased for less than $200! It has the recognizable look and feel of the Gibson Les Paul at a MUCH more reasonable price. This instrument offers excellent value for beginner guitarists on a budget who love the signature Les Paul tone and look.
Should you buy it?
The Epiphone Les Paul Special is a great option if you're on a tighter budget but still want a Les Paul-style guitar with a classic sound. It's inexpensive while still providing the trademark vintage Les Paul tone and smooth playing feel.
That said, if you want rich, clean tones or plan to play live shows, I wouldn't recommend having the Epiphone Les Paul Special as your only guitar, as it is definitely more geared towards absolute beginners looking to primarily play with distortion.
3. Ibanez Kiko Loureiro Signature KIKOSP3: $499
Best budget guitar for hard rock and metal
Frontman Philosophy Score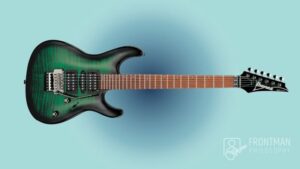 Specs
Type: Solid-body electric guitar
Pickups: Infinity R humbucker and RS single coil pickups
Pickup Selector: 5-way pickup selector switch
Body Wood: Alder
Finish: Quilted maple (with transparent red burst finish) or flamed maple (with transparent aqua blue finish)
Neck Wood: Maple
Scale Length: 25.5″ (inches)
Fretboard Wood: Jatoba
Fretboard Radius: 15.75″
Frets: 24 medium jumbo
Finish: Gloss finish
Knobs: One volume and one tone control knob
Bridge: Edge-Zero II double locking tremolo bridge with ZPS3Fe
What's great?
Designed with Kiko Loureiro: Co-created with renowned Brazilian guitarist Kiko Loureiro, whose signature playing style was included in the design process.
Attention to detail: Careful attention to detail; the nut is carved precisely, and the fretboard is perfectly smooth, ideal for lead guitar players.
Responsiveness to playing dynamics: Responds effectively to playing dynamics and expressive nuances.
Locking tremolo bridge: This guitar comes equipped with a double locking tremolo, which is essential for heavy whammy bar use and tuning stability.
Value for money: A professional-grade guitar at an accessible price point.
What's not so great?
Limited availability: Compared to the other guitars on this list, the KIKOSP3 is not widely distributed, making it difficult to locate in certain countries or marketplaces.
Not as versatile: As with all signature models, since it was made specifically for Kiko Loureiro's heavy metal playing style, the guitar is not as versatile as generic guitars.
Sound
The KIKOSP3's high-output humbucker pickups thrive in rock and metal environments, giving it an extra boost of output when paired with distortion.
It has a loud and powerful sound that works well with thundering riffs and soaring leads, but it also has a surprisingly good clean tone, pairing well with genres like blues and fusion.
The bridge pickup has a punchy and expressive sound with tight bass, powerful mids, and exceptional clarity, making it suitable for intensive rhythm work, high-gain solos, and shredding. It guarantees that each note, even in complicated chord voicings, cuts through the mix with accuracy.
Playability
The KIKOSP3 has a comfortable and ultra-smooth fingerboard radius of 15.75″, allowing for effortless chord fingerings, string bending, and fast shredding across all 24 frets.
The combination of the Gotoh MG-T locking tuners and the Edge-Zero II tremolo bridge ensures the tuning is stable and precise, providing precision of pitches while playing.
The string distances and fret sizes are perfectly laid out with the jumbo frets and Graph Tech Black TUSQ XL nut width of 1.692″ (43 mm). This enhances string control, enabling precise bends, fast playing, and minimizing fretting out or buzzing.
The All Access Neck Joint (AANJ) design facilitates effortless upper fret access, making seamless transitions between positions and smooth playing in higher registers easier.
Durability
The body is made of strong alder, which is recognized for its toughness and resilience to wear and strain.
The maple neck provides additional rigidity, reducing warping and bending over time. It is certainly capable of withstanding the rigors of frequent playing, touring, and studio sessions.
Price
The guitar preserves the spirit of Kiko Loureiro's playing style while providing professional-grade performance at a lower cost than most higher-end signature models. Whether you like Kiko's music or are just searching for a well-made guitar for rock and metal at just around $500, the KIKOSP3 is surely worth checking out.
That said, $500 is not an attractive price point for guitarists who are just starting out.
Should you buy it?
The KIKOSP3 is an outstanding pick under $500 for aficionados of hard rock and metal. Its attention to detail, such as a well-cut nut and a smooth fretboard, enables great string movement and intonation.
The guitar's responsiveness and expressiveness allow for subtle playing and tone adjustments. The KIKOSP3 improves your overall musicianship and tone quality because of its harmonic richness and purity.
4. Epiphone Wildkat Semi-Hollow Electric Guitar with Bigsby: $499
Best semi-hollow body guitar under $500
Frontman Philosophy Score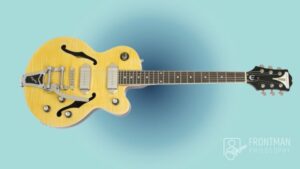 Specs
Type: Semi-hollow electric guitar
Pickups: Epiphone P-90R Dogear Classic (neck) and Epiphone P-90T Dogear Classic (bridge)
Pickup Selector: 3-way toggle switch
Body Wood: Mahogany
Neck Wood: Mahogany
Scale Length: 24.75″
Fretboard Wood: Rosewood
Fretboard Radius: 12″
Frets: 22 medium jumbo
Finish: Antique natural, wine red, or royal tan
Knobs: Black top hat with silver inserts
Bridge: LockTone Tune-O-Matic with Bigsby B70 Vibrato Tailpiece
What's great?
Unique semi-hollow design: The Wildkat has a mahogany body and a flame maple top for a distinctive semi-hollow sound and feel.
P90 pickups: The Epiphone P-90R Dogear Classic pickups are versatile and dynamic, producing beautiful clean tones with clarity and a vintage touch.
Bigsby tailpiece: The Bigsby B70 tailpiece vibrato allows for expressive pitch modulation and light vibrato effects while also adding a touch of a unique vintage look to the instrument.
Scale length and playability: The 24.75-inch scale length and slender maple neck make it suitable for a wide range of playing styles.
What's not so great?
Feedback issues: Due to its semi-hollow body structure and f-holes, the Wildkat is particularly susceptible to feedback at high volume levels or in high-gain conditions.
Weight and balance: Because the Wildkat is a semi-hollow guitar, it may be significantly heavier and have a different weight distribution, which may not be easy on the shoulder during extended playing sessions.
Access to upper frets: The Wildkat's single cutaway design may restrict access to the upper frets, which might disadvantage players who often play at higher locations on the neck.
Sound
The Epiphone Wildkat Semi-Hollow Electric Guitar with Bigsby delivers rich and resonant tones with superb balance, depth, and sustain thanks to its semi-hollow body construction and unique P-90 pickups.
The P-90 pickups are well-known for their expressive dynamics and thick tone, which allow for a broad spectrum of tonal expressions. The semi-hollow body structure of the guitar improves its natural resonance, giving in a bright and lively tone with good sustain.
The Bigsby B70 vibrato tailpiece is an awesome addition to this hollow body that offers some vintage flavor. The Bigsby Vibrato has a more subtle expressive pitch modulation and delicate vibrato effects compared to other types of whammy bars.
One issue I found with this instrument was that when plugged in, there was quite a bit of feedback. This is a common issue with hollow bodies or semi-hollow guitars.
Playability
The Epiphone Wildkat has exceptional playability and string control due to its 1.68″ nut width and jumbo frets.
Grover Rotomatic tuners make tuning the guitar easy and keep the guitar in tune for longer, which makes this guitar ideal for live performances.
In addition, the smooth maple neck, 24.75-inch scale length, and 12″ fingerboard radius of the guitar add to a pleasant and simple playing experience, making chord changes and note bending a breeze.
Guitarists who typically play high on the fretboard may struggle a bit with the Epiphone Wildkat as it does not have the most comfortable cutaway design. But it is easy to get used to, and most guitarists shouldn't have an issue with it.
Durability
The Epiphone Wildkat is designed to resist the rigors and abuse of touring, live shows, and constant playing. Its durable mahogany body and flame maple top provides resilience to everyday wear and tear.
The Tune-o-Matic bridge, Bigsby B70 vibrato tailpiece, and Grover Rotomatic tuners all contribute to the guitar's long-lasting performance and stability. These components are built to resist repeated usage and deliver consistent performance over time.
Price
With its versatile pickups, sturdy hardware, comfortable playability, and catchy design, the Wildkat delivers an amazing semi-hollow body guitar without breaking the bank. That said, at nearly $500, the Epiphone Wildkat may be a bit out of budget for guitarists without as much money to spend.
Should you buy it?
If you're looking for a versatile semi-hollow guitar with great pickups, powerful hardware, and a sleek and functional Bigsby Vibrato, the Wildkat is surely worth checking out. This is a perfect guitar for musicians interested in blues, country, or jazz, as it delivers rich, well-rounded clean tones.
In terms of versatility, semi-hollow body guitars are limited in general, as they do not pair well with distortion and other effects. If you plan to play rock, heavy metal, or alternative genres, I'd recommend going for one of the solid-body guitars on this list.
5. Yamaha FG830 Dreadnought: $340
Best acoustic guitar under $500
Frontman Philosophy Score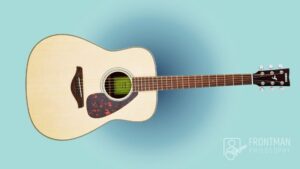 Specs
Type: Acoustic guitar
Pickups: None (it's an acoustic guitar)
Pickup Selector: N/A
Body Wood: Rosewood back and sides
Top Wood: Solid spruce
Neck Wood: Nato
Scale Length: 25.6 inches
Fretboard Wood: Rosewood
Fretboard Radius: 15 3/4″
Frets: 20 medium jumbo
Finish: Natural gloss
Knobs: N/A
Bridge: Rosewood
What's great?
Solid spruce top: Solid spruce provides superb sound projection and tonal richness. It has a well-balanced and powerful tone that helps project the sound further.
Rosewood back and sides: Using rosewood for the guitar's back and sides adds warmth and depth to the overall tone, resulting in a full-bodied, strong acoustic tone.
Dreadnought body: The dreadnought is a popular type of acoustic guitar well-known for its strong and commanding sound. It has a well-balanced mix of deep bass, lush middle, and crisp treble response.
Tone versatility: Tone can adapt to various playing styles and methods, whether strumming chords, fingerpicking, or playing complicated solos.
What's not so great?
Lack of built-in electronics: The FG830 is not an electric acoustic, so it doesn't have built-in pickups, restricting the ability to perform live at larger venues.
String height modification may be necessary: Depending on personal taste, some players may need minor changes to the string height, as the action is quite high on the guitar out of the box.
Basic woods: While it provides reliable performance and quality, it lacks the innovative tonewood combinations available in higher-end guitars.
Sound
The Yamaha FG830 Dreadnought produces a powerful and balanced tone. In general, I was very impressed with the robust sound of this guitar, especially considering it is so affordable. It has a strong bass frequency that provides depth and impact to your chords while strumming.
The guitar also has a lot of midrange frequencies which improves note clarity. The midrange makes fingerpicking and soloing on the FG830 stand out.
Overall, the Yamaha FG830 has a harmonically rich and well-balanced sound that can be appreciated by guitarists of any level.
Playability
The Yamaha FG830 Dreadnought is very easy and comfortable to play. Acoustic guitars can be notoriously difficult for beginners to learn on, as they may have high action and large neck radii. The FG830's 15.75″ radius rosewood fingerboard is a comfortable and adaptable playing surface for beginner and even advanced guitarists.
The guitar also has perfect intonation, which guarantees accurate note articulation and consistent tuning across the neck.
One downside is that the guitar only has 20 frets and does not have a cutaway, so you are limited in how high you can play on the guitar's neck. That said, the frets are smooth and do not cause the strings to buzz, producing a crisp and clear note output.
Durability
The solid spruce top and rosewood back and sides of the Yamaha FG830 not only contribute to the guitar's rich tone but also make it more durable and resilient to wear and tear.
The dovetail neck joint offers a robust and sturdy connection between the neck and body, assuring long-term integrity. Furthermore, the guitar has a high-quality gloss coating that not only enhances its beauty but also gives a layer of protection to the body, protecting it from scratches and tiny dents.
The Yamaha FG830 is made to hold up to the general wear and tear of frequent playing and to stand the test of time, thanks to its sturdy build and durable materials.
Price
This acoustic guitar is very affordable at only around $340. It offers a level of performance often found in higher-priced instruments due to its sturdy build, rich deep tone, and great craftsmanship.
It's an excellent choice for both beginning and experienced guitarists looking for one of the best acoustic guitars that cost less than $500.
Should you buy it?
The Yamaha FG830 is surely worth considering, as its solid construction, quality materials, and attention to detail ensure you are getting a guitar that will serve you well for years to come. At the price point of $340, there's very little to complain about it.
6. Schecter Omen: $450
Gigging guitar at an entry-level price
Frontman Philosophy Score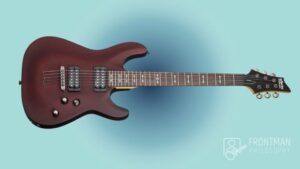 Specs
Type: Solid body guitar
Pickups: Schector Diamond Heritic Humbuckers
Pickup Selector: 3-way pickup selector
Body Wood: Basswood
Neck Wood: Maple
Scale Length: 25.5 inches
Fretboard Wood: Rosewood
Fretboard Radius: 14″
Frets: 24 jumbo frets
Finish: White and glack gloss finish, walnut satin finish
Knobs: One volume knob and one tone knob
Bridge: Tune-O-Matic
What's great?
Solid construction: Schecter is known for producing guitars with excellent build quality, and the Omen series is no exception.
Value for money: The Omen is built with high-quality components and features found in more expensive models, making it perfect for intermediate or advanced guitarists on a tighter budget.
Tuning stability: The Omen has reliable hardware, including sturdy tuners and a strong bridge system. This keeps the guitar in tune for extended periods and reduces the need for frequent adjustments.
What's not so great?
Weight: A downside of the Schecter Omen's sturdy build is how heavy it is compared to other guitars. This may not be an issue for everyone, but it's worth considering if you prefer lighter instruments.
Downgraded pickups: The pickups in the Omen sound good for the price, but they are definitely a downgrade from high-quality humbuckers used in higher-end models.
Doesn't have a Floyd Rose Tremolo: While most Schecter guitars have a Floyd Rose locking tremolo system, the Schecter Omen has a Tune-O-Matic Bridge.
Sound
The Schecter Omen somehow retains the high-quality tone that is synonymous with Schecter for a fraction of the cost. The Omen is designed for rock and metal guitarists with full-bodied dual humbuckers with a thick overall sound. The Schecter Omen is at its best with heavy distortion, which makes sense, considering it is a guitar geared towards metal heads.
Of course, Schector made some cuts on the Omen, as it is more than half the price of their higher-end offerings. The guitar can sound a bit muddled at times, but after adjusting my amp's gain and EQ settings, I got it sounding crisp.
Playability
The biggest downside of the Schecter Omen is that it doesn't have a locking tremolo. Even still, it holds its tuning very well, even with aggressive chugging. Schecter was smart to incorporate a string through design, as the strings stay in place very well on the Omen.
The guitar's action is a bit on the higher end out-of-the-box, but personally, I prefer my action on the higher end.
The double cutaway and the smooth, thin fretboard are perfect for guitarists who want to slide around the neck and shred. This guitar gives you easy access to all 24 frets.
Another thing that some players may not like is that at nearly 8 lbs, the guitar is quite heavy. This is common for Schecter guitars as they are made with thick, durable bodies and high-quality materials.
Durability
Schecter did not cut any corners on the wood and hardware for the Schecter Omen. You can tell just by holding and closely inspecting the guitar that it is build to last. The guitar has a bolt-on reinforced neck and a simplistic design that is unlikely to need many repairs or replacement parts, even with heavy use.
Price
The Schecter Omen is unique, as most Schecter guitars cost MUCH more than $500. So the fact that you can get this guitar for less than $500 is awesome. Guitarists of any level can definitely use this guitar for gigging, recording, practice, and more!
Should you buy it?
The Schecter Omen is one of the best guitars under $500. It is a great option for rock or metal guitarists looking for a cheap secondary guitar or even for beginner guitarists that wants a top-notch entry-level instrument. Of course, the Omen isn't without its downsides, but there isn't much to complain about this extremely budget-friendly guitar.
How to choose a good guitar under $500
When choosing a good guitar under $500, there are several important factors to consider. The 6 guitars included on this list are just a drop in the bucket, as there are hundreds, if not thousands, of good options out there.
When testing budget guitars, I look specifically at the overall sound, playability, durability, and price.
Sound
35% of the score
What good is a cheap guitar if it doesn't sound good? I looked for budget guitars with a well-rounded and versatile sound.
The preferred sound and tones vary from player to player. For example, a heavy metal guitarist will want a guitar with a heavy sound and emphasis on the mid-range, while blues guitarists generally prefer a bright or trebly sound.
I also looked for guitars with decent tonewoods with a lot of resonance. Many cheaper guitar models cut costs by using cheaper woods, so I tested guitars with good-quality wood for a low cost.
Playability
25% of the score
If a guitar is barely playable, it won't do you much good. There are plenty of budget electric guitars that have horrendous action, heavy chunky designs, and a generally mass-produced feel. I looked for guitars under $500 that feel good to play. The key is to find a budget guitar that doesn't impede your playing. Otherwise, you'll be handicapping yourself.
All of the guitars on this list are very easy to play and feel comfortable on the fingers.
Durability
20% of the score
Durability is another important factor to consider when purchasing an affordable guitar. I examined the hardware, such as the bridge, tuners, pickups, and strap buttons, to ensure they were well-made and built to last. I also checked the coating and overall build quality. A polyurethane or nitrocellulose coating protects the guitar from scratches and abrasion.
The neck is another important area to check. Many less durable guitars will have a bolt-on neck. While a bolt-on neck is not a general red flag, you'll want to ensure the hardware is tough enough to last; otherwise, your neck may need repairs down the road.
Price
20% of the score
Strike a balance between cost and quality. Consider the guitar's value for the price, brand reputation, and user feedback. It is also imperative to factor in the sound and build of the guitar and work out how much you actually would spend on it. Sometimes, you may get a better value if you spend $100 more for a better quality instrument than to pinch pennies on a low-quality budget guitar.

It is also important to take into account the price of any add-ons or extras included in the purchase, such as a gig bag or a pair of high-quality strings. These small extras make quite a difference in the overall cost of buying a guitar.
For more on the average cost of guitars and how much you should spend on one, check out my guitar cost analysis.
Other gear you'll need
If you are buying your first guitar, you'll generally need a few more things after buying the guitar. While absolute beginners can get away with just purchasing a guitar at first, you'll need at least an amp if you have an electric guitar. Here are a few of the main things you should purchase.
What about guitar starter kits?
If you are looking for a low-budget beginner guitar, you may also consider getting a starter kit. These will generally come with everything you need to get started, including the guitar, a guitar strap, a small practice amp, a guitar cable, guitar picks, and occasionally a guitar lesson book or CD. While the gear in these starter kits is not generally the best quality, they are a great way for beginners with a small budget to get everything they need to start learning and playing.
Here are my top recommendations for beginner starter kits.
Final tips for buying a guitar under $500
Here are some basic tips for buying a guitar under $500:
Test it before you buy: Try out the guitar in person to get a sense of how it sounds, feels, and plays.

Study and review the feedback: Use video demos and customer feedback as a source of knowledge and insight.

Awareness: Be aware that guitars in this price range may be lacking certain features found on more expensive models.

Secondhand guitars: Consider looking into pre-owned guitars. There are many reliable second hand dealers that sell good quality used guitars for more affordable prices.

Evaluate your approach to guitar playing: As I mentioned above, the type of guitar that best suits you depends on the style of music you play and your overall approach. Pick out a guitar that works for your playing style, genre, and purposes (playing at home, performing small gigs, traveling with your guitar, etc.).

Consult a professional: If you are unsure of where to start, your best bet may be to have a seasoned musician check out the guitar with you, as they can spot if something isn't right and advise you on whether the guitar is a good choice for you.
Upgrade-friendly: If you want to customize the guitar in the future, look for a guitar that will be easy to work on and change out certain parts.
Wrapping up
The answer to the question, "Can you buy a good quality guitar for less than $500?" is a resounding yes! There are many awesome electric and acoustic guitars out there that have an extremely accessible price tag. And after reading this guide, you should know how to find these budget gems!
Do you have more questions? Let me know, I'm happy to help.