So, you've bought your first guitar and amp, and you are ready to start learning! But where do you even start? There is an overwhelming number of guitar books available, making it challenging to determine where to begin.
In this article, I will explore the best guitar books for beginners that will help you learn everything you need to know, from changing the strings to improving face-melting solos! Ready to get rocking? Let's dive in!
1. Hal Leonard Guitar Method – Complete Edition
Best overall for beginner guitarists
Frontman Philosophy Score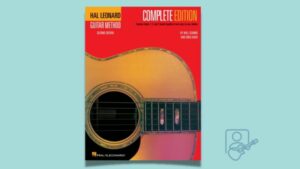 Will Schmid and Greg Koch's Hal Leonard Guitar Method is a classic guitar textbook trusted by guitar teachers all around the globe. This book aims to provide students with a thorough grounding in music fundamentals while also letting them start playing tunes straight away.
Those who are just starting out on the guitar will find the book's straightforward structure quite helpful. Beginner topics like tuning the guitar, playing a melody in the first position, and forming basic chords like C, G, G7, D7, and Em are all covered in this book.
What I loved
I loved the incorporation of songs alongside simple music theory and beginner techniques. The book is loaded with beginner-friendly tunes like "Amazing Grace," "Greensleeves," and "When the Saints Go Marching In." These easy songs not only give novices a feeling of success, but they also teach the fundamentals of guitar playing in a practical manner.
The book also comes with audio examples in the accompanying CD (or downloadable audio content). Overall, the book has an easy-to-follow format giving beginners can a solid music education while having fun playing the guitar.
What I didn't love
The biggest downside of the Hal Leonard Guitar Method is that it includes too much tablature. All guitarists should learn to read music, and this book uses tabs in most of its lessons. While tabs are useful, they cripple many guitarists and prevent them from learning to read music properly.
Should you buy it?
The Hal Leonard Guitar Method is one of the best resources for beginner guitarists out there. If you are looking for a great all-around guitar book to help you advance as a guitarist, this is a wonderful option.
2. Teach Yourself to Play Guitar Scales: A Quick and Easy Introduction for Beginners
A great starting point for beginners
Frontman Philosophy Score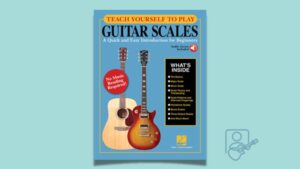 Teach Yourself to Play Guitar Scales is not only a great introduction to guitar scales for beginners, but it is also very well-structured and easy to follow due to its clear explanations and useful images.
Power chords, barre chords, open position, major, minor, and pentatonic scales, single string patterns, and fills are all featured in this book. Also included are musical examples and song fragments from various genres, including rock, folk, classical, and country.
However, what makes this book stand out is the use of clear diagrams, pictures, and drawings to help readers with fretboard organization, chord patterns, and finger placements.
What I loved
The book's selling point is that it can be put to use in real-life situations. Instead of just listing scales, the author demonstrates musical applications of the scales and provides helpful advice for incorporating them into one's playing.
The book is fantastic because it helps readers improve their skills FAST by providing them with finger exercises and other methods to hone their technique. Building finger strength and dexterity is essential for playing scales and other advanced techniques, and Brewster provides a range of exercises to achieve this.
What I didn't love
While the book is a great starting point, it is nowhere near in-depth enough to be a complete guitar method. This is a great exercise book for absolute beginners that are ready to scrape the surface of learning guitar.
Should you buy it?
If you are intrigued by guitar and want to give it a shot but are not quite ready to dive into the theory and complex techniques, this is the book for you. But go for a more in-depth guitar method if you want to get serious about playing.
3. Guitar for Absolute Beginners
Best comprehensive book for serious beginners
Frontman Philosophy Score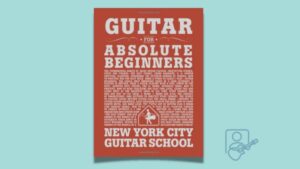 This book is actually a companion to a program developed by Daniel Emery specifically for the New York City Guitar School. The New York City Guitar School used this book successfully with its hundreds of students that joined the program. It's a comprehensive guide to learning guitar, complete with practice schedules, inspirational anecdotes, and excellent musical samples.
Everything from the fundamental habits of great guitarists to learning how to read chord diagrams, tune your guitar, practice, and more are all covered in this comprehensive program for beginners. Emery also gives in-depth explanations on strumming, holding a guitar pick, and riffing, as well as chord progressions.
What I loved
Structured within four parts, the book's unique selling point is its instant gratification. The book is designed to teach guitarists simple skills and show how they can be applied to songs instead of overloading a beginner with theory. I find this method to be very effective.
As I mentioned, this book was initially used by "busy" students who wanted to learn to play the guitar in their spare time. So, you can pretty much learn to play most two-chord songs like "Give Peace A Chance" by John Lennon by the end of part 1.

Moving on from part 1, the book makes sure you get the basics of rhythm in place, along with chord changing skills. By the end of the course, students will be able to play simplified versions of songs like:
U2 – "I Still Haven't Found What I'm Looking For"
Aerosmith – "Crazy"
Hoobastank – "The Reason"
Coldplay – "Viva La Vida"
Guns N Roses – "Knockin' On Heaven's Door"
Guns N Roses – "Sweet Child O' Mine"
And many more
What I didn't love
The main downside of this book is the price. It doesn't come at the most entry-level price point, at nearly $50. That said, it is a very well-written guitar method that is sure to help you develop the best skills and habits.
The only other drawback I found is that the drawings in the book, which are doodle-like, might not appeal to readers in the current age of HQ animations accompanying professional videos available online. So while it might've worked at the time of the first publication, you're currently counting on someone buying it for the vintage appeal rather than convenience.
Should you buy it?
All things considered, Emery's approach to learning guitar is well-organized and provides all the essential building blocks for novice guitarists to get started. Overall, the interactive exercises and songs available make learning the guitar a pleasant experience, and I definitely recommend this book to all beginner guitarists.
4. Music Theory for Guitarists: Everything You Ever Wanted to Know But Were Afraid to Ask
Best music theory book for beginners
Frontman Philosophy Score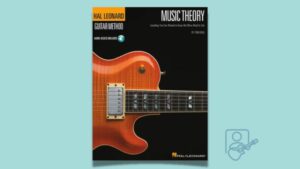 Tom Kolb's "Music Theory for Guitarists" is an excellent book for novices who want to learn more about music theory. The book explains the fundamentals of music theory in a way that is easy to understand and can be instantly applied to the fretboard.
The book goes over many music theory concepts in lessons that are specifically manicured for guitar players.
Rhythm, melody, harmony, notation, scales, chords, modes, chord progressions, and chord substitutions are just some of the many areas explored in this comprehensive book. The book's strength lies in the way it applies each subject to playing the guitar.
What I loved
I found that the book's organization is one of its strongest points. The information in each chapter is presented logically, and there is a summary at the end of each part to help you retain the material. The book is also incredibly readable, with concise yet thorough explanations of each idea and several examples to back it up.
Kolb also includes diagrams of the guitar neck that demonstrate where each scale or chord should be played to help readers visualize how this theory applies to the guitar.
Many guitarists struggle to grasp technical concepts such as modes. And this book's section on modes does a great job of demystifying them by providing straightforward explanations and numerous examples.
Music Theory for Guitarists also includes downloadable audio material with ear training exercises to help improve your musical ear. Check out my article on the best ear training practices for more info.
Music theory can be difficult and boring to learn, so it is refreshing to find a book that describes it in a way that's easy to digest.
What I didn't love
The biggest downside is that the book, at times, rushes through concepts. I think a music theory book needs to cover everything in detail to ensure readers wrap their heads around the ideas.
While the book does its best to teach music theory in an entertaining way, it can still be bland at times.
Should you buy it?
Overall, I highly recommend beginners to pick this book up, as you get a really strong foundation of theory intertwined into the guitar fretboard. This really helps in communicating efficiently when you collaborate with other professional musicians in the future.
5. The Jazz Guitar Handbook
Best book for beginner jazz guitarists
Frontman Philosophy Score
The Jazz Guitar Handbook provides an uncomplicated approach to learning jazz guitar. It teaches you the music theory a jazz guitarist needs to know from the ground up. You'll start off with the basic fundamentals, eventually learning advanced harmony and soloing principles.
It goes through many different jazz genres, including the blues, swing, bebop, modal, jazz-funk, gypsy, and more.
The guidebook comes with a CD with 96 tracks of examples, play-along recordings, and background tracks, and it offers more than 120 exercises in notation and tab. It also profiles some of the greatest jazz guitarists in history and goes into the evolution of the jazz guitar.
The book also covers the development of jazz guitar from the manufacturing standpoint. It touches upon the evolution of the jazz guitar sound and the role of luthiers who specialize in jazz guitar construction.
What I loved
Jazz music is not easy to learn. So it is important for a beginner-friendly jazz book to teach the ideas in an accessible way. This book does this well, as it is quite readable, beginning with a simple introduction and progressing to more complex material. It provides insight into jazz chords and scales, allowing you to develop confidence as you play.
The scales and arpeggios are all enjoyable to play and presented in tablature. In addition to the tabs, they also have a few lines before each exercise explaining the beat, which is essential in getting into the groove of the exercise.
What I didn't love
Unfortunately, the audio content included is not available online, so if you don't have a CD player, you won't be able to take advantage of the audio. Also, the book starts with the fundamental concepts, which is excellent for beginners but can be a bit mundane and boring when first starting out.
Should you buy it?
This book is perfect if you want to pick up jazz without overcomplicating the learning process. The famed jazz guitarist and educator Frank Vignola provides some last pointers for newcomers to the genre, capping off a comprehensive guide that covers all a beginner needs to know before taking the leap into the world of jazz guitar.
6. Guitar for Dummies
Best book for casual learners
Frontman Philosophy Score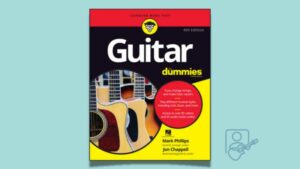 If you want to learn to play the guitar but have no prior experience, Guitar for Dummies is the book for you. From fundamentals like guitar anatomy and music theory to more advanced topics like techniques and styles, this book has it all. You have probably heard of the For Dummies book series, as they cover pretty much any topic you can think about.
The book is broken up into six sections, each devoted to a different facet of playing the guitar. The first section provides a general overview of the instrument and its components. The book also covers the fundamentals of guitar play, such as how to strum chords, properly hold a guitar, or read guitar tablature.
Other chapters of the book cover different genres, such as rock, blues, folk, and classical, as well as the tools necessary to change the strings and care for your guitar. The writers also include tips for picking the best guitar amplifiers, effects pedals, and other accessories.
What I loved
This book is an excellent resource that you can use extensively throughout your first few years of learning guitar. I like that it isn't purely a beginner book but effectively a guidebook for learning to play guitar. The chapters aren't rushed and cover every topic extensively to ensure you understand the material.
This book even keeps you engaged with the cheesiest of puns, such as:
"Like a Supreme Court Justice, you have calluses for LIFE!"
What I didn't love
No book is perfect, and where I find that Guitar for Dummies falls short is in the beginning chapters. When going over critical skills such as chord changes, hand positioning, and strumming, the book could definitely have been more in-depth and clear. A beginner may struggle with understanding the concepts as the photos and lessons in these sections feel a bit too brief.
Another downside of this book is the lack of music theory in the material. A beginner guide should be accessible and easy to learn. But music theory is an important fundamental that every musician should learn from the beginning.
Should you buy it?
This book is extremely useful if you're just starting out. There is tons to love about Guitar for Dummies, and it is definitely one of the best learning resources for beginner guitarists.
7. The Guitar Grimoire: Scales and Modes
Best book for guitar scales and modes
Frontman Philosophy Score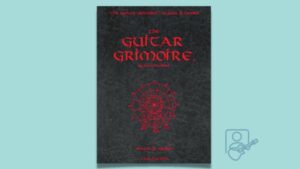 If you play the guitar and wish to learn more about scales, modes, and chords, The Guitar Grimoire: Scales and Modes by Adam Kadmon is an indispensable resource. It's also worth going for if you're a beginner and want to lay a solid foundation for your musical understanding of how scales are formed.
Each facet of scales, modes, and chords is addressed in the book in a chapter-wise fashion.
In the first chapter, you'll get an overview of the book and some pointers on how to get the most out of it. The basics of music, such as intervals, scales, and chords, are introduced in chapter two and serve as a springboard for the remainder of the book.
The book provides a strong foundation for a beginning guitarist, beginning with major scales, minor scales, and modes and progressing up to the harmonic major and Hungarian scales. Each scale and mode is described in depth, including examples and fingerings.
What I loved
This is a complete book of scales, chords, and modes and is one of the best knowledge bases for technical guitar playing. This is a must-have resource for any serious guitarist who wants to learn to shred and improvise.
What I didn't love
This book may not fit within the attention span of a casual learner. While the book is undoubtedly great for a motivated beginner, it might be too much for someone looking to just play casually without necessarily wanting to gain diverse musical vocabulary. As beginner friendliness goes, this book is hit or miss, but I would not recommend using it as your only guitar resource as it doesn't cover the basic concepts.
Should you buy It?
Overall, The Guitar Grimoire: Scales and Modes by Adam Kadmon is an excellent resource for passionate beginners who want to keep the right foot forward while learning to play the guitar. It is a dense scale and mode book that guitarists of all levels can use to learn new scales and fingering techniques.
8. The Ultimate Guitar Songbook: The Complete Resource for Every Guitar Player!
Best songbook for beginners
Frontman Philosophy Score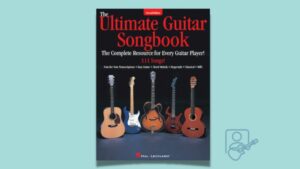 Every guitarist needs a fun songbook. What's the point in learning scales and theory without knowing how to apply them to songs?
Ron Manus' The Ultimate Guitar Songbook is an excellent songbook with tons of awesome tunes to learn. There are 111 songs included in this book, and they come from a wide variety of guitar styles, such as pop, rock, jazz, Motown, country, Broadway, and classical.
The book also includes riffs for well-known rock songs, such as "All Right Now" and "Iron Man," so that beginner guitarists may learn and perform some recognizable riffs from songs that are a bit too difficult for beginners.
Make sure to check out my list of the best songs for beginner electric guitarists!
What I loved
One of the book's best qualities is the wide variety of music it covers, from modern radio singles like "Give It Away" by the Red Hot Chili Peppers and "Photograph" by Nickelback to jazz classics like "Stella by Starlight" and beginner classical guitar compositions like "Lagrima."
The meticulous research that went into writing this book is another outstanding feature. These transcriptions and arrangements have been painstakingly produced to provide readers with an accurate and complete depiction of each song.
What I didn't love
The biggest downside of this songbook is that it hasn't been updated in over 15 years. So, while an older audience will enjoy and love the songs included, young guitar students may not relate. If you are a young beginner guitarist who listens to modern music, I recommend getting an updated songbook.
Should you buy it?
Ultimately, if you're a budding guitarist hunting for a book to learn fun songs in a straightforward way, you won't regret buying this one!
9. Guitar: The World's Most Seductive Instrument
Best guitar history book
Frontman Philosophy Score
David Schiller's Guitar: The World's Most Seductive Instrument is interesting not just for its title but also for the way it traces the guitar's influence on the music world. This book is for any musician or non-musician who wants to learn everything there is to know about guitars.
Schiller gives a gripping story of how the guitar has impacted and been affected by diverse types of music, from the beginnings of the blues in the Mississippi Delta to the boom of rock and roll in the 1960s.
The book discusses how crucial the guitar was to the expansion of the blues, from the acoustic beginnings of the genre to the electric innovations of bluesmen like B.B. King and Muddy Waters.
The author traces the guitar's rise in appeal and prominence from the time of The Beatles and The Rolling Stones' rhythm guitar parts to the recognition of Brian May's "The Red Special" and eventually touching upon Eddie Van Halen's custom "The Frankenstrat."
What I loved
Understanding the guitar and its cultural relevance is incredibly motivating for new guitarists since it puts their own development and the instrument's potential in the perspective of other musicians' experiences and influences. I loved the illustrations, historical content, and descriptions of the many different types of guitars throughout history.
What I didn't love
Other than the fact that this book is definitely not a guitar you should use to learn guitar, I had no major issues with the book.
Should you buy it?
Inspiring and informative, this book is a must-have for the collection of any music fan, whether they are just starting out on the guitar or are a seasoned professional.
What makes a good beginner guitar book?
As I hunted for the best guitar books for beginners, I focused on identifying key elements that set a particular book apart from others. Given the vast number of guitar resources available, it can be difficult for newbies to choose the right options. There are many different factors that make up a GOOD beginner guitar book.
Here are the main things I kept in mind while searching for the best guitar books for beginners.
Content quality
35% of the score
The most important thing to look out for in a beginner guitar book is the actual quality of the content. I researched well-written books by known guitar and music experts. All of the books on this list are great resources for learning guitar that go over useful techniques and will help you harness valuable guitar skills.
Engagement
25% of the score
For beginner guitar players, staying motivated and engaged can be a real challenge. The first steps to learning guitar are tedious, so it is important the books and learning materials you use are engaging to keep you interested in learning.
Although some resources may be highly regarded for their academic-level research and comprehensive instruction, they may fail to captivate a beginner guitarist. So, I sought out resources that presented helpful concepts in a fun and entertaining way and included audio examples, sheet music, or even biographies of famous guitarists.
Beginner Friendliness
25% of the score
It goes without saying that a beginner guitar book needs to be accessible to beginners. So, I steered clear of advanced and intermediate guitar methods and focused on books catering to beginner-level guitarists.
Even still, some beginner guitar books may present themselves as beginner friendly, but they will leave out a lot of useful information that absolute beginners need to know.
Price
15% of the score
The price point is another important factor to consider when buying a beginner guitar book. Beginners aren't going to be quick to purchase a book that costs more than $30. So, I mostly looked for books in a reasonable price range that won't scare off beginners. While a massive guitar study book that costs $50 may be a good option for some, it is just not accessible to every player.
Important things to consider when choosing a guitar book:
Here are a few essential things to consider when purchasing a beginner-friendly book for guitar.
Do you want to learn music theory for guitar or just play songs?
Knowing what you want out of the guitar before buying a book makes matters much simpler. A basic foundation of music theory is essential if you want to be a well-rounded guitarist. This will help you grasp how music works and will allow you to communicate more effectively with other musicians.
But if your primary objective is to perform songs, it's reasonable to prioritize song learning first. Studying songs is a terrific way to improve your guitar abilities and confidence, and it will also help you develop an ear for melody and harmony, which can assist you with music theory later on if you want to study it.
When it comes to the guitar, which genre most intrigues you?
Picking a beginning guitar book that focuses on the musical style you want is vital since it will keep you motivated and produce results quicker, allowing you to become more serious about music.
For example, if you want to play rock music, you'll need to master power chords, palm muting, and other methods specific to the genre. You'll be able to advance more rapidly and build your talents in a manner that's specific to your objectives if you concentrate on these techniques from the start.
If you're inclined towards, say, funk or jazz or country, the skills you would require would drastically alter, and choosing a learning path and books that support it become vital.
Should you teach yourself or take lessons?
There are several ways to learn guitar. You can teach yourself, learn online, or take in-person lessons. Here are what you can expect from each option.
Self-learning
Teaching yourself guitar has its challenges but it is still a good method if you are committed to finding the best resources. In this method, you will use books and learn from online blogs or Youtube videos. This method is convenient and cost-effective but demands a lot of discipline and drive to keep going.
One-on-one lessons (in-person)
This is the best option, but it is also the most expensive. One-on-one guitar lessons with a teacher can help you learn faster and better. It also ensures you learn the right skills at the best pace. Since the lessons are in person, teachers can help you with your hand positioning and ensure your posture is correct. This method is costly and teacher quality varies, but with a good teacher, you will likely progress faster than any other method.
Group lessons
Learning with other guitarists of similar ability levels can be more affordable and is a fun way to get instruction. However, group lessons have their downsides. The instructor may give you less attention and feedback since there are more students in the class, so you will likely progress at a slower level.
Online courses and lessons
In the post Covid-19 world, online schooling, jobs, and lessons are still the rage. Online lessons are more popular than ever for learning guitar because it is convenient and cheaper than in-person lessons. Those who live in areas with few guitar teachers will also benefit from online lessons since there are seemingly endless options for guitar teachers.
Studies (such as one done by the Kentucky Counseling Center) have shown in the past few years that online lessons are not as effective as in-person lessons, and staying focused tends to be more difficult when studying from home. That said, this is still an excellent way to learn guitar if you need to save money and have no other options.