The music industry has transformed in the past few decades. Popular genres have changed, top artists have become more influential, and the way we listen to music has completely transformed.
Let's take a look at some of the biggest songs, albums, and artists of 2022. In this article, I will dive into some of the most interesting music industry stats and facts of 2023.
Biggest music streaming services
Streaming is now, by far, the main way most people get their music. In fact, more than 80% of Americans listen to music almost exclusively on streaming platforms. There are nearly 600 million music subscribers worldwide. Here are the most popular streaming platforms by their total subscribers.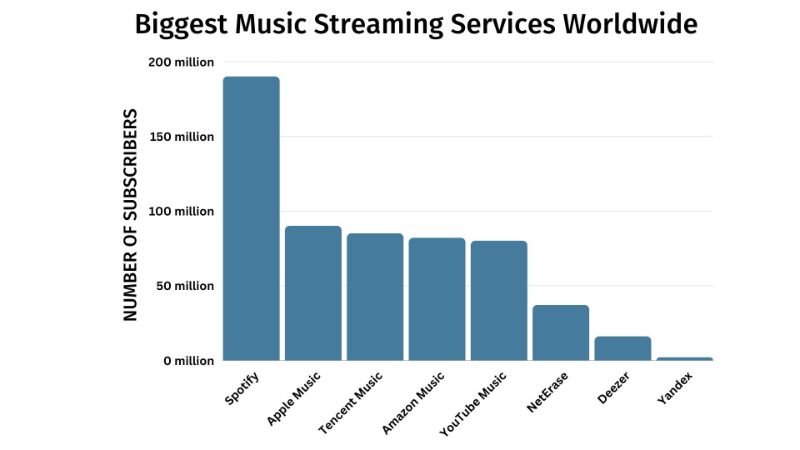 Spotify
Subscribers: 190 million
Spotify remains the crown jewel of music streaming in 2023. Nearly a third of all streaming service subscribers are subscribed to Spotify. The platform has access to over 85 million songs and over 5 million podcasts. The platform is also praised for its advanced algorithms to create personalized playlists.
Apple Music
Subscribers: 90 million
The creators of the iPod and iTunes have adapted to the demand for music streaming and created Apple Music, the second most popular streaming service. And while Spotify has more than double the subscribers, Apple Music actually has more songs available at around 90 million. Apple Music is not exclusive to Apple devices like other products such as the Apple Watch.
Tencent Music
Subscribers: 85 million
Tencent Music is China's biggest music streaming platform. However, the platform is only available in mainland China. This platform currently has 40 million songs. The app is also only available in simplified Chinese.
Amazon Music
Subscribers: 82 million
Amazon music has over 100 million available songs, making it the streaming service with the most song content. Another major advantage of Amazon music is quality. The sound quality of Amazon music is equal to that of CDs, while other platforms lack a bit in sound quality; that said, it isn't really a noticeable difference if you aren't a professional.
Youtube Music
Subscribers: 80 million
Youtube Music currently has access to 60 million songs. The relatively new competitor to the streaming market only came out in 2015 and has grown immensely in popularity. Youtube Music also gives subscribers the ability to watch music videos ad-free.
NetErase
Subscribers: 37 million
NetErase is yet another major streaming platform that is available only in mainland China. NetErase Cloud Music currently has access to 60 million songs.
Deezer
Subscribers: 16 million monthly users (6 million paid subscribers)
Deezer is a French-based streaming service that is popular in Western Europe and Latin America. The company is estimated to have a 2% market share of the music streaming market. And while this is not a significant amount, it is definitely a player.
Yandex
Subscribers: more than 40 million monthly users (2 million paid subscribers)
Yandex is a major streaming service in Russia and other post-soviet countries such as Kazakhstan and Georgia, as well as Israel and Turkey. The company has been criticized by Western countries for its involvement in propaganda supporting the Russian invasion of Ukraine.
Most streamed songs of 2022
Here are the top 10 streamed songs in 2022.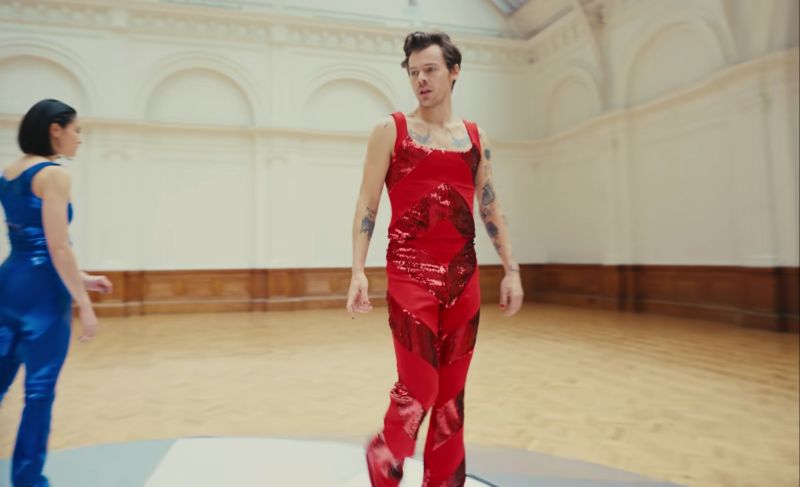 "As It Was" by Harry Styles: 1.9 billion total streams
"Heat Waves" by Glass Animals: 2.3 billion since its initial release in 2020
"Stay (With Justin Bieber)" by The Kid LAROI: 2.2 billion streams since its release in 2021
"Me Porto Bonito" by Bad Bunny: 1.2 billion streams
"Tití Me Preguntó" by Bad Bunny: 1 billion streams
"Cold Heart" by Elton John and Dua Lipa: 1.4 billion streams since its release in 2021
"Enemy" by Imagine Dragons: 1 billion streams since its release in 2021
"Quevedo: Bzrp Music Sessions, Vol. 52" by Bizarrap and Quevedo: 1 billion streams
"Ojitos Lindos" by Bad Bunny: 900 million total streams
"Running Up That Hill" by Kate Bush: 900 million total streams. Originally released in 1985, this song was reincarnated in the top streams due to it being featured in Stranger Things: Volume 4
Physical album sales
Physical albums (CDs, cassettes, and vinyl) were all the rage until the iPod took over. Nowadays, streaming is by far the most popular way people listen to music. That said, in the past couple of years, the rise in popularity of vinyl has seen the first increase in physical music record sales in more than 20 years. This sudden increase in vinyl sales has been deemed the "vinyl revival".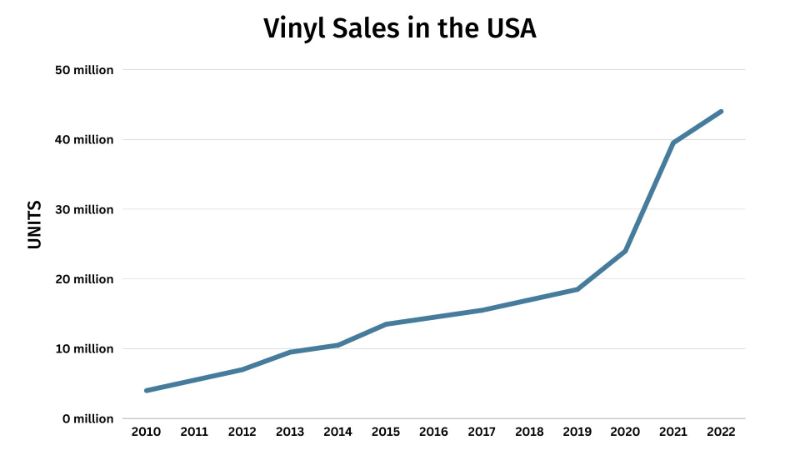 Nearly 44 million vinyl records were sold in the USA in 2022, which is the 17th consecutive year that this figure has increased.
Taylor Swift's "Midnights" was the most popular record in 2022, selling 945,000 copies.
Older records also sold lots of vinyl last year, such as "Rumours" by Fleetwood Mac and "Thriller" by Michael Jackson, which was re-released in 2022 as a 40-year anniversary edition.
Nearly half of the consumers who bought vinyl in 2022 didn't own a record player.
Top TikTok Songs
TikTok has created a platform for new artists to go viral easier than ever before. And the platform has changed the music industry in a completely new way. Check out my article diving into the music industry and TikTok.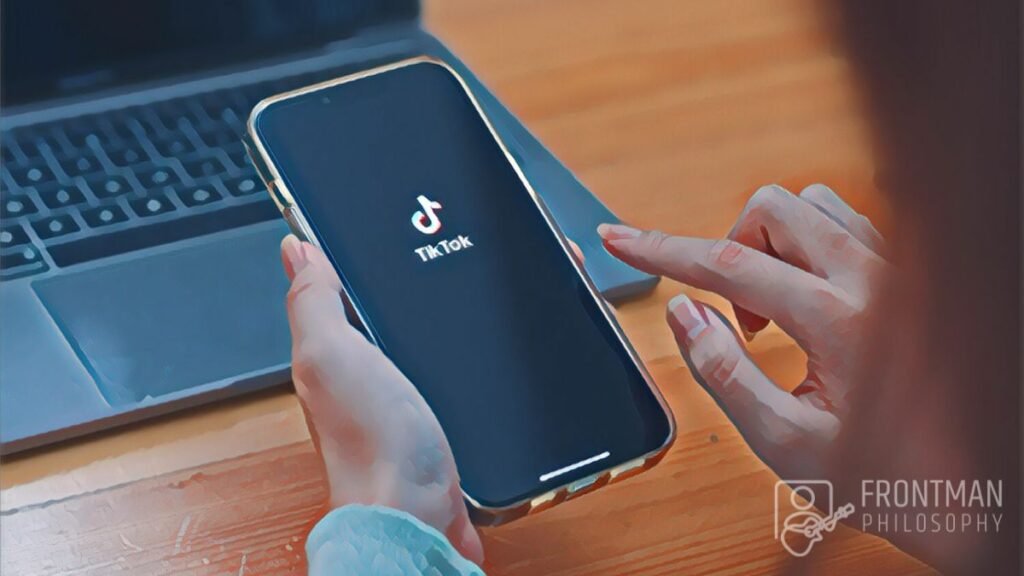 Here are the top songs used in TikTok content in 2022.
"Sunroof" by Nicky Youre & dazy
"L$d" by Luclover
"Ginseng Strip 2002" by Young Lean
"About Damn Time" by Lizzo
"Just A Cloud Away" by Pharrell Williams
"Forever" by Labrinth
"Wait A Minute" by Willow
"Jiggle Jiggle" by Louis Theroux
"Armani White" by Billie Eillish
"Running Up That Hill" by Kate Bush
Best Selling Albums In The USA Of 2022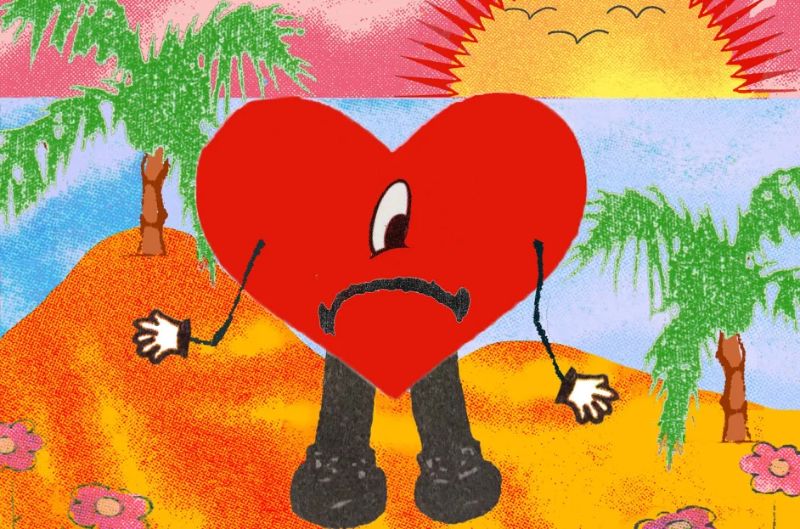 Here are the top best selling albums in the USA of 2022 by TEA (Total Equivalent Album Units), which includes physical and digital album sales as well as single song purchases and streams.
Un Verano Sin Ti by Bad Bunny: 3.4 million. First Latin music album to be nominated for album of the year at the Grammys. The album won Best Música Urbana Album at the Grammys.
Midnights by Taylor Swift: 3.3 million. This album broke numerous records, including most single-day streams on Spotify, most modern-day vinyl sales in a single week (575,000), and most songs in the top charts in the same week (10).
Harry's House by Harry Styles: 2.2 million. This album won the Grammy award for Album Of The Year and broke the modern-day record for most vinyls sold in a single week before Taylor Swift's Midnights broke his record.
The Highlights by The Weekend: 1.8379 million. The Weekend's second greatest hits album was a massive success and spent over 100 weeks on the top charts.
Encanto Soundtrack by Various Artists: 1.839 million. The album won Grammy awards for Best Compilation Soundtrack and Best Score Soundtrack For Visual Media. It was also nominated at the Oscars for Best Original Score and Best Original Song.
I Never Liked You by Future: 1.46 Million. This album sold over 200,000 copies in the first week and eventually earned platinum status.
Sour by Olivia Rodrigo: 1.43 million. Despite being dropped in mid-2021, Rodrigo's major debut album hit Sour continued to sell many albums throughout 2022.
Honorable mentions
Renaissance by Beyonce: Over 1 million. The superstar's first album since 2016 was a huge success and was nominated for several Grammy awards, winning 4.
Proof by BTS: 430,000 in the USA, over 3 million in South Korea. While Proof was not a top TEA album in the USA in 2022, it was the 3rd highest-selling album in terms of album sales. The album is worth mentioning due to the worldwide success of the K-pop supergroup. The album topped charts around the world are the foreign artists with the most number 1 hits currently.
Most googled artists of 2022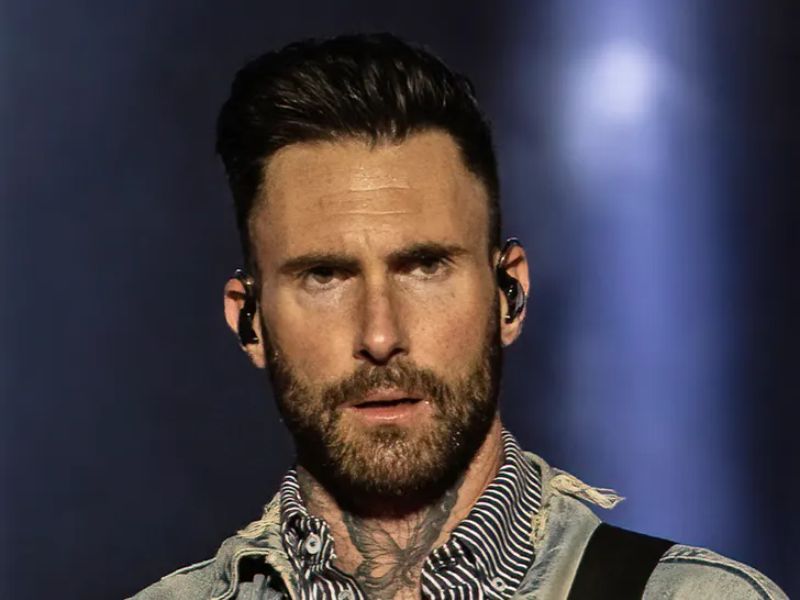 The top Googled artists in 2022 might surprise you. The trend data shows us that popularity alone doesn't cause someone to be highly searched. Most of these artists were involved in specific scandals or incidents that caused them to be searched on Google at high volumes.
1. Adam Levine
Anyone with an internet connection probably knows why Adam Levine is at the top of the list of the most Googled artists of 2022. He was put into the spotlight for allegedly cheating on his pregnant wife and "sexting" multiple other women.
2. Mary J. Blige
The 52-year-old RnB legend had a spark of popularity in 2022 after she released her Grammy-nominated album Good Morning Gorgeous and performed at Super Bowl LVI (along with Dr. Dre, Eminem, Snoop Dogg, Kendrick Lamar, 50 Cent, and Anderson Paak).
3. Lil Tjay
The NYC rapper was extensively Googled in 2022 following a shooting in which he was shot 7 times. Lil Tjay survived the shooting and is now making music again.
4. Kendrick Lamar
2022 was a big year for Kendrick Lamar. He released his first studio album in 5 years in 2022 and announced festival dates and a major world tour. Mr. Morale & The Big Steppers won Best Rap Album at the Grammys.
5. Migos
Migos, a rap trio based in Houston, Texas, was trending on Google in 2022 after Takeoff (one of the group's members) was shot and killed outside a pool hall in Houston.
6. Tommy Lee
The founding member and drummer of Mötley Crüe came under the spotlight in 2022 for several interesting reasons. The first reason is due to the hit show Pam and Tommy being dropped in 2022 about the musician's relationship with Pamela Anderson. This show was a huge trend during its release in February and March of 2022.
The second reason is that in August, the 60-year-old musician shared a fully nude Instagram post that shocked the internet. During the year, Tommy Lee also broke his ribs falling down the stairs which was a viral Google search.
7. Kate Bush
No surprise that Kate Bush was ultra-Googled in 2022. Her 1985 hit had an unbelievable resurgence due to the show Stranger Things and was the 10th most streamed song of 2022.
8. Ricky Martin
The famous Puerto Rican singer was trending in 2022 due to the fact that his nephew filed a restraining order and claimed he had sexual relations with Martin and that Ricky Martin abused him. The charges were voluntarily withdrawn by Martin's nephew.
9. Young Thug
Young Thug and YSL Records (Young Stoner Life Records) were charged with racketeering, corruption, and gang-related activity in 2022, which led to him becoming a trending search. The trial is currently in progress as of February 2022.
10. Foo Fighters
The Foo Fighters were trending in early 2022 when Taylor Hawkins, drummer and core member of the band, died on tour in Colombia. The band then canceled their entire world tour and all shows for the rest of the year. In early 2023, the Foo Fighters announced they would start playing live again.
Most popular music genres worldwide of 2023
Rock was huge in the 60s, 70s, 80s, and 90s, but the genre has been on a decline in the past few decades, especially among the younger audience. Here are the top music genres worldwide in 2023.
Rock/Alternative
While rock isn't at its peak anymore, it is still very much a big genre in the USA. If you combine rock, hard rock, indie rock, alternative, and heavy metal, then rock music is the most popular genre. However, the popularity of the genre is declining among younger listeners, But listeners aged 30 and up are still rocking out! The most popular current rock artists are Glass Animals, Foo Fighters, Red Hot Chili Peppers, Maneskin, and Greta Van Fleet.
Pop
As the name suggests, "pop" music is the most popular genre worldwide. Everyone knows big pop idols in the USA or the UK, such as Beyonce, Dua Lipa, Maroon 5, Harry Styles, Ed Sheeran, etc. But let's take a look at some of the subdivisions of pop music that are trending around the world.
K-Pop
Korean pop has exploded in recent years! South Korea has put billions of dollars into its music, film, and television industries to promote Korean entertainment around the world. A lot has changed since Psy dropped "Gangnam Style". K-Pop is now fully in the mainstream, with nearly 200 million fans worldwide! The biggest K-pop names right now are BTS and BLACKPINK.
Reggaeton
Reggaeton is best described as a blend of American hip-hop, Latin American dance music, and Caribbean music. The genre originated in the 1980s and slowly gained popularity across Latin America, but it wasn't until the mid-2010s that it became widespread across the United States and Europe. Now, reggaeton is one of the most popular genres in the world. The most prominent reggaeton artists are Bad Bunny, Daddy Yankee, and J Balvin.
Hip-Hop/Rap
Hip-hop is the biggest genre in the USA for those aged 12-30, outperforming all other genres by some margin. That said, rap and hip-hop are yet to catch on to this extent worldwide. Rap has exploded in the US in the past few decades and has completely transformed since the days of Will Smith and Marky Mark and the Funky Bunch. The most prominent hip-hop artists right now are Kendrick Lamar, Travis Scott, Eminem, and Drake.
Country/Western
While it may not be the most popular music for some people, country music is still widely listened to. Over 150 million Americans listen to country music on a regular basis! The most prominent country artists right now are Luke Bryan, Jason Aldean, Luke Combs, and The Zac Brown Band.
Top 10 Richest musicians in 2023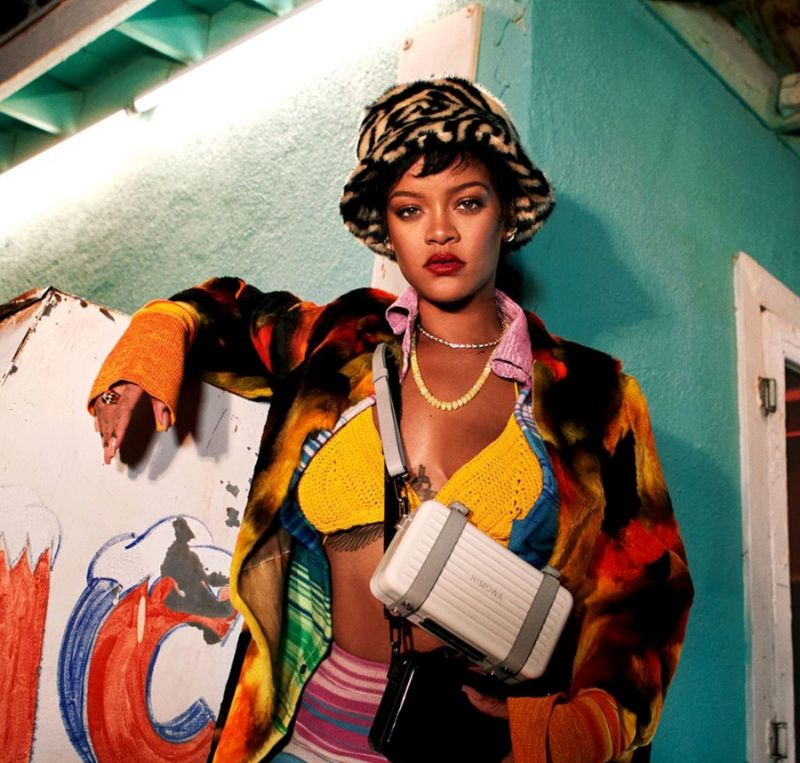 Musicians are richer than ever in the 2020s. Who are the richest ones today? Spoiler alert, Kanye West is no longer in the top ten!
Rhianna
Net worth: $1.7 billion
After the fall of "Ye" (Kanye West) in the last year, Rhianna is now the richest musician in the world. The success of her brand Fenty Beauty is the primary reason for her wealth, as well as obviously her musical career. She is the youngest self-made billionaire in the USA and the second richest female celebrity in the world (second to Oprah Winfrey).
Jay Z
Net worth: $1.3 billion
Jay Z has sold over 140 million records, so his massive wealth shouldn't be surprising. That said, the majority of his wealth has come from his entrepreneurial activity. His main business is Roc Nation, an entertainment business, talent agency, sports agency, and record label.
Sir Paul Mccartney
Net worth: $1.2 billion
Paul Mccartney was one of the main songwriters of the most famous band in history, The Beatles. The Beatles have an immortal sound and are still selling albums to this day. With over 180 million albums and 1.6 BILLION (not a typo) singles sold, the Beatles are the best-selling artist of all time. Sir Paul Mccartney owns the entire Beatles library, which consists of nearly 200 original songs, and continues to get millions in royalties to this day.
Andrew Lloyd Webber
Net worth: $1.2 billion
Andrew Lloyd Webber is one of the most successful musical theater composers ever. He composed pieces such as The Phantom Of The Opera, Cats, and Jesus Christ Superstar. Many of his musicals were huge successes on Broadway and the London West End, which has helped Webber amass his massive fortune.
Sean Combs (Puff Daddy)
Net worth: $1 billion
Sean Combs, also known as Puff Daddy or P. Diddy earned his wealth from his famous rap and RnB record label Bad Boy Records, which signed artists such as The Notorious B.I.G., MGK, and Janelle Monae.
Herb Alpert
Net worth: $900 million
Herb Alpert is a famous trumpeter who led the Tijuana Brass Band and co-founded A&M records with Jerry Moss. He sold the record company for over $500 million in 1989. This, combined with his extensive music career, has earned him his massive fortune.
Madonna
Net worth: $850 Million
Madonna is best selling female artist of all time. All of her albums have surpassed platinum status by a long shot, and her live concerts are always completely sold out. Her enormously successful career is responsible for her impressive wealth.
Dr. Dre
Net worth: $850 million
Dr. Dre was a member of NWA, one of the first famous rap groups. He produced many albums and helped big names like Eminem, Snoop Dogg, Kendrick Lamar, and Anderson Paak get their careers started. His production career and his other business, such as "Beats By Dre" helped him gain his fortune. He sold "Beats" to Apple in 2014 for a total of 3 billion dollars!
Celine Dion
Net worth: $800 million
The French-Canadian idol has had incredible popularity over the last 40 years. She has sold over 250 million records and amassed a huge fortune performing more than 70 shows a year in Las Vegas. She is also a spokesperson for the beauty brand L'Oréal.
Bono
Net worth: $700 million
Only 2 rockstars made the top ten list of the wealthiest celebrities. Bono has been busy over the last few decades. Not only has he been the frontman of one of the most popular rock bands ever, U2, but he also has his hand in several business dealings. While he certainly gets a lot of income from U2 royalties, his primary income comes from his investments in real estate, stocks, and entertainment.
Largest record labels
More than 70% of the market share in the record label industry falls under three conglomerates: Universal Music Group, Sony Music Entertainment, and Warner Music Group.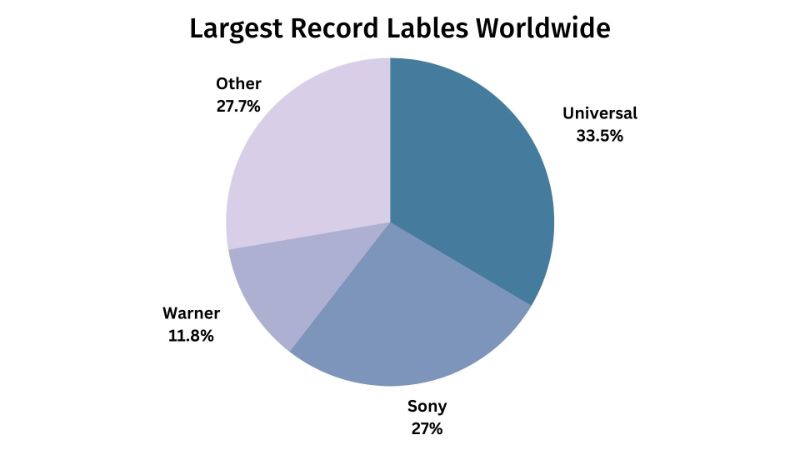 Universal Music Group
Market share 33.5%
UMG is the biggest record label by quite some margin. They have absorbed MANY record labels, including Capitol Music Group, Abbey Road Studios, Def Jam Recording, Motown, Virgin Music Group, and many more.
Sony Music Entertainment
Market share 27%
Sony is the fastest-growing of the "big three" record labels. SME owns Columbia Records, Epic Records, RCA Records, and more. Sony is also the most profitable record label and has doubled its revenue since 2014. The company did 9 billion dollars in revenue in 2022, up from 4.5 billion in 2014.
Warner Music Group
Market share 11.8%
Warner Music Group is the 3rd biggest music label in the world. The company owns some major labels, such as Elektra, Atlantic, Reprise, and Parlophone. Warner Music Group is the newest of the "big three" labels, being founded in 1958. Since then, the company has grown significantly and absorbed several other major labels.
Want more stats and facts about the music industry? Feel free to contact me!