Are you looking for a reliable but affordable acoustic guitar? Perhaps you're a beginner guitarist trying to find your first guitar for learning. Or you might be a seasoned pro looking for a secondary guitar for practice or to keep in your living room. Either way, there is a healthy selection of good-quality acoustic guitars for under $300. I've put together a hotlist of some of the best acoustic guitars at this price range to save you some time.
What are the best acoustic guitars under $300?
There are a variety of factors to consider when choosing the best acoustic guitar. Every player has their own set of preferences and personal playing requirements, and this has been taken into account when compiling this selection. My list of the best acoustic guitars is as follows:
Ibanez ALT20
Fender CD 60SCE
Yamaha FG800
Cordoba C1M-CE
Alvarez AF30 Folk Acoustic Guitar
Gretsch 9500 Jim Dandy Flat Top
Jasmine S34C NEX
Washburn WA90CE
Epiphone DR-100
Ibanez AW540PN
1. Ibanez ALT20 (Best overall)
Frontman Philosophy Score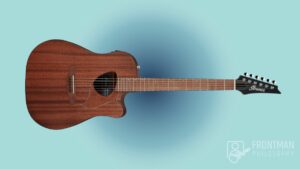 Specs
Price: $299
Top: Sapele
Back: Sapele
Sides: Sapele
Neck: Maple
Fretboard: Walnut, 22 Frets
Electronics: Ibanez AEQ-2UT preamp with an onboard tuner
Pros
Excellent mid-range and presence
Advantage bridge pins for extra string security
Reliable preamp and tuner
Cons
Lacks a bit of natural low-end when played loudly
Sound
I find Ibanez guitars to be highly underrated, especially when it comes to their acoustic guitar market. The Ibanez ALT 20 acoustic guitar is one of the best-sounding acoustic guitars on the market, and it can be yours for less than $300! The entire body of this guitar is made from Sapele, which is a decent tonewood that sounds a lot like Mahogany.
Playability
The body of the ALT 20 also has a stunning cutaway on the bottom half to give access to the upper end of the fretboard. The fretboard is made of walnut, which is very accommodating and comfortable on the fingers. This makes it an excellent option for beginner sessions as well as long hours of intense practice.
The top has a Walnut bridge to secure the strings and uses advantage bridge pins to make sure the string stays fixed in the correct position.
This guitar also comes with built-in electronics, so it can be plugged into a PA system or an acoustic guitar amp. You are able to adjust the EQ and the volume using the electronic controls on the shoulder of the acoustic guitar.
Durability
Sapele is an excellent tonewood, but it tends to dent quite easily if knocked against sharp edges or objects, so be sure to safely store this guitar between uses and invest in a good-quality guitar case. The neck is very secure and doesn't feel like it could easily warp. I also enjoy the electric guitar-style headstock, which adds a bit of extra security to your tuning systems.
Price
Ibanez could push this acoustic guitar past the $300 mark, and it would still be a fair asking price. The hardware, tonewoods, and parts of this acoustic guitar are good quality, especially for the price. The preamp and tuner system also add considerable value to the guitar, and if you're going to use this guitar for live performances, you're likely to see a good return.
Should you buy it?
The Ibanez ALT 20 could do with a bit more emphasis on the lower-end bass register, but this isn't a problem if you're planning to play through a PA system, pedalboard, or interface. It offers a quality of guitar slightly higher than its asking price and is well worth the buy if you're planning to take your guitar playing seriously.
2. Fender CD 60S (Best value for money)
Frontman Philosophy Score
Specs
Price: $199
Top: Solid Spruce
Back: Mahogany
Sides: Mahogany
Neck: Mahogany
Fretboard: Walnut – 20 frets
Electronics: N/A
Pros
Very good value for money
Natural, warm resonance
Loud, full-bodied sound
Considerably easy acoustic guitar to play
Cons
Only 20 frets and no cutaway
No electronics
Sound
The Fender CD 60S has a noticeably well-rounded and balanced tone. This characteristic is due mainly to the singular choice of Mahogany for tonewood in the body's construction. Mahogany provides a warm tone and lots of sustain. Strummed chords have a consistent presence regardless of your strumming velocity, and picked notes have a healthy sustain. It would have been awesome to hear this guitar with a built-in preamp, but sadly, the stock models come without any electronics.
Playability
The playability of this guitar alone makes it well worth the asking price. Playing open, barre, and more complex chord shapes are all quite seamless along the Walnut fretboard. This makes the Fender CD 60S a fantastic choice for beginners. Many acoustic guitars can be difficult to play, especially before you have the proper calluses. However, its traditional dreadnought design means there's no cutaway in the body, making it quite tricky to reach the higher frets. This design factor might be an issue for advanced players who frequently play beyond the 12th fret.
Durability
Not only is Mahogany popular for its tonal qualities, but it also has a reputation for being quite resilient, especially in shifting temperature conditions. This guitar should hold up quite nicely on the road and might be able to endure the odd knock or scratch without much damage beyond the gloss finish.
Price
There are few guitar brands out there more popular or reliable than Fender, and they've had the foresight to manufacture some sensibly priced acoustic guitars. One of their highest sellers in the sub $300 range is the CD 60S, and with good reason. The CD 60S provides beginner and experienced players with a very enjoyable playing experience and a no-nonsense tone for an absolute steal of a price. 
Should you buy it?
Fender guitars are generally exceptional choices for anyone who wants to develop their playing, as their knowledge of guitar ergonomics is unparalleled. With that being said, this guitar is well worth the price if your primary focus is playability and you're not hellbent on finding the perfect tone. Overall the CD 60S is my personal choice for the best value for money, and I also encourage beginners to check out the guitar start kit that Fender offers with this guitar.
3. Yamaha FG800 (Best overall tone)
Frontman Philosophy Score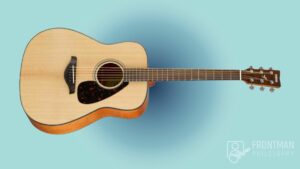 Specs
Price: $249
Top: Sitka spruce
Back: Nato wood
Sides: Nato wood
Neck: Rosewood
Fretboard: Rosewood, 22 frets
Electronics: N/A
Pros
Rosewood in the neck makes for an easy grip
Bright and robust natural tone
Cons
Fretboard might be too big for beginners or players with small hands to handle
Sound
The top of the FG800 is made from Sitka spruce, which gives the guitar a very bright overall tone, especially when played with some intensity. The Yamaha FG800 uses Rosewood for both the neck and fretboard, which adds to the bright nature of the guitar's tone. This acoustic guitar is a dreadnought, which is one of the most popular acoustic guitar styles. This design also gives the guitar more than enough low-end to naturally fill up a small room, even through soft, slow fingerpicking patterns.
Playability
It should be noted that the neck profile of the F800 is a bit wider than other acoustic guitars in this price range, and this might be due to the guitar's old-school design. This wider neck profile does make the guitar noticeably trickier to play, especially if you are just getting started or have smaller hands. However, more experienced players should find the FG800 relatively easy to navigate without anything hindering their performance.
Durability
The Yamaha FG8000 comes in a classic dreadnought design with Nato wood used for the back and sides. Nato wood is quite popular due to its high level of durability, and you can feel the extra bit of weight in the body when it's strapped around your shoulder. The top is braced using a traditional X-bracing configuration, and the entire body feels quite secure in your hands while playing. The tuning mechanisms and fittings are also of very decent quality and should hold up with some attentive care and maintenance.
Price
Yamaha's F-series guitars were first introduced in the 1960s as a means of making a more affordable acoustic guitar for the general consumer. Their most affordable option in this series is the Yamaha FG800. At $249, the guitar isn't the most affordable option on this list, but it is by no means an excessive price point.
Should you buy it?
If your primary concern is to find a sweet-sounding acoustic guitar for standard unplugged performances or practice, the FG800 is one of your best options. I would even happily mic this guitar up in a studio for basic acoustic recordings if nothing else was available. There are certainly easier guitars to play on this list, but there's not much here that can top its natural tone.
4. Cordoba C1M Protoge Series (Best nylon string option)
Frontman Philosophy Score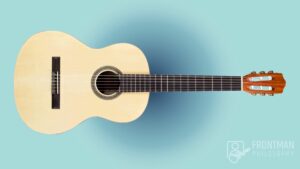 Specs
Price: $169
Top: Spruce
Back: Mahogany
Sides: Mahogany
Neck: Mahogany
Fretboard: Pau Ferro, 19 frets
Electronics: N/A
Pros
Smooth and playable fretboard
Great choice for classical guitar players
Surprisingly full, warm, mellow tone
Cons
Sound
The C1M-CE was built with classical fingerstyle guitar performance in mind, and this is quite evident in its tonal properties. Nylon string guitars have wonderfully consistent dynamics for fingerstyle playing, though strummed chords begin to sound a bit flat the louder you play. So, depending on your playing style, you may want to go for a steel-string guitar. That said, this nylon string guitar sounds great for beginner classical or flamenco guitarists. Additionally, if you are looking for a decent and affordable nylon string guitar, this is a reliable option that sounds good enough for the average player.
Playability
One of the first things you'll notice about nylon string guitars is that they come with a MUCH wider neck profile than most steel string options. Even with this broader profile, the C1M-CE is still considerably comfortable to practice and play on, and your playing will drastically improve once your fretting hand adjusts to the neck shape. You'll also find noticeably less tension around your strumming/fingerpicking hand than you would with steel-string models. Nylon string guitars are a good option for beginners because the strings are much easier on non-callused hands than steel strings.
Durability
I find the C1M to be fragile, but its delicate design contributes to its dynamic tonal response. The strings hold a very manageable tension in standard and open-string tunings, but switching tunings to drop D or an open tuning feels uneasy with the plastic tuning pegs used in the machine head. The neck of this guitar might be subject to warping if the strings are tuned too tight or if taken through drastic shifts in temperature and humidity.
Price
There is no denying the sonic allure a nylon acoustic guitar brings to one's ears. I recommend every guitarist, beginner and advanced, to acquire a nylon string guitar to help broaden their playing and creative horizons. One of the more accessible nylon string models in terms of price is the Cordoba C1M-CE. If you are considering a nylon string acoustic guitar, this is one of the best options under $300.
Should you buy it?
If you're looking for a decent nylon string guitar at a reasonable asking price, then the Cordoba C1M-CE is well worth checking out. I wouldn't buy the guitar for travel or tour purposes, as durability is not its strongest attribute. But it is well worth the money if you're simply looking for a reliable nylon string addition to your home or studio space.
If you are looking for some good beginner-friendly classical guitar songs, head over to my list of easy classical guitar songs.
5. Alvarez AF30 Folk Acoustic Guitar (Best folk acoustic guitar)
Frontman Philosophy Score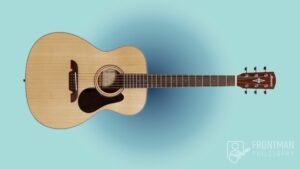 Specs
Price: $299
Top: Solid Sitka spruce
Back: African Mahogany
Sides: African Mahogany
Neck: Mahogany
Fretboard: Techwood, 22 frets
Electronics: N/A
Pros
Very reasonable quality for money
Sustainably sourced textiles.
The slim body profile makes it easy to handle
Cons
Noticeable lack of low-end response
Can be tedious to play for beginner hands
Sound
If you're looking for a guitar made from sustainable materials, then you'll appreciate the tonewood choice for the fretboard in this guitar. African Mahogany and Sitka spruce have been used for the back, sides, and neck of this guitar, and the neck and body are joined with a lovely classic dovetail joint. The body has a slimmer profile than regular builds, topping in at 106mm in depth at the base. While the AF30 has a prominent, present tone, it also has a noticeable lack of low-end because of its slimmer design.
Playability
The Techwood used in the fretboard has a spongy nature, and this might take some time for beginner players to adjust to. Techwood is a veneer that is ethically harvested from Obeche trees, and while it might not carry the same playability as a more traditional fretboard wood like Rosewood, it gets pretty close. Experienced players shouldn't find the spongy nature of this fretboard too distracting or obstructive and should be able to comfortably use the guitar for long periods of play or practice.
Durability
The Alvarez feels like a solid build in your hands while playing, but I did notice the dovetail joint for the neck had a slight bit of give to it, and this might become an issue later down the line. However, the body and finish have a top-shelf feel and seem quite durable. Additionally, the Techwood fretboard needs extra attention and maintenance compared to other tonewoods.
Price
Alvarez is a lesser-known brand compared with giants like Fender or Yamaha, but it still puts out a few models that can keep up with others in its price range. Their folk-style AF30 acoustic guitar is an ideal option for anyone who wants a reliable practice or jam guitar that is also reasonably priced. This particular model just makes the $300 budget, but it's one of the best models that Alvarez has in this price bracket.
Should you buy it?
If you're environmentally minded and are looking for a guitar for basic practice or studio use, the Alvarez AF30 might be the right choice for you. I'd recommend this guitar to anyone who needs a reliable and comfortable unit to practice on, but I wouldn't necessarily use this for live performances.
6. Gretsch 9500 Jim Dandy Flat Top (Best parlor-style acoustic guitar)
Frontman Philosophy Score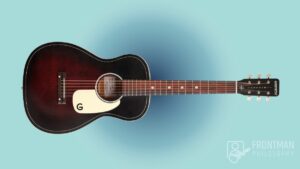 Specs
Price: $189
Top: Basswood
Back: Basswood
Sides: Basswood
Neck: Nato
Fretboard: Walnut, 18 frets
Electronics: N/A
Pros
Superb country-style tone
Die-cast tuning heads are a steal at this asking price
Cons
Very short fretboard (18 frets)
Not the most balanced playback tone
Sound
The entire body of the Jim Dandy Flat Top is constructed using Basswood, the same wood used in some of the original parlor guitar builds dating as far back as the 1930s. With this in mind, you can expect a distinct and easily identifiable twang from this guitar's overall tonal response. The back and sides are complemented with a fixed Basswood top using a classic X-bracing to help the guitar maintain its resonance. Walnut has been used for the bridge and fretboard to allow all the string vibration to transfer smoothly to the guitar's body with minimal interference.
Playability
The most noticeable factor of the Jim Dandy Flat Top's playability is the decidedly more rigid feel that the strings have at the saddle. This adds a bit of mechanical pressure to your fingerpicking and strumming patterns, and some players might find the setup too stiff for enough freedom of motion while playing. However, the Walnut fretboard balances out this tension slightly and is fairly accommodating to most fretting hands and music styles.
Durability
There's a saying that goes, "If it ain't broke, don't fix it." The headstock of the Jim Dandy Flat Top is the same 3×3 design that Gretsch has used since the 1950s and features high-quality die-cast tuning pegs for added tuning support. These machine heads are incredibly hardy and can withstand the somewhat stiff feel of the Jim Dandy Flat Top's string setup. It does feel like one major knock or fall could pull the fittings of this guitar apart, so I recommend keeping it well-secured between uses.
Price
The 9500 Jim Dandy Flat Top caters to a very specific set of playing needs and requirements but does so at a very accessible retail price. Performers of country, folk, and bluegrass styles of music will feel right at home playing this guitar, and it's a wonderfully affordable entry-level option to further develop your playing in these genres.
Should you buy it?
Anytime a guitar brand wants to put a classy traditional touch to their guitar designs, it automatically catches my curiosity. The 9500 Jim Dandy Flat Top from guitar legends Gretsch pays tribute to some of the first American parlor guitar designs used primarily amongst bluegrass and country players. Not only is this one of the best acoustic guitars under $300 for beginner or experienced players, but I also recommend this guitar to collectors who are looking for a unique, affordable piece of history to strum away on.
7. Jasmine S34C NEX (Best budget acoustic guitar for beginners)
Frontman Philosophy Score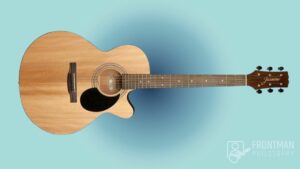 Specs
Price: $120
Top: Spruce
Back: Agathis
Sides: Agathis
Neck: Mahogany
Fretboard, Rosewood, 22 frets
Electronics: n/a
Pros
Great for intimate live performances
Comfortable and easy-to-play fretboard
Very reasonable asking price
Cons
The neck is noticeably unsturdy
Lack of sustain and resonance
Sound
Despite the choice of laminate woods for the top, back, and sides, this guitar has a surprisingly boomy tonal quality, which gives it an advantage for small indoor performances. However, the choice of tonewoods also accommodates the somewhat stunted resonance that the guitar generates, and I would use this for strumming-style performances instead of more complex fingerpicking compositions.
Playability
The S34C EX features a slim profile neck made of Mahogany and topped with a Rosewood fretboard. The slimmer profile makes the guitar an absolute dream to play a variety of styles and techniques and is very accommodating regardless of where you're playing on the fretboard or your playing style and technique. Some players might find the slim profile body too small for their playing needs, especially if they have larger hands or prefer larger-scale necks.
Durability
Jasmine is a sub-brand from revered Japanese manufacturer Takamine, so it's easy to expect a high level of craftsmanship from their models. They do not disappoint with the S34C NEX, which is an upgraded version of their S35 and includes upgraded hardware and fittings to help keep your tuning secure. Unfortunately, I can see this guitar's neck warping if it goes through frequent temperature and humidity changes.
Price
At just under $120, the S34C EX is one of the most affordable options on this list. Considering that you are paying a lower price, there will be some compromises on durability and tonal quality. However, if these factors aren't your primary concern, then you should find the guitar's asking price to be quite reasonable.
Should you buy it?
This is not the first guitar I would reach for live performances or intensive use. However, at far less than $300, this is a good acoustic guitar. If you're looking for a very playable and tonally satisfying guitar for home use or simple practice, the S34C NEX is well worth the inspection. It is extremely affordable and offers new players a very comfortable unit to improve their playing.
8. Washburn WA90CE (Best option for live performances)
Frontman Philosophy Score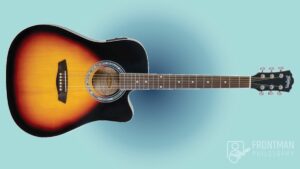 Specs
Price: $201
Top: Linden
Back: Linden
Sides: Linden
Neck: Okoume
Fretboard: Black Walnut, 22 frets
Electronics: Barcus Berry LX4
Pros
Great for plugged-in performances and basic recording
Wonderful choice of tonewoods for body construction
Cons
Can lose tonal quality with intensive strumming
The neck is more suited to experienced players
Sound
Sonically, the guitar has a very balanced and present tone, which is best heard through the pickup system. However, the guitar is better suited to more delicate and dynamic performances, as opposed to styles with high-velocity strumming. The latest models feature an updated electronic system, including the Barcus Berry LX4 preamp and pickup system. This system comes with a series of handy onboard controls, including a 3-band EQ, volume, and presence dials, and a chromatic tuner – all of which are crucial for quick tweaks during live performances.
Playability
Even with the slim-neck profile (which is made using some stunning Okuome wood), the guitar feels a bit too beefy for beginner hands to navigate comfortably. This is especially evident after a few rounds of playing, but more experienced players should be able to work the fretboard comfortably for longer periods. Playing faster styles of music seems to buddy up some of the tonal response a bit, and I would reserve this guitar for slightly more articulate styles of playing.
Durability
While the neck of this guitar might not be the most playable, it has the right amount of tensile response to stop it from warping under harsh environments. The darker Walnut used in fretboard wood will also need some added servicing, as darker Walnuts tend to absorb moisture quicker than other tonewoods. If you're able to keep this guitar safely stored in a hard case, it should give you some very reliable years of safe playing.
Price
The asking price of the Washburn WA90 CE is an absolute steal. Washburn is known for distributing guitars at a very affordable asking price, and this particular model provides more than enough value for its price tag. If your planned total budget is $300, then I would suggest spending what you have left on a good quality guitar case for the guitar to keep it properly preserved.
Should you buy it?
Anyone who is looking for a durable, affordable acoustic-electric to use over a sound system should check out the Washburn WA90CE. Washburn is well-known for delivering masterfully crafted guitars specifically for live and concert performances. If you are an aspiring live performer and tend to use a lot of fingerpicking in your performance, the WA90CE has a very supportive setup to suit your sonic requirements.
9. Epiphone DR-100 (Best dreadnought design)
Frontman Philosophy Score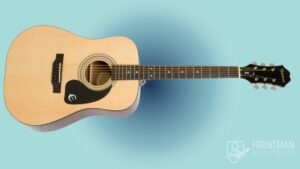 Specs
Price: $169
Top: Select Spruce
Back: Mahogany
Sides: Mahogany
Neck: Maple
Fretboard: Ebony, 20 frets
Electronics: N/A
Pros
Big punchy sound
Suitable to a wide span of music styles
Cons
The tonal response can get a bit muddy
Dreadnought design means no cutaway
Too big for small or beginner hands
Sound
A laminate Mahogany body gives the guitar an impressively boomy and responsive character. A select Spruce top also rounds off the guitar's tone quite nicely and holds a lot of space for the guitar's upper-mid frequencies. Furthermore, the dreadnought shape provides the body with some remarkable resonance, especially at this asking price. It should also be noted that the DR-100 might sound a bit unrefined for more players of more articulate styles like classical or flamenco. However, its natural presence is crisp and clear and sounds great over steady fingerpicking styles like folk or country.
Playability
This is a guitar I tend to find quite often in music schools (which is ironic as they're noticeably tricky for new players to learn on). Both the body and neck are made using a larger profile which can be a bit hefty and overwhelming for inexperienced hands to navigate. Even more advanced players who are comfortable playing different guitars should notice the extra bit of effort it takes to sustain notes with your fretting hand and will probably switch to something less laborious if possible.
Durability
Probably one of the most durable guitars on this list, the rigid nature of the DR-100's fittings and design gives it a lot of structural integrity. While the Spruce top might feel a bit flimsy under pressure, the rest of the body feels as if it could withstand some rigorous playing. In addition, the guitar's neck feels very stable and hardy, and there are no cheap parts used for the machine heads and other smaller setups.
Price
Die-hard fans of the traditional dreadnought design shape can get a very affordable version of the Epiphone DR-100, and it kind of seems like the longtime poster child for acoustic guitar playing. There's a lot of bang for your buck in the sound department of this guitar, especially if you can handle its somewhat stubborn playability. However, if you need something for more professional use, you might want to check out other options.
Should you buy it?
There are a few minor hardware upgrades that would make this guitar shine. A better set of strings and upgraded tuners would give the guitar a substantial boost in quality, but these are both relatively accessible adjustments you can even do from home yourself. If you're looking for a no-nonsense guitar to practice chord progressions at home, look no further than the Epiphone DR-100.
10. Martin Steel-String Backpacker (Best travel guitar option)
Frontman Philosophy Score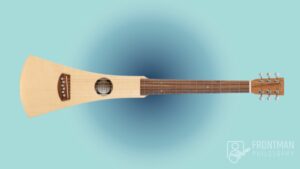 Specs
Price: $299
Top: Solid Sapele
Back: Solid Sapele
Sides: Solid Sapele
Neck: Nyatoh
Fretboard: Select Hardwood, 15 frets
Electronics: N/A
Pros
Unique slim body shape is perfect for travel
Surprisingly bright and loud sound quality
Very durable neck and tuning system
Cons
Very short neck profile (15 frets)
Understandably thin tonal response
Sound
The body of this travel-sized acoustic guitar is built using solid Sapele for the top, back, and sides and comes without a lower bout and waist to allow you to throw it over your shoulder during travel easily.
This unique body understandably removes a noticeable amount of low-end from the overall tonal response, but not nearly as much as one would expect for a very slim profile body. Furthermore, the one-of-a-kind backpacker bracing used to fix the top squeezes out every drop of resonance that the guitar has to give. And while this guitar can't quite match the warmth and body of a standard acoustic guitar, it gets pretty close, given its size and shape.
Playability
The Nyatoh neck of the Backpacker Series features a slim profile and C-shape commonly found on conventional guitar builds. The unique body also allows for very easy access to the upper fretboard, but there are just 15 frets to work with on this neck, which some players may find a bit disarming. The body shape also takes some getting used to whether you're standing or sitting, but the adjustment is not a major dealbreaker.
Durability
A Nyatoh neck is complemented with a hardwood fingerboard, and every fret has a very smooth, even smooth, and balanced finish. Again, it's a shame that there are only 15 frets in total! The choice of wood in the neck gives the guitar considerable tensile integrity, which makes it ideal for moving through different climates and temperatures. Because this guitar was designed with travel in mind, it can take some bumps, scratches, and general wear and tear before experiencing any major malfunction.
Price
The price of this guitar could be a topic of hot dispute. Some might suggest that because it has a smaller profile and uses less material for the build, it should be accordingly cheaper. However, it is important to remember that this guitar is more of an exclusive model and has to be priced that way. Given that it's designed primarily for travel use and serves its purpose very efficiently, the Martin Backpacker Series is definitely worth the price.
Should you buy it?
While I commend the courage of anyone brave enough to use this guitar for a live performance, its innovative design has to be appreciated, and I've yet to find a travel guitar that can outdo the Martin Backpacker. It is designed to handle a very specific set of playing and travel requirements, and I have not come across another travel guitar that can match its durability, ergonomics, and value for money.
How to choose a good acoustic guitar under $300
When looking for the best quality acoustic guitars for under $300, there are several important features and factors to look at. There are hundreds, if not thousands, of affordable acoustic guitars out there, so to narrow down 10 of the best, I tested the guitars extensively.
When narrowing down my list of the 10 best acoustic guitars under $300, I look specifically at the overall sound, playability, durability, and price.
Sound
35% of the score
Naturally, sound should be one of the most important factors to consider when buying an acoustic guitar. If the sound of an acoustic guitar does not appeal to you or suit your requirements, it is less likely to be fully utilized. You will need to understand which tonal qualities you require in a guitar, as this can range from bright and sharp to warm and boomy. Different tonewood combinations affect the overall frequency responses in a guitar, as well as its ability to draw and sustain resonance.
Playability
25% of the score
Playability should be your next priority for a guitar after sound quality, as a guitar can only sound great when it's played well. Much like sound, the playability of your guitar will drastically affect your rate of progress and motivation to play. The size and profiles of a guitar's neck and body will play major roles in a guitar's playability, as well as its set action (the distance between the strings and fretboard). Acoustic guitars come in a wide variety of body shapes, designs, and sizes, so it's important to find the right fit to ensure maximum comfort while playing.
Durability
20% of the score
Durability will play a significant role in determining how much time you spend with your guitar purchase. The more durable a guitar is, the longer you'll have to wait before getting services like repair or maintenance done, and the less likely you will need to have it replaced. The durability of a guitar will also indirectly affect its tonality, playability, and ability to hold tuning.
Price
20% of the score
Price is an important factor to consider when shopping for guitars, as you want to understand how to squeeze every cent of value possible out of your purchase. Beyond the guitar's playability, I find that the choice of tonewood and hardware are easy ways to gauge the relative pricing of a guitar. Higher-quality materials will understandably equate to more expensive guitars. It's also essential to keep an eye out for acoustic guitar starter kit deals, as a lot of reasonably priced starter kits come with reliable guitars and accessories for under $300. What a steal!
Acoustic guitar accessories
There are a handful of crucial items that you'll need to buy, along with your acoustic guitar, to help make playing and performing a much more seamless experience. These guitar accessories include the following:
Travel bag – A travel case will provide your guitar with some protection from dust, moisture, and other environmental hazards that affect its durability. Soft cases are affordable, but I highly recommend buying a hard case for sufficient protection if you can.
Tuner – Some guitars with preamp and pickup systems also come with onboard tuners. If your guitar does not have a tuner, you can buy a clip-on tuner that attaches to the headstock of a guitar and helps guide your tuning adjustments. Check out my guide on how to tune a guitar for more on this.
Guitar cables – If your guitar comes with a preamp and pickup system, you'll need to buy a reliable guitar cable to plug into mixers, interfaces, and other sound-capturing devices. Most guitar retailers will also have reliable guitar jacks to purchase alongside your acoustic guitar.
Guitar stand – A guitar stand offers you a simple and safe means to store your guitar for quick access in between playing sessions. Guitar stands come in a variety of designs and price tiers, but even the simplest, most affordable ones are effective and reliable.
Strap/Strap locks – A guitar strap will allow you to hang the guitar around your neck and shoulders, making it considerably easier to play while standing or sitting. Strap locks will help further secure your strap to the acoustic guitar and are very handy if you tend to move around frequently while playing. Acoustic guitar straps can be a bit tricky to attach. Check out my guide for using a guitar strap for more on this.
Guitar picks – Picks – or plectrums – are pieces of plastic that are used to strum or pick out notes on the guitar strings with your strumming hand. Guitar picks come in a range of shapes, designs, and thicknesses, and acoustic guitars generally don't require anything thicker than 1.2mm.
Acoustic guitar starter kits
Guitar starter guitar kits are purchase bundles that consist of an acoustic guitar along with some essential accessories to help support your playing and practice goals. Most guitar starter kits include a strap, soft travel case, tuner, guitar picks, and a handful of smaller items depending on the brand and price. Acoustic guitar starter kits are almost always manufactured for beginner guitarists, as more experienced guitarists have a better idea of which accessories they require.
Some of the best acoustic guitar starter kits include:
Final tips for buying acoustic guitars for under $300
Ask your teacher for advice. If you're fortunate enough to have a guitar teacher, they are generally the best person to ask for advice on acoustic guitar options. Your teacher will better understand the best acoustic guitar to suit your playing requirements as they can closely monitor your playing habits.
Brand reliability matters. Be sure to check out possible guitar options at a trusted local retailer, as this will allow you to properly test different acoustic guitar options before making a final decision.
Try before you buy. It is very important to try out the guitar to see how it feels before you buy the acoustic guitar. This ensures that you like the way the guitar feels and are comfortable playing it.
Final thoughts
If you choose any of these acoustic guitars for under $300, you will have a good quality instrument! Guitars can cost A LOT of money, but unless you are a professional, you don't typically need a top-quality acoustic guitar. In fact, some budget guitars sound pretty dang good!
Looking for some budget electric guitars that include some electric guitars? Check out my list of the best guitars under $500!