As any seasoned player knows, the right amplifier can make all the difference when it comes to unleashing your musical prowess. With countless options available in the saturated market of guitar amps, it can be overwhelming to determine which brands truly deliver the best performance.
But fear not! In this article, I will explore the top guitar amp brands that are revered by musicians for their superior sound quality, durability, and innovation. So, get ready to plug in, turn up the gain, and delve into some of the most celebrated guitar amp brands on the market!
Table of contents
Marshall
Marshall is, without a doubt, one of the biggest names in guitar amps, and for a good reason! These amps are loud, versatile, and have a high-quality sound that is loved by countless rockers.
Marshall shines bright as one of the best rock amp brands. However, they have a wide variety of amps that cater to different music types. The brand is primarily known for producing large cabinet system amps, but Marshall also has lots of great combo amps.
These amps are known and loved for their classic rock crunch and valve amp overdriven sound. Marshalls are perfect for rock and roll, heavy metal, blues, progressive and more!
History of Marshall amps
The company was founded in 1962 by Jim Marshall and was originally a small family-owned music store. Customers of the music store included famous rockers like Ritchie Blackmore of Deep Purple and Pete Townshend of the Who. When Marshall started developing amps, Blackmore and Townshend were some of the first to purchase them, helping to cement Marshall's fate as a legendary amp producer.
Standout features of Marshall amps
Crunchy overdrive and distortion tones.
Most of the top shelf Marshals are tube amps.
The 1959 Super Lead was the first 100-watt amp, which was personally requested by Pete Townshend.
Lev's pick: best Marshall amp
Marshall DSL40CR
The Marshall DSL40CR is an excellent Marshall amp in a reasonable price range. This is one of the best rock combo amps out there. You can snag this premium Dual Super Lead amp for around $1,000, whereas a head and cabinet would cost you much more.
Notable musicians who used Marshall amps
Fender
Fender is the biggest and most famous guitar brand in the world. However, the company also produces some of the best guitar amps. Fender almost exclusively produces combo amps, and the brand is world-renowned for its classic tube amps. 
Fender amps are known for their smooth and rich clean tones, crunchy overdrive, and full-rock sound. Fender amps are very versatile, as guitarists of all genres use them. These combo amps pack a punch, and even the smaller tube combo amps can get loud enough to play large venues.
If you are after a modeling amp or a digital amp that has tons of built-in effects and settings, Fender also has you covered. The Fender Mustang is one of my favorite digital amps out there. The Mustang is also one of the best beginner guitar amps. Check out my article on this for more on beginner amps.
History of Fender amps
While the most famous products Fender has ever put out are the Telecaster and Stratocaster electric guitars, Fender actually started producing amps first. The first Fender amps were built in the late 1940s, and when electric guitars started rapidly gaining popularity, Fender combo amps were all the rage. The first Fender amps were the Princeton, the Deluxe, and the Professional. To this day, these amps are still considered some of the best guitar amps ever made.
Standout features of Fender amps
Warm and rich clean tones that go great with country, blues, and pop.
Organic tube overdrive and distortion that works with rock and metal.
Compact combo amps that are loud enough to fill a large venue.
Fender was one of the first major amp manufacturers in the late 1940s and early 50s.
Lev's pick: best Fender amp
Fender Blues Junior
There are many fantastic Fender amps, so it is hard to pinpoint the best one. However, I really like the Fender Blues Junior. This is a loud, compact guitar amp with an awesome gritty overdrive and a warm natural clean tone. Despite the name, the Blues Junior is super versatile and can be used for many different styles. I prefer an amp without too many bells and whistles. This amp gets the job done with just 6 knobs. The spring reverb on the Blues Junior is also among the best-sounding built-in reverb effects I've seen on an amp.
Notable musicians who used Fender amps
Eric Clapton
Stevie Ray Vaughn
Buddy Guy
Jack White
Vox
Vox is yet another classic guitar amplifier brand that has been used by countless guitarists and has earned themselves a seat at the legendary amp manufacturers' table.
Vox amps have a bright rock and roll sound that is synonymous with the "British Invasion" of the 1960s. They are characterized by their chimey, jangly clean tones and smooth, gritty overdrive. Modern Vox amps still produce a vintage tube amp sound and are perfect for genres such as rock, pop, punk, and blues. Vox amps are also known for their compact and portable designs, making them a popular choice for gigging musicians. Most Vox amps are tube amps, and they are almost always combo amps.
Due to their bright tones and tendency to distort at low volumes, Vox amps are not the best for guitarists who play primarily soft clean music. Vox amps were initially designed for rock musicians who prefer a tube amp that pumps into overdrive, so look elsewhere if you want a warmer clean tone.
History of Vox amps
Vox is one of the founding amplifier brands kicking off in the United Kingdom in the 1950s and quickly gaining popularity as electric guitars became the next big thing in the 60s. One of their most iconic amps is the Vox AC30, which was introduced in the late 1950s and became a staple in the British rock scene.
Vox has continued to innovate over the years, introducing new models and technologies to its amp lineup. They are also known for their unique aesthetics, with their trademark diamond-patterned grille cloth and retro-inspired designs.
Standout features of Vox amps
Bright "chimey" tone that goes hand and hand with British classic rock.
Tendency to distort at lower volumes more than other tube amps–a benefit for some guitarists and a downside for others.
Very articulate tone makes them perfect for lead guitarists.
All Vox amps, even new models, maintain the same vintage look as the original AC30s.
Lev's pick: Vox amp
Vox AC30C2
The Vox AC30C2 is Vox's most popular and classic-sounding guitar amp. You can also get a smaller version of the amp, the Vox AC15C1, if you don't need as much power. Check out my in-depth review of this amp. This amp perfectly captures the iconic British tone that Vox is renowned for, emphasizing the mid-range and a bright bluesy sound. If you are a rock musician and want a powerful tube amp that will last you a lifetime, the Vox AC30C2 is an excellent option.
Notable musicians who used Vox amps
Brian May
Paul Mccartney
Elvis Costello
Orange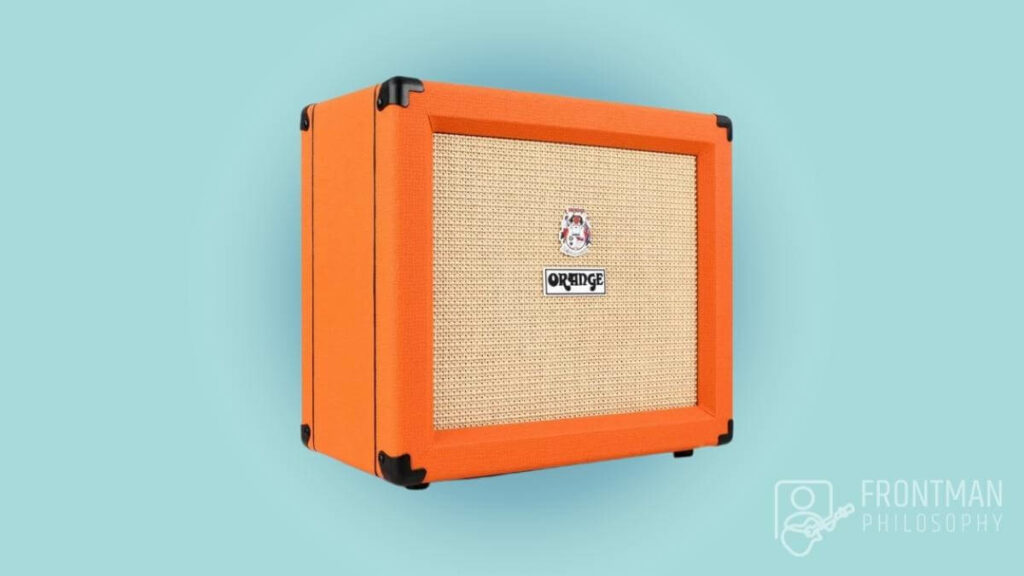 I've always been attracted to Orange amps because of their aesthetic. But if you are a rock or heavy metal guitarist, you'll also love how they sound.
Orange is a British guitar amp company known for its distinctive sound. Orange amps also have a bright orange Tolex-like covering that definitely makes them stand out from other brands.
Orange amps are known for their warm tube amp sound and overdrive tones. They are commonly used for blues, rock, and metal music. There are many different Orange amp models ranging from small practice amps to massive 100-watt rigs. The most popular Orange amp models are the Rockerverb, the Tiny Terror, and the Crush.
Like most high-end amp producers, Orange amps are mostly tube amps. However, the company does produce some of the best digital and solid-state amps. The Orange Crush 35RT is an affordable solid-state Orange amp that keeps up with professional-level valve amps.
Check out my full review of the Orange Crush for more info!
History of Orange amps
The company was founded in 1968 by Clifford Cooper, who was inspired by the sound of American blues guitarists like B.B. and Freddie King. In 1969 Orange started producing their own amps with the rock guitarist in mind. These amps quickly became popular with British blues and rock guitarists and eventually became a household name in the world of rock guitar amplifiers.
Standout features of Orange amps
Look unique and stand out on stage with their bright orange color and basket-weaved speaker mesh.
Characterized by bright and full-bodied gain tones, not quite as bright as Vox amps but not as warm as Marshalls.
Amazing overdrive tone, but these amps also have very well-rounded clean tones. So, Orange amps can be used for many different genres.
Lev's pick: best Orange amp
Orange Rockerverb 100w
The Orange Rockerverb 100 is a high-powered, two-channel tube amp perfect for genres like rock, metal, and blues. It features a rich, warm tone that is both aggressive and articulate, but it can be easily dialed in to produce a softer sound.
The Rockerverb 100 is one of the best amps money can buy. So, if you are looking for a well-built, versatile, and powerful amp for professional use, you really can't go wrong with the Rockerverb 100.
Notable musicians who used Orange amps
Jim Root
Tony Iommi
Alex Turner
Mesa/Boogie
Mesa/Boogie is a high-end amplifier company that has been around since the late 1960s. Mesa/Boogie amps are known for their high-gain sound and versatility. They have been used by many famous guitarists in a variety of genres, including metal, rock, blues, and jazz.
Mesa/Boogie amps have a unique sound characterized by a tight low-end and a mid-range punch, which helps them cut through the mix. They are often described as "crisp" and "clear" and are loved by many rock lead guitarists.
Mesa/Boogie amps are also famous for their built-in features, including graphic EQs, multiple channels, and various effects loops. The Mesa/Boogie Mark series amps are particularly famous for their built-in graphic EQs, allowing guitarists to fine-tune their tone to their exact preferences.
Mesa/Boogie also produces a wide variety of amps, ranging from small practice amps to massive 100-watt rigs. The company's Express series amps are perfect for small gigs and home use, while the Road King and Triple Crown series are built for stadium-sized performances. Mesa/Boogie also produces a line of bass amps, which are known for their clear and punchy sound.
History of Mesa/Boogie Amps
The company was founded by Randall Smith, who built his first amp at the age of 16 and went on to study electronics in college. In 1969, Smith started Mesa Engineering, which later became Mesa/Boogie. The company quickly gained popularity among rock guitarists, becoming a staple in the industry. In 2021, Mesa/Boogie was bought and acquired by Gibson.
Standout features of Mesa/Boogie amps
Innovative circuitry design with a wide variety of tones that cater to many different music styles.
All Mesa/Boogie amps are made in the USA in a single location in California, making it one of the few major brands to produce exclusively in the USA.
The company offers many customization options for tubes, hardware, speakers, and more, allowing guitarists to finetune their tone.
These are some of the sturdiest amps on the market. Mesa/Boogies are seriously built to last.
Lev's pick: best Mesa/Boogie amp
Mesa/Boogie Mark V
The Mesa/Boogie Mark V is one of the best amps that the company offers. All amps in the Mesa/Boogie Mark series are great, but the Mark V is my personal favorite model. This compact tube amp has a TON of customizable settings without overcomplicating things. It has 3 channels, lots of useful EQ controls, a solo boost setting, and an effects loop. The amp even has a built-in fan to cool it down as it heats up.
The Mark V is capable of delivering a warm, clear sound at high volumes. Its versatility, high build quality, and customizability make it a top choice for discerning players looking for the ultimate amp.
Notable musicians who used Mesa/Boogie amps
Bruce Springsteen
Dave Grohl
Kirk Hammet
Adam Levine
Peavey
Peavey Amps are another major amp manufacturer that is considered to be underrated by most guitarists. These amps have an iconic sound and are extremely versatile.
Rock, jazz, metal, country, and blues guitarists alike use Peavey amps for their music styles. Peavey's are more affordable than some of the other major amp manufacturers, but they sound just as good.
Peavey offers a wide range of amp models that cater to different styles of music and playing preferences. From their classic Tube Series amps, which deliver warm and rich overdriven tones, to their modern modeling amps, which offer a vast array of digital effects and amp simulations, Peavey has something for every guitarist.
Peavey amps are also known for their high power and volume capabilities that cut through a mix in a live band setting.
Peavey has a reputation for offering amps that provide excellent value for money, making them accessible to a wide range of musicians.
History of Peavey amps
Peavey Electronics Corporation was officially founded in 1965 by Hartley Peavey, who had been building amplifiers in his basement since the mid-1950s in Hartley, Mississippi.
Over the years, Peavey has grown into a major audio equipment manufacturer with a wide range of products, including guitars, basses, PA systems, and, most notably, amplifiers.
Peavey amps gained a lot of attention in the 1970s and 1980s, especially among rock and metal musicians. Their high-power amps were known for their punchy and aggressive tones, and they were used by many iconic bands of the time.
Starting from humble beginnings, Peavey is now a significant player in the electric guitar amplifier market and has evolved with the times to create more digital and solid-state amps.
Standout features of Peavey amps
Dark and bassy distortion tones with a slightly fuzzy clean tone.
More affordable in general than other major amp brands.
Very versatile range of amps, from powerful heavy metal amps to blues tube amps, bass amps, and more.
Many Peavey amps have an extremely high gain sound, which is in part what led Van Halen to develop his legendary "brown sound".
Lev's pick: Peavey amp
Peavey Classic 30
The Peavey Classic 30 is one of the most versatile and timeless Peavey amps. With its all-tube construction, the Classic 30 delivers rich, warm tones that are highly sought after by many different guitarists. It has 30 watts of power, which strikes a perfect balance between volume and portability, making it ideal for both practice sessions and live performances.
The Classic 30's controls allow for precise tone shaping, including a three-band EQ and presence control. The amp also has a natural-sounding built-in reverb and an effects loop. It can be very difficult to choose the best Peavey amp with so many choices, but if you want an excellent all-around amp that is portable and loud enough for small gigs, the Classic 30 is your best option.
Notable musicians who used Peavey amps
Ted Nugent
Gary Rossington
Ben Bruce
Randall
Randall amps are renowned for their distinctive and powerful sound, favored mostly by heavy metal and hard rock guitarists. Known for their high-gain capabilities, Randall amps rose rapidly in popularity in the 1980s.
Randall amps deliver a bold and powerful tone with a tight low-end response, searing midrange, and soaring highs, perfect for cutting through a mix and delivering a commanding presence on stage or in the studio. Randall amps are also known for their versatility. Many models offer a wide range of tonal options through their multiple channels, built-in effects, and EQ controls, allowing guitarists to fine-tune their sound to their liking.
History of Randall Amps
Randall Amplifiers was founded in 1970 by Don Randall, a former executive at Fender, Randall Amplifiers initially focused on modifying and customizing Fender amps.
In the 1980s, Randall gained recognition for its high-gain, metal-oriented amps, which were favored by prominent guitarists such as Dimebag Darrell and Kirk Hammett. These amps featured innovative designs, including the famous "RG" series with its distinctive angled cabinet and modular tube preamp system. Over the years, Randall continued to innovate, introducing solid-state and hybrid amp designs, as well as pioneering digital modeling technology in its amps.
Today, Randall continues to produce cutting-edge amplifiers that are revered for their power, distortion, and tone.
Standout features of Randall amps
High gain amps with beautiful jangly clean tones and face-melting overdrive.
Randall amps sound best with deep heavy distortion.
Randall amps are a huge name in the metal scene, being used extensively by bands like Metallica, Megadeth, and Pantera.
Lev's pick: Randall amp
Randall RD100H Diavlo
The Randall RD100H Diavlo Series is specifically designed for high-gain and modern metal tones. This powerful 100-watt amp head is known for its brutal and aggressive sound.
The Diavlo Series delivers a tight and focused low-end, boosted mid-range, and soaring highs, resulting in a tone perfect for chugging riffs, blistering solos, and heavy palm-muted passages. The Diavlo Series amps are also known for their versatility, with multiple channels, flexible EQ controls, and built-in effects.
Notable musicians who used Randall amps
Kirk Hammet
Vivian Campbell
Dimebag Darrell
Scott Ian
Roland
Roland produces many different types of musical equipment, from digital pianos to synthesizers, PA systems, and amps. Roland amps are some of the best amps on the market for natural clean tones. This makes them extremely popular for jazz, pop, and really any guitarist that needs a clean sound. Even Metallica has used Roland amps for recording many of their undistorted guitar parts.
Roland offers many different types of amps. The Roland Cube is one of the brand's most famous models–a small bedroom practice amp with a well-rounded tone. While Roland is primarily known for creating clean-tone amps, they also have several models of gritty blues tube amps. In addition, Roland produces PA systems, acoustic guitar amps, and speakers.
Boss is also a division of Roland. Boss produces some of the highest-quality effects pedals on the market and produces the Boss Katana, which is one of the best modeling amps on the market.
History of Roland
Roland is a Japanese music company that was founded in 1972. The company produces not only guitar amps but also synthesizers, drum machines, effects pedals, and more. In fact, amps were not a main priority of the company at first. The electronics company helped drive guitar amps forward in a unique way as they introduced digital and solid-state amp technology to the guitar world.
Standout features of Roland amps
High quality and well-rounded clean tones.
They are generally compact and lightweight, making them easy to carry around.
The Roland Jazz Chorus was one of the first widely popular solid-state amps.
Lev's pick: Roland amp
Roland Jass Chorus
The Roland Jazz Chorus is by far the most famous Roland amp due to its unique features and exceptional sound quality. This iconic amp model, introduced in the 1980s, has become synonymous with clean, crystalline tones and lush chorus effects that have been favored by guitarists across various genres, from jazz to rock to pop. Despite the name "Jazz Chorus", these amps are not strictly used for jazz and are incredibly versatile.
The Roland Jazz Chorus amps are known for their pristine clean tones, unmatched stereo imaging, and wide dynamic range, making them ideal for producing lush, shimmering, clean tones and their ability to be used with many different effects pedals.
Notable musicians who used Roland amps
The Edge
Joe Perry
Robert Smith
James Hetfield
Notable Mentions
Hughes And Kettner
Hughes & Kettner amps are known for their high-quality German engineering and innovative features. The brand was founded in West Germany in 1984 and is often praised for its versatility, with a wide range of models suitable for various genres and playing styles.
Line 6
Line 6 amps use innovative digital modeling technology, opening the door to a vast array of tones and effects to be created and customized. They are known for their versatility, with extensive amp and effect simulations, making them a popular choice for guitarists looking for a wide range of tones in a single amp.
EVH
EVH (Eddie Van Halen) amps are known for their high-gain, "brown sound" tones, which are characteristic of Eddie Van Halen's iconic guitar playing. The brand was originally started as a partnership between Eddie Van Halen and Fender. These amps often feature powerful amplification, aggressive distortion, and versatile controls for shaping the tone, making them ideal for hard rock and metal genres. The EVH 5150 is, without a doubt, the most iconic amp the brand produces.
Blackstar
Blackstar amps are fairly new to the guitar amp realm with boutique-style design and unique tonal characteristics. They often feature multiple channels with different voicings, allowing for a wide range of tones from sparkling cleans to high-gain distortion.
Want to know more about guitar amps? Feel free to contact me, I am always happy to help!